7 Ways to Make Sure International Projects Meet Design Guidelines
Manage FF&E specification, procurement, and product data at scale. Take on bigger projects with confidence and grow your firm with Fohlio. Schedule a demo or book a consultation with one of our account managers to explore these features today.
Budgeting, FF&E specification, generating reports, and quality control — all these are already tedious and time-consuming to manage in a single project. But when your project spans several properties and countries (even continents!), then it becomes a formidable challenge.
Here's how to make sure your international projects are not just meeting design guidelines, but also staying within budget and on schedule.
Manage project budgets and FF&E quantities with high levels of granularity.
Let's say you're building hotels or places of worship across different countries. Besides hotel rooms and worship areas, you're also designing administrative areas like offices. You have cafés, restaurants, and maybe even small daycares.
Each of these areas are going to need different products in different amounts. You'll want to build an area plan where you can list FF&E, finishes, and materials that are needed for each room. From there, multiply the amount of products according to the number of rooms you need.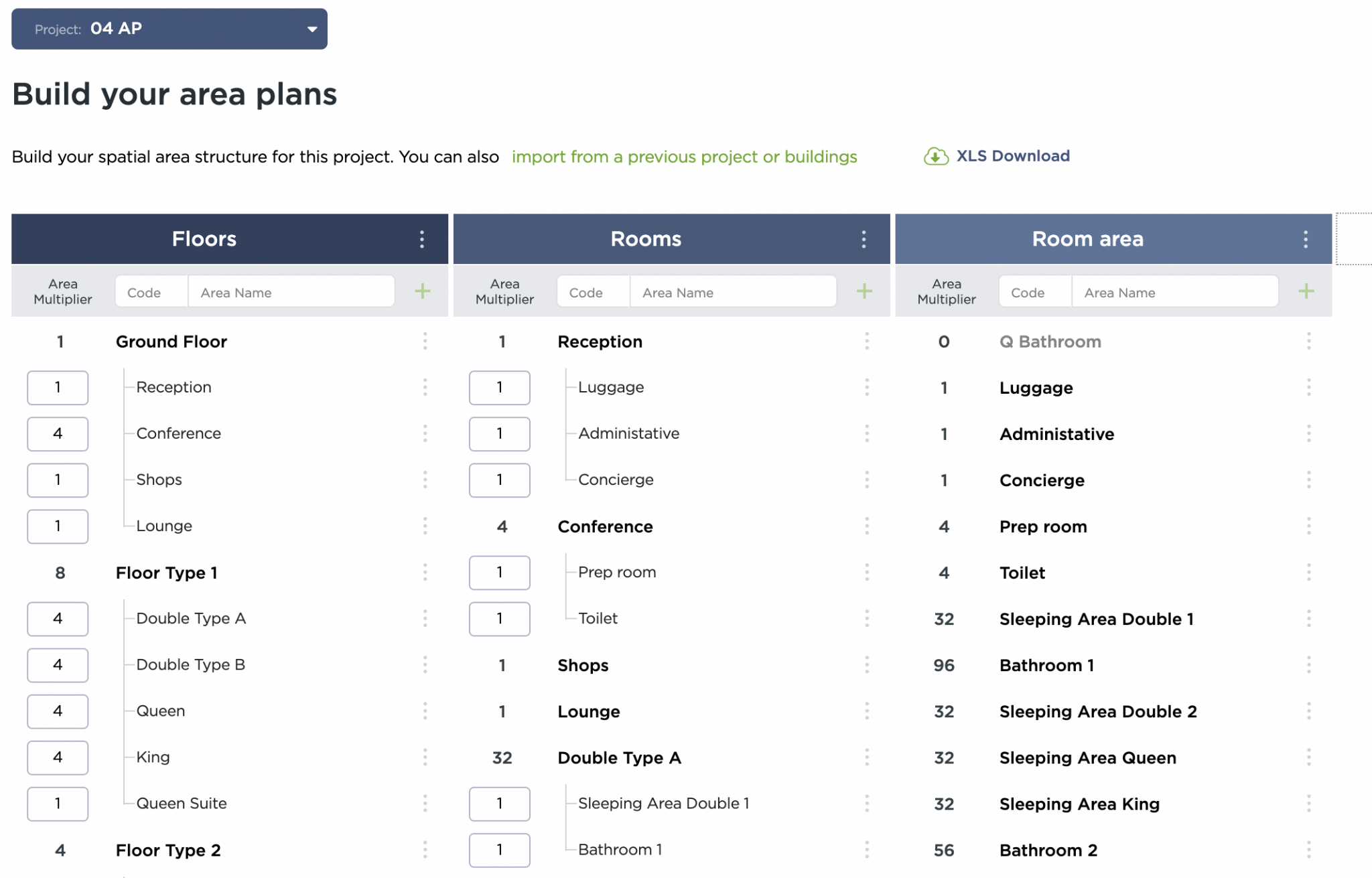 For example, in the office areas, you can list desks, computers, phones, and even supplies like paper. On the other hand, café equipment can include industrial coffeemakers and professional ranges, and even the smaller items like condiment holders and napkin dispensers.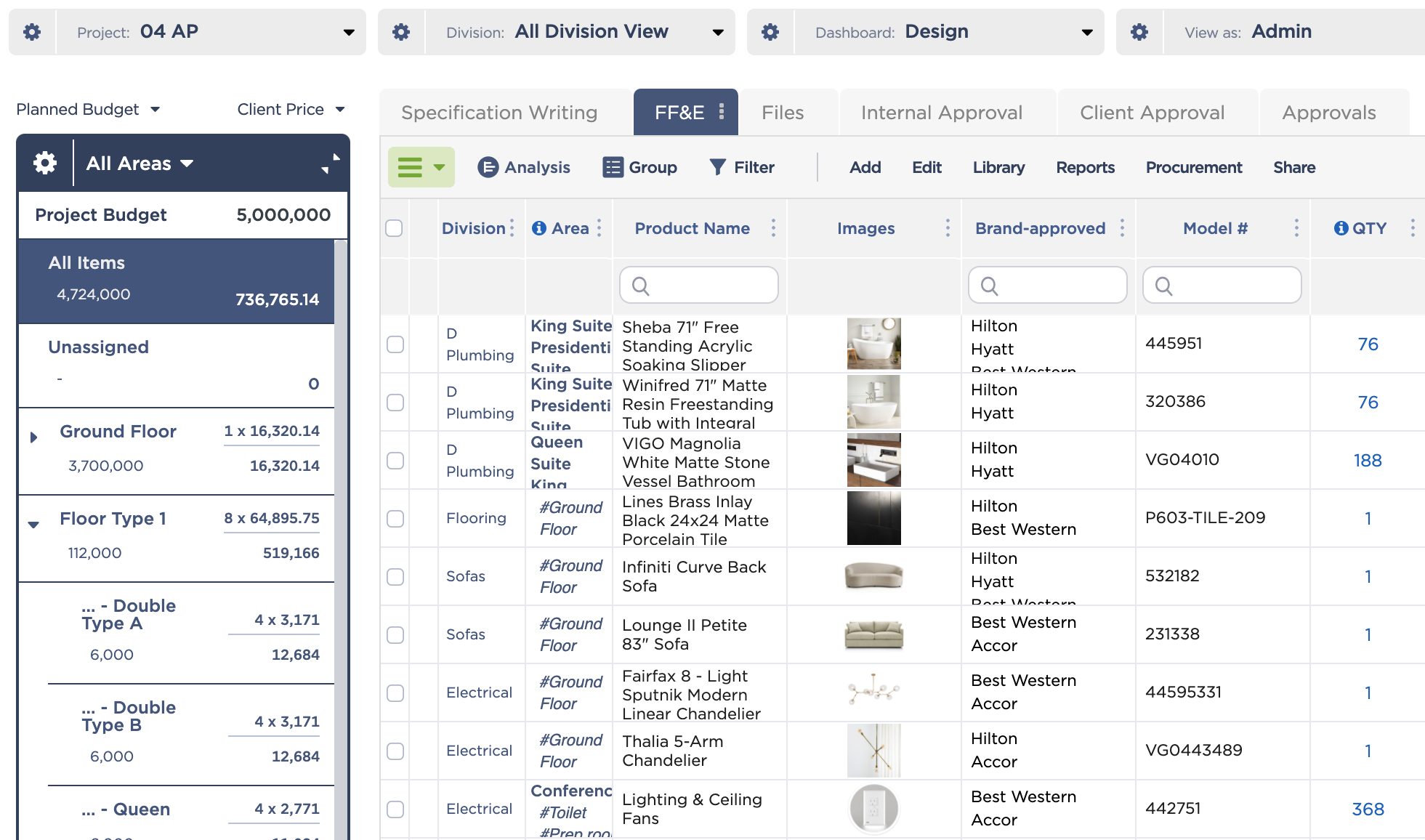 In the budget analysis section, you can see the big picture of your total costs or drill down into smaller units like floors or rooms.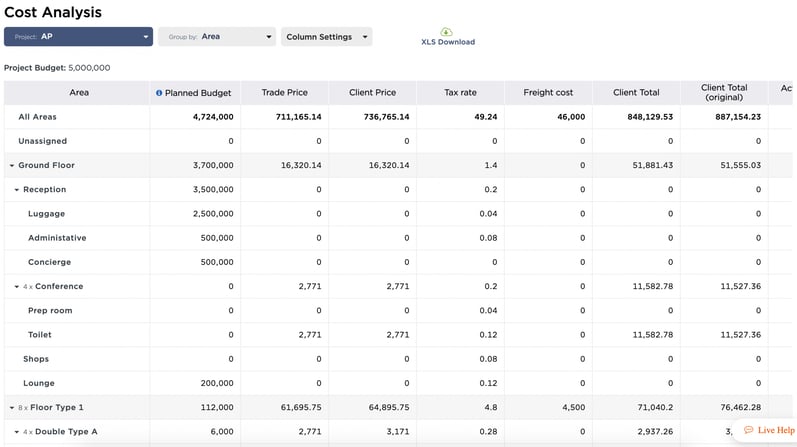 Learn more: Manage Your Project Budget by Area and Cost Divisions
Use a collaborative specification platform.
Big, international projects mean big, international teams. Coordinating through emails is just not enough to keep everyone on the same page. Neither is using communication software like Slack or Skype.
An online platform allows everyone to see the most updated spec sheets at a glance, instead of emailing back and forth.
Different teams working on different workflows — and who are likely not on the same timetable as everyone else — can all work together using the same data. That eliminates the need for manual, repetitive tasks, like copying and pasting spec sheets to purchase orders.
Better collaboration between specification, procurement, installation, etc. also makes it easier for project managers and owners to oversee budgets and selections in one place. Which brings us to:
Set up centralized project workflow approvals.
The innate problem with scale is that the bigger you grow, the harder it is to control your projects. Errors multiply. Delays snowball.
You can manage this using workflow approvals.
With purchases, you can require approvals when purchase orders reach a certain threshold amount.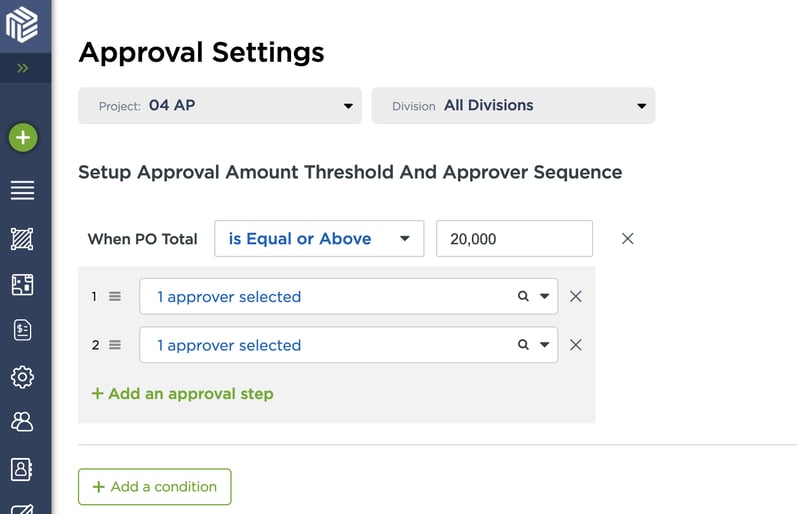 Before even getting to POs or RFQs, you can require approvals on selections.
Catching mistakes before they happen and asking stakeholders to commit to selections help avoid costly do-overs. And you can do it all in one centralized platform.
Learn more: Track Changes, PO Approvals by Thresholds, and Project-Based Templates
Build customizable specification templates and FF&E templates.
With large projects like hotels and houses of worship, there's a lot of repetition. But at the same time, you have to be able to accommodate some level of variance.
Let's say you have a project in New York and you turn that into your template or prototype. In your template, you can list all the standard FF&E, finishes, and materials that go into every project. Then, duplicate each project template and make changes where necessary.
If it's a hotel, you can create placeholders for mattresses, pillows, flat sheets, duvets, etc. For each project, there's a certain number of each item needed, including extras and changes. Your café could have the standard numbers of two coffee condiment holders and three napkin dispensers. But maybe different projects need different quantities, depending on how busy they are.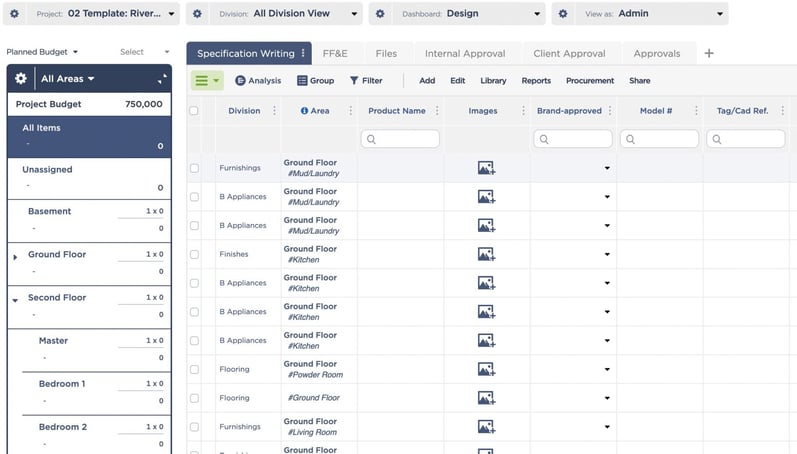 This way, there's standardization that sets expectations and workflows. But at the same time, there's allowance for local differences. You could argue, in fact, that this standardization is what makes it easier to customize where necessary.
Track currencies and use conversion tools.
When you deal with many different countries, you're not just working around local preferences and limitations. There's also different currencies and taxes.
With each product, you can assign tax rates according to the geographical areas you're getting them from, and whether environmental taxes like energy use and waste are included. Use a formula to automate the the final costs. If a particular tax is not applicable, simply leave it blank.
You can also set up separate columns for each of the different currencies. If you're ordering items from Denmark, just type your cost in kroner in the kroner column.
Depending on where you're based, you'll want to pick a "master currency." If you're in the United States, for example, and you want to know how much all your costs are in USD, you can set up a formula that automatically converts the different currencies into USD.
Create custom attributes for your FF&E and finishes.
Depending on the project you're working on, there could be different requirements that have to be met. If you're building a chain of primary care clinics, it'll be important to be able to filter for antibacterial finishes.
In the case of international projects, it may be helpful to see all your products purchased with a specific currency. You can answer questions like, "What's my total cost for products bought in kroner? What about pound sterling?"
Are there finishes that need to come from one specific geographical area only? Are there materials that should ideally come from local suppliers? You can create custom attributes for these as well, then group your materials according to said attributes.
Use a cloud database as an online materials library.
Last but not the least, an online materials library can do so much more than keep your products — all 10,000 lines of them — organized.
You can set up design guidelines but also make it easier for designers to stick to said guidelines. Using custom attributes (see above), you can tag products as approved by brands.
An online materials library allows you to create all the custom attributes to tag your products with (and subsequently filter for).
If any of your products need updating — like marking them as discontinued — an online materials library makes that information easier to track. (Instead of having to look up your original list every time.)
Product usage history can be tracked with an online materials library, as well. Past and present projects can be compared within one platform instead of having to dig through spreadsheets.
A cloud database also allows you to access projects from anywhere in the world. Doesn't that sound much better than being tied to a local server?
Specify, procure, and manage product data at scale. Take on bigger projects with confidence and grow your firm with Fohlio. Schedule a demo or book a consultation with one of our account managers to explore these features today.
---
Also published on Medium.
Your email address will not be published. Required fields are marked *