Which Design and Construction Cost Estimation Method Works Best For You?
Cost estimation, as many in the design-build business will tell you, is arguably the lifeblood of the industry. Unless your client has unlimited cash flow, a set budget is the first thing to be agreed upon at the start of every project. Your best tool, in this case, is an accurate design and construction cost estimation method.
Why is a Design and Construction Cost Estimation Template so Important?
Good design is similar to good cuisine: It's full of tiny accents and details that make up the whole. Thing is, it's hard to remember all of them at stage 0. A construction cost estimation sheet will help keep track of all the components, and also save you time. If you don't have a template for your project yet, here are some reasons to start creating one.
1. Accurate cost estimation makes for easier negotiation
First and foremost, having a construction document in your hands make the whole negotiation process so much easier and more transparent. Instead of springing sticker shock on customers with big numbers (and they are never small, are they?), you show them how the final price is broken down with a proper product specification sheet. Suddenly, everything starts making more sense. Well structured design documentation not only validates your costs, but also heroically takes the hit.
Clients asking for a little wiggle room? An itemized proposal makes it easy to pick and choose which components to save on or terminate completely.
Read: 5 Ways to Manage FF&E Specification and Procurement Costs (Plus, an FFE Template That Will Save You Time)

2. Don't miss a thing
It also does a lot of good for your own sanity and peace of mind. Having a detailed template helps you make sure nothing is missing, so you won't have to (awkwardly) go to your clients with additional charges during the construction process.
Besides, if you update the template with every new project every year or two, you will end up with a design construction document that will cover every single detail, specific for your area and type of business. Having good documentation is like having a personal assistant, which never has any complaints and is always happy to see you.
3. Manage construction costs and budget efficiently
Finally, a detailed design construction document is probably the only way to manage a budget quickly and efficiently. It lets you see what budget categories stand out and update them accordingly.
Ready to get started on your design and construction cost estimation template? Take a look at a few of our favorites.
Read: 3 Ways to Build Specbooks and Finish Schedules Faster
4 Examples of the Best Design and Construction Cost Estimation Templates
1. Shawn McCadden's Labor and Materials Cost Estimation Template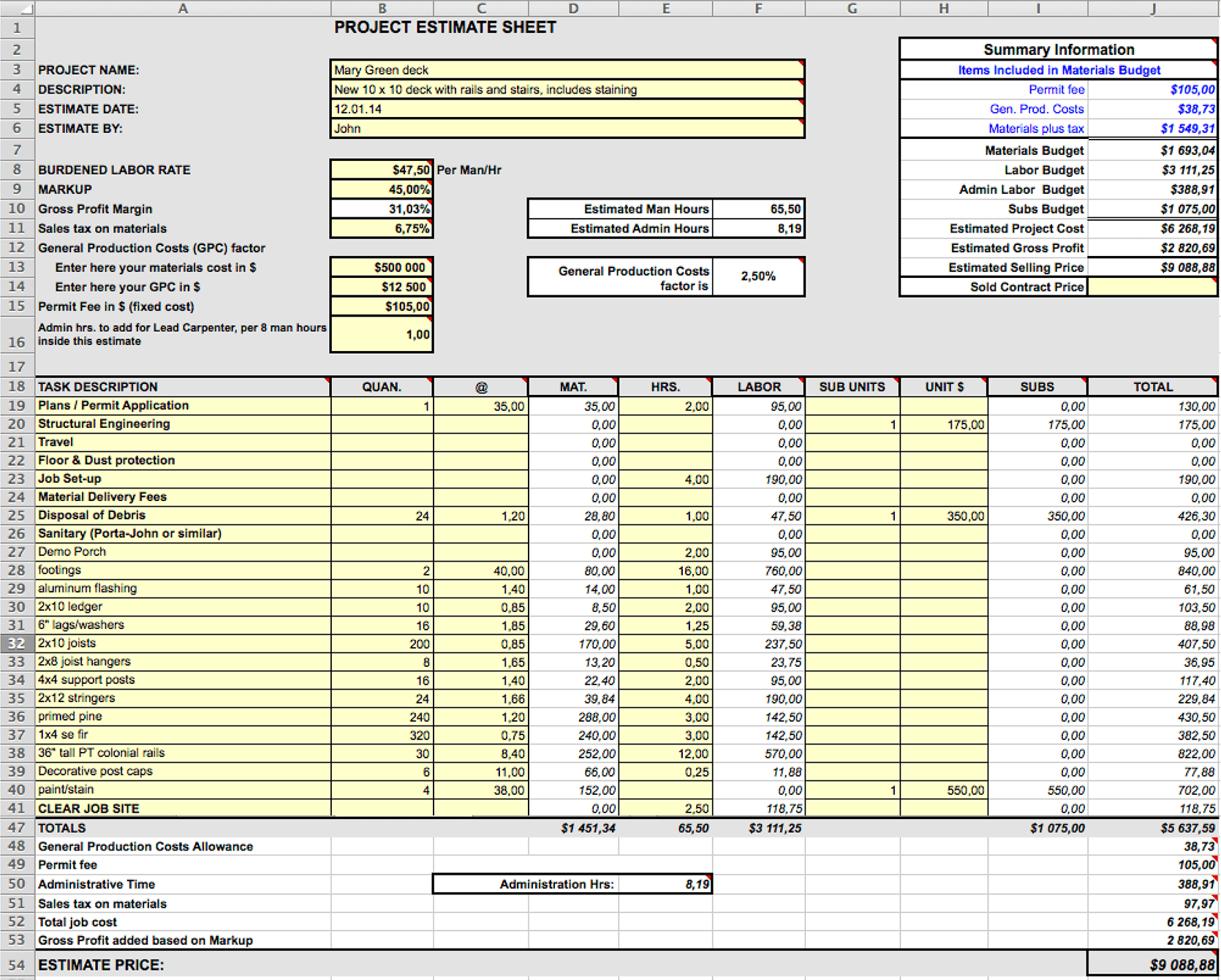 The approach suggested by Shawn McCadden is based on splitting materials specification, construction labor, and administrative labor budgets in separate categories and managing them separately. A nice feature of this template is, besides calculating the project cost, you also figure out a gross profit, all before providing a selling price. This is especially good for those specialists who have unique propositions from vendors.
You can ask for this template here.
2. The Building Advisor Construction Cost Estimator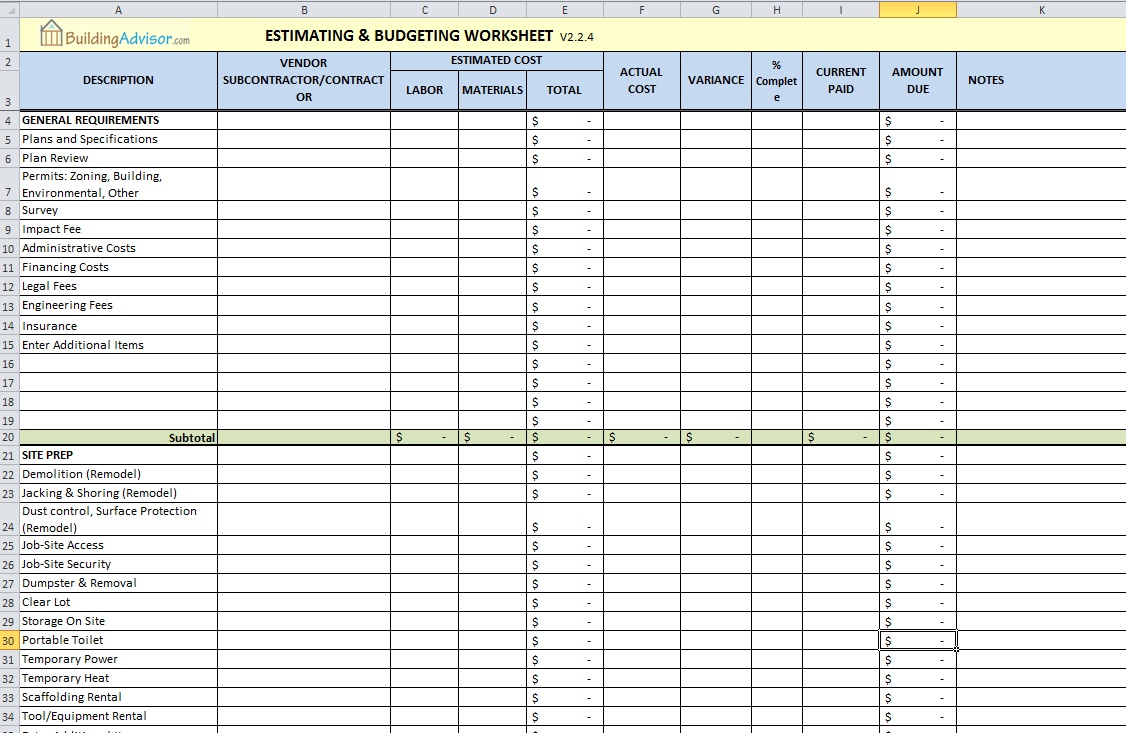 Another approach we like is from Building Advisor, a website for building professionals. It provides a nice list of general requirements accompanied by step by step pricing for each stage of the process. You have a separate column for vendors, material specification, and cost of labor, which makes this grid fit almost any type of project. Another interesting column here is '% Complete', which keeps track of your project's progress.
3. Budget Versus Actual Costs Template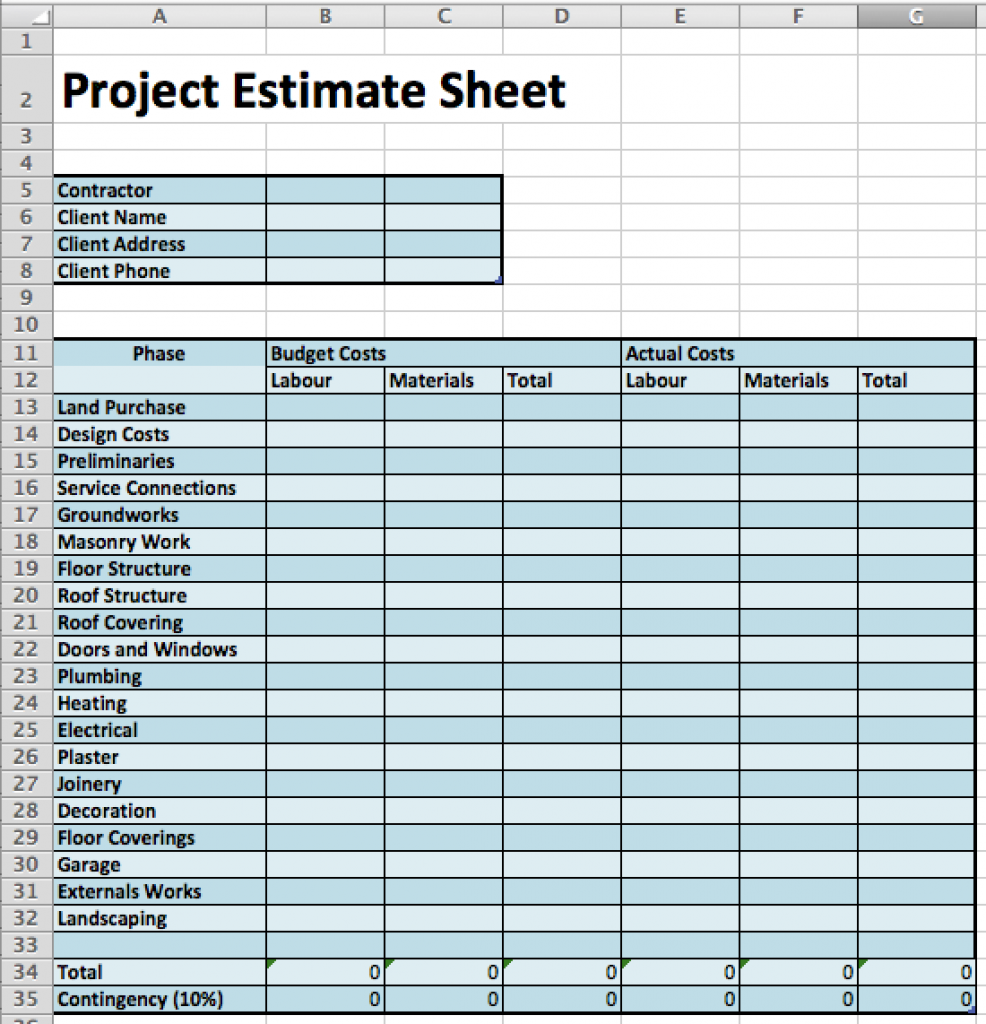 If you have a smaller project or simply longing for something less complicated, try the Budget/Actual cost template. Its main focus is on how the construction budget is managed throughout the project. It offers a simple, yet flexible mechanism via a high-level product specification sheet. Plus, a 10% contingency helps you cover some major risks. You can download this template here for your personal use.
Read: 8 Elements of an Indispensable Digital Material Library
4. Soft Versus Hard Costs Template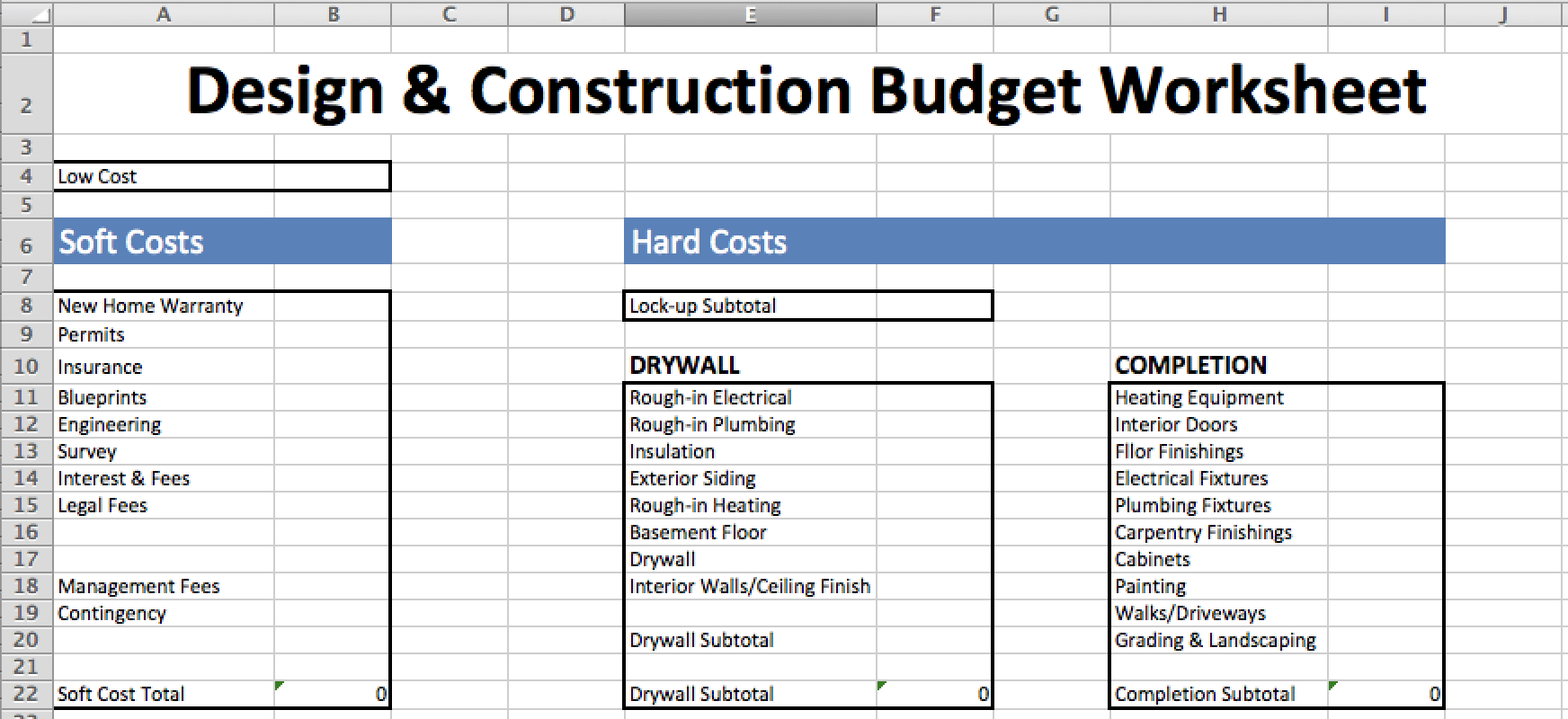 Finally, this approach is based on splitting all spend categories into Soft Costs and Hard Costs. The first column is more focused on administration, logistic, and legal categories, and the second one is focused on materials specification and labor required to complete the project. Pay attention to the fact that Hard Costs are split by areas where the work is supposed to be fulfilled. You can also download this template for personal use.
Which project cost estimation method works best with your workflow? How do you set up a budget for your project proposal?
Fohlio makes FF&E and finishes specification faster and more efficient. Sign up for your free trial!
Featured image: House Construction!Gillaume Kurkdjian

Your email address will not be published. Required fields are marked *