Here's How This FF&E Manager Makes the Specification Process Much More Efficient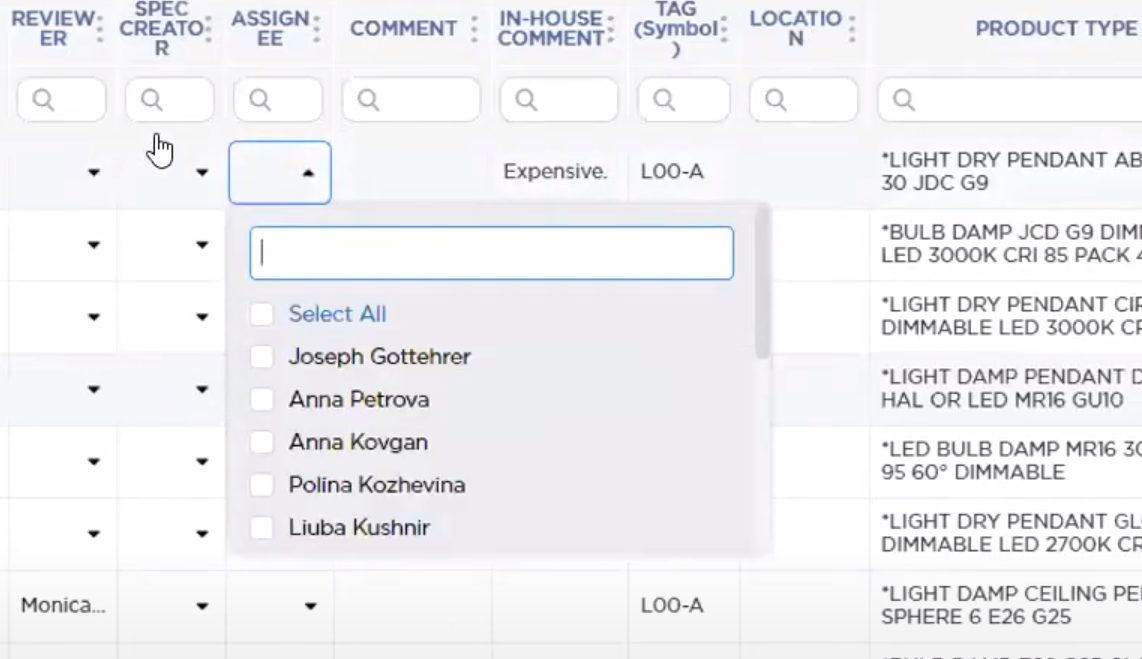 Manage FF&E specification, procurement, and product data at scale. Take on bigger projects with confidence and grow your firm with Fohlio. Schedule a demo or book a consultation with one of our account managers to explore these features today.
The following is an excerpt from the webinar "Managing Design Standards and Material Libraries: Best Practices." Monica Ortiz is one of Fohlio's power users and has suggested many improvements that have been implemented over the years.
As the FF&E Manager for New York interior design firm Yossi G., Monica Ortiz has her plate full. Because Monica is responsible for correcting errors in specification, she prefers that the mistakes don't happen in the first place. "It makes no sense to have someone specify FF&E, and then have to spend hours making corrections," she says.
And so, through trial and error, Monica has come up with some pretty creative fixes. "The whole process is pretty fiddly," she laughs. "So I help streamline the workflow, and also prevent too many errors."
Monica is rightfully proud of the solutions she has produced. Because of her creative problem-solving, she was able to minimize errors in the specification process and increase her firm's overall productivity.
"For example, we have our standard projects, and then we also have our Jewish projects, for which the requirements are very different," Monica explains. "Sometimes, the designers will specify items that are either too expensive or not appropriate for certain projects.
"So how I solved that was by creating a column in which I indicate which items can be used in what types of projects."
Learn more: How to Build FF&E Brand Standards: An In-Depth Guide
"We have standard, Jewish condos, high-end residences, commercial projects, synagogues, ADA, Star-K." Star-K products, Monica explains, have Sabbath mode. Refrigerators with this feature, for example, will "put the refrigerator in a timed defrost mode, and turn off the icemaker, dispenser, and control touch screens," according to General Electric.
Because she's created these product categories, Monica's designers no longer use residential products in commercial projects, for example.
Some projects will also require products that are not in the standard options. "I just use the 'Replace From My Library' feature. It's amazing how much time I've saved by doing that," she says.
Monica has also come up with a solution to save her designers time. "For hardware, for example, we use the same items over and over." But even with that being the case, there are many variations that designers will have to choose from.
"We have each collection in different codes, like Black, Satin Chrome, Satin Brass." Monica has grouped the components together according to style, "because I found that it's easier to delete items instead of having to add them one by one." In other words, the door viewer, knocker, and chain for a specific style are all added to a project in one click, and the designer just deletes what they don't need.
"Once you have everything in place, it goes so much quicker. And now, especially with the designers that really care about their performance, I barely have to check it at all," she says.
Learn more: How FF&E is Bringing Hospitality Design Trends to Life
Tracking product statuses is something else that Monica has been able to improve efficiency for. "I created a product status column. Here we can all see whether an item is approved, pending corrections, or if I've checked it but then they made modifications after, so we can keep track of what's going on."
"I can also mark in the Assignee column who is responsible for creating the specification, so that helps with accountability. And I'm the only person who has permission to edit this column," Monica says.
For someone who was initially hired to correct specification errors and make sure plans are followed, Monica has come a long way, creating her own solutions and improving overall productivity. "I started playing with Fohlio and I just became a big fan. And when Yossi and I started having our weekly meetings, I started telling him all this stuff that you could do with Fohlio, and that's how I ended up with here." And we're so glad she did.
Manage FF&E specification, procurement, and product data at scale. Take on bigger projects with confidence and grow your firm with Fohlio. Schedule a demo or book a consultation with one of our account managers to explore these features today.
Special thanks to Monica Ortiz, Esteban Reichberg, Gerald Lock, and Scott Barrington for participating in this webinar.
Expore Fohlio
Learn how to:
Save days of work with faster specification
Create firm-wide design standards
Automate and centralize procurement
Keep your whole team on the same Page
Manage product data
Track budget against cost in real time.
Prepare for asset valuation
Know more
Don't forget to share this post!