Manage FF&E and OS&E product options more efficiently. Speak to a product expert today.
As a hotel brand, maintaining consistency in the guest experience across properties is crucial. This is where product options management comes into play. Product options include everything from furniture and fixtures (FF&E) to operating supplies and equipment (OS&E). Efficient management of product options allows hotel brands to maintain their standards and deliver exceptional guest experiences – at a lower cost.
Traditionally, managing product options has been a manual process that involves creating spreadsheets and relying on vendor catalogs. It's time-consuming, error-prone, and challenging to maintain – absolutely not fun.
However, there are a lot of things you can do to provide FF & E and OS&E options to your franchisors and designers. You can do it in a way that makes it easy for everyone to specify and purchase products, and allow more time for creativity. Win-win!
1. Kill Your Static Hotel Design Matrix
Yep, we woke up and chose violence today, as the kids would say.
Honestly though, it's way past time for PDF brand standards to disappear – they're about as useful as dinosaurs in a design studio.
Instead you should be using a materials library that provides you with guidelines and options in one place. Here's how that works:
Fohlio's materials library saves every single product you've ever specified, whether it's for a specific project or something you just wanted to add to your collection and maybe use for a future project.
Within this database, you can filter for materials that match your specific hotel's brand standards. That means no longer having to switch between a PDF to look at guidelines and manually compare them against products.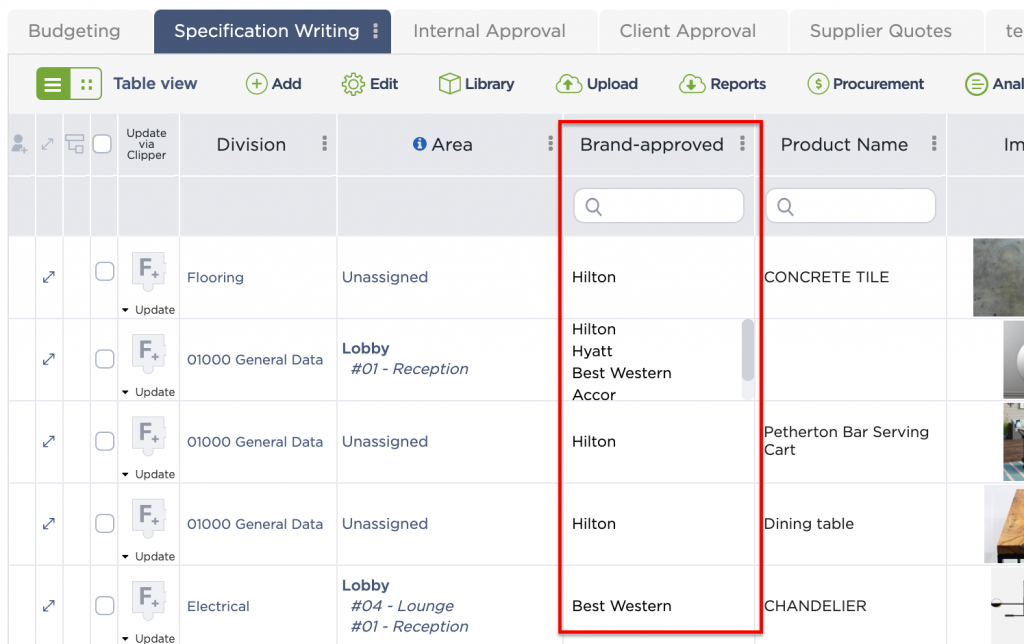 In this magical-sounding scenario, all you need to do is click on a product out of dozens of options to add it to your project. Your energy is spent on creative stuff, not clerical drudgery.
Except it's not magic: You really can make this happen with Fohlio.
2. Keep Your Hotel Design Team and Your Vendors – and Everyone Else, Really – on the Same Product Software
When you work in the Fohlio platform, it's like everything, everywhere, all at once. Except it's everything, in one place, all at once.
That might not have made sense, so allow us to explain.
Having all your collaborators plus brand standards in one place means you're able to share data, lessening the need to manually copy and paste (or–gasp!–type) FF&E and OS&E information into different bits of software.
Vendors have access to the design matrix, so they can easily see for themselves whether their offerings match guidelines. Same thing for specifiers, who can then select from many options, but with the peace of mind that comes from knowing that all the alternatives fit neatly into the hotel brand standards. You worry less about matching standards and flex your design muscles more.
Fohlio provides a centralized platform for designers, purchasers, and third-party team members to collaborate on product options. This platform allows users to access a personal digital materials library that contains pre-approved products from vendors. Users can quickly compare pre-approved products and make adjustments that align with brand standards.
3. Use OS&E and FF&E Templates
FF&E templates. OS&E templates. All the templates.
Far from producing cookie-cutter design, they're helpful in structuring data that makes it so much easier to focus on the creative stuff. Templates provide users with a standardized approach to managing product options, making it easier to maintain consistency across properties.
Whether you're managing product data so you can tag them with the appropriate hotel brands that they've been approved for, or selecting products that match a specific design matrix, templates make it easy to see and manage the exact same bits of information. Think material, color, vendor, energy efficiency, and more.
Additionally: Products evolve. So do design narratives and design standards. Having FF&E templates to refer to when you need to renovate a property or refresh brand standards will make the whole process easier and much more efficient.
In addition to maintaining consistency, proper management of product options can also reduce procurement costs and delays. With Fohlio's centralized platform, users can quickly find and purchase products, reducing the time and resources needed for procurement.
In conclusion, hotel brands must prioritize the management of product options to maintain their standards and deliver exceptional guest experiences. Fohlio's product software provides a centralized platform for managing product options, enabling users to maintain consistency, reduce costs, and improve efficiency. By unlocking the power of brand standards, hotel brands can create memorable experiences that represent their identity and values.
Manage FF&E and OS&E product options more efficiently. Speak to a product expert today.
Expore Fohlio
Learn how to:
Save days of work with faster specification
Create firm-wide design standards
Automate and centralize procurement
Keep your whole team on the same Page
Manage product data
Track budget against cost in real time.
Prepare for asset valuation
Know more
Don't forget to share this post!