What You Need to Know About Building Lifecycle Data (A Brief Primer)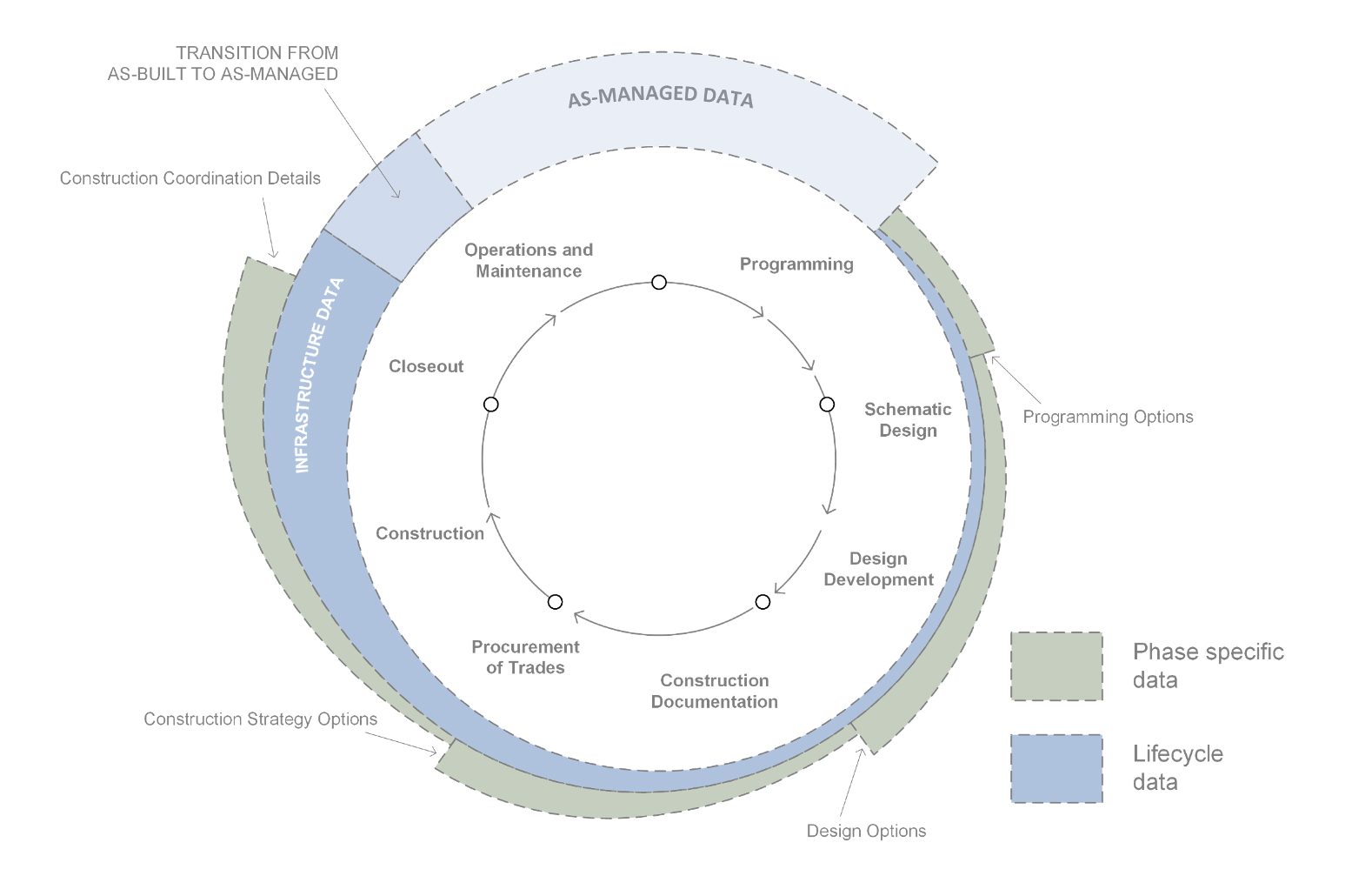 Manage FF&E specification, procurement, and product data at scale. Take on bigger projects with confidence and grow your firm with Fohlio. Schedule a demo or book a consultation with one of our account managers to explore these features today.
You don't need to be an owner to know about a building's entire lifecycle data. But information is currency, especially if you're considering a value-add to your services, like a design firm looking to offer procurement services, a developer wanting to expand into asset management, or a brand selling to franchisees.
In the near future, having a building's entire lifecycle information in one place will be the norm. It'll provide designers, builders, owners, facilities managers, and any other stakeholder with actionable data. It'll allow everyone to collaborate without duplicate work, manual entries, and the constant requests for the "most up-to-date specs."
In this article, Dave Fouche, one of Fohlio's product and marketing advisers, gives a basic run-through of a building's lifecycle and what happens during each phase. We will explore each of these in depth in following articles.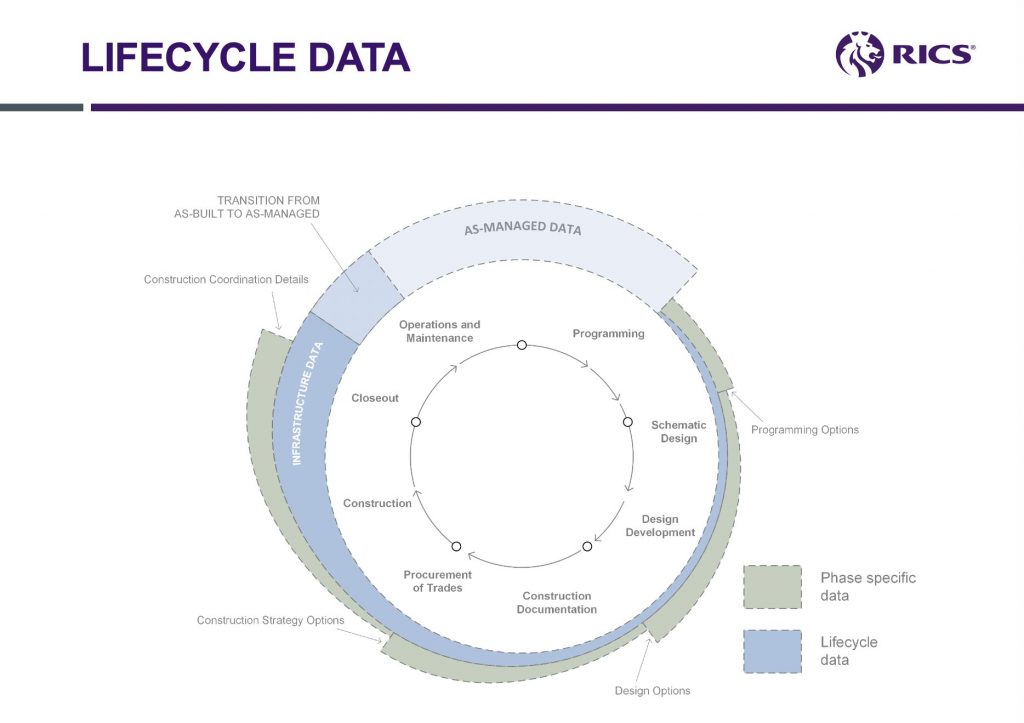 Let's look at the phases a building goes through, beginning with programming. What programming answers is the question, "What are we building?"
Let's say it's an airport. The programming phase tells us, "How many gates are we going to have? How many flights do we expect in and out? How big do you need the traffic control tower? Where is the actual air traffic control going to be located?"
At this point, you're trying to decide, "Are we going to have retail? Are we going to have restaurants? How many square feet of this?"
All of that's in programming. You haven't drawn a line. You're just getting the basic facts of what you're going to build.
Then you move into schematic design, which is when you're doing some rough sketches. You're trying to figure out where the building's gonna be located on the site. You look at square footage, you know — it's like an artist's sketch, if you will. We're just starting to get going.
Between schematics and construction documents, is design development. That's where we took the sketch, and we're deciding, "Where the walls are going to be exactly, how wide are the hallways, what kind of lighting do we use? Are they going to be sconces? Are we doing wall lighting?"
All of that is decided at the end of design development. When you're done with design development, your design is done, basically. From then on, you're just tweaking. You're tweaking because as you get into construction documents, you realize, "Oh, that's actually not going to work the way we thought it was going to work. So instead of of the planned five little ceiling lights above the bar area, we realize, "That's not going to give us enough light. Now that we're doing our calculations, we really need six of them or something."
So that's going to change. But the basic design is not.
They're going to make those kinds of decisions during construction documents, but they're not going to change the fundamental design.
Construction documentation is saying, "I need to draw up drawings and construction specifications." It tells the contractor general information like submittals, specs, also identify materials or products that you can use.
And then it tells you how to install it, how to store it, how to test it, all these other things. Those are pretty big documents.
The drawings and the specs go together, and that's what's called construction documentation. So an architect and a design team and structural engineer, electrical engineer, they have to put together a series of documents, drawings, and specs that say that, tell the contractor, this is what we're going to build, in enough detail that he can put a price to it.
And that's kind of the key because the contractor is going to come to and say, I can build this for $1 million. And if it's a bid situation, he knows that the client may well choose the lowest bid. So he's gonna keep his bid low because he's in competition with two or three other contractors. But those drawings and specs have to be tight enough for him to create a good bid. So that's what construction documentation is.
This is a really important point in time, because, legally, that's like a line in the sand. It's a big legal line. It's pretty solid because anything that changes to the construction documentations after that line? The contractor can claim a change order. He can ask for more money.
Then your procurement of trades– that's saying– the contractor says, "All right, I got this thing. And I'm going to go hire this mechanical, this electrical, and these guys are going do concrete. This guy's going to do steel." The general contractor really doesn't build anything himself. He organizes all the other trades that are going to build.
You go to construction next.
Closeout is the period where the owner walks the building. Usually the architect's involved, or the structural engineer, to walk the building and say, yes, everything's working the way it should be, and we're going to close out the contract and we're going to prove that this building is what we thought it was going to be. It meets all the requirements that we had, everything's in place, everything's working. I flipped the lights on, they come on. The air conditioning is keeping the temperature at 70 degrees or whatever. All of that happens during close out.
During closeout, you have FF&E in place. Now, sometimes they have what's called, "owner-furnished, owner-installed." And that's when the owner says, "That's not part of your contract. I just need space for (FF&E)."
The other big piece of closeout is that the building inspector has to come in and give you a certificate of occupancy. Building inspectors, a city official or local official, works for the government, local government who walks the building, looks at the drawings, and makes sure that it meets code. They're trying to make sure that this building is safe for people to be inside.
Then you go into operations and maintenance, and that's when the owner owns the building and he's going to do ongoing maintenance– the light bulbs– anything from the light bulbs need to be changed, to, we got a problem with the electrical on floor six, and they got to go bring in a contractor to do something. Or there was a leak in the roof and we need somebody to clean all this stuff up and we're going to have to replace the HVAC unit, or we're going to have to do this or this pump's not working, or whatever it is.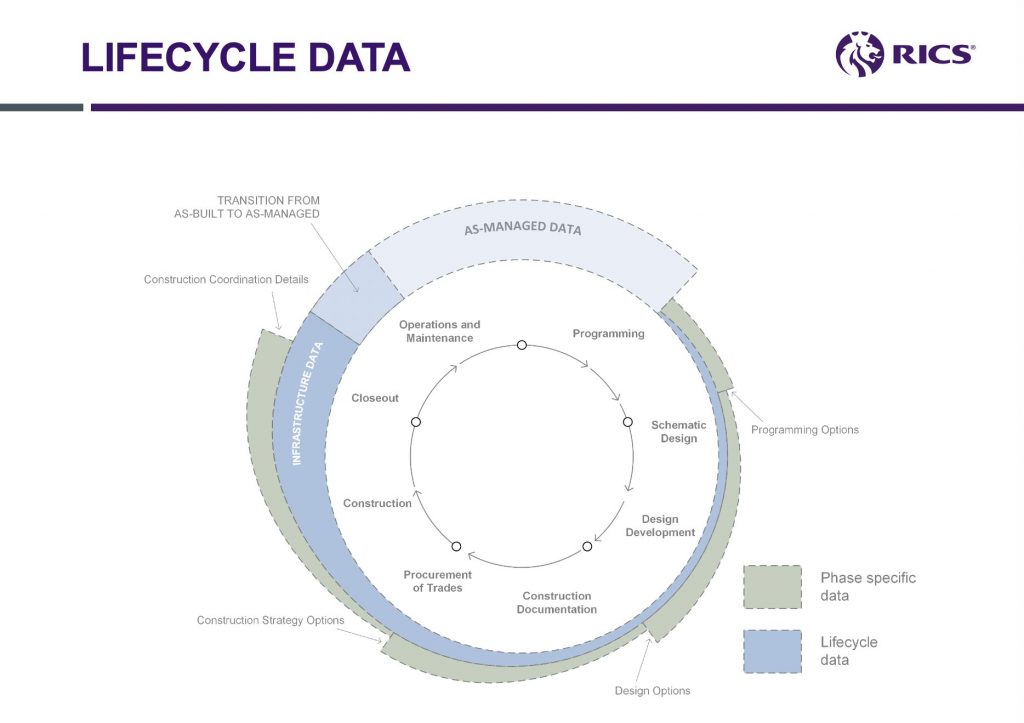 So that's the life cycle of a building. And the reason it becomes a circle is that at some point you decide to renovate the building, or you retrofit it. Sometimes you demolish it, obviously, and then it would be a dead end. But at some point that building's going to go through a major renovation or a retrofit or something. And that whole process starts over again, an office building like the one we're in right now, that's continuous because you got new tenants all the time, and they're going to go through a smaller version of this circle.
The whole workflow that Fohlio handles. And this is what this diagram is talking about. The blue sort of gray represents data that actually does carry through without stopping, that's lifecycle data.
The green is phase-specific data. It's data that's just specific to that particular phase. The diagram is pointing out that every time you go to a different phase, data stops to be useful. Some data is lost.
Manage FF&E specification, procurement, and product data at scale. Take on bigger projects with confidence and grow your firm with Fohlio. Schedule a demo or book a consultation with one of our account managers to explore these features today.
Expore Fohlio
Learn how to:
Save days of work with faster specification
Create firm-wide design standards
Automate and centralize procurement
Keep your whole team on the same Page
Manage product data
Track budget against cost in real time.
Prepare for asset valuation
Know more
Don't forget to share this post!