Three Examples of Workspace Design Done Right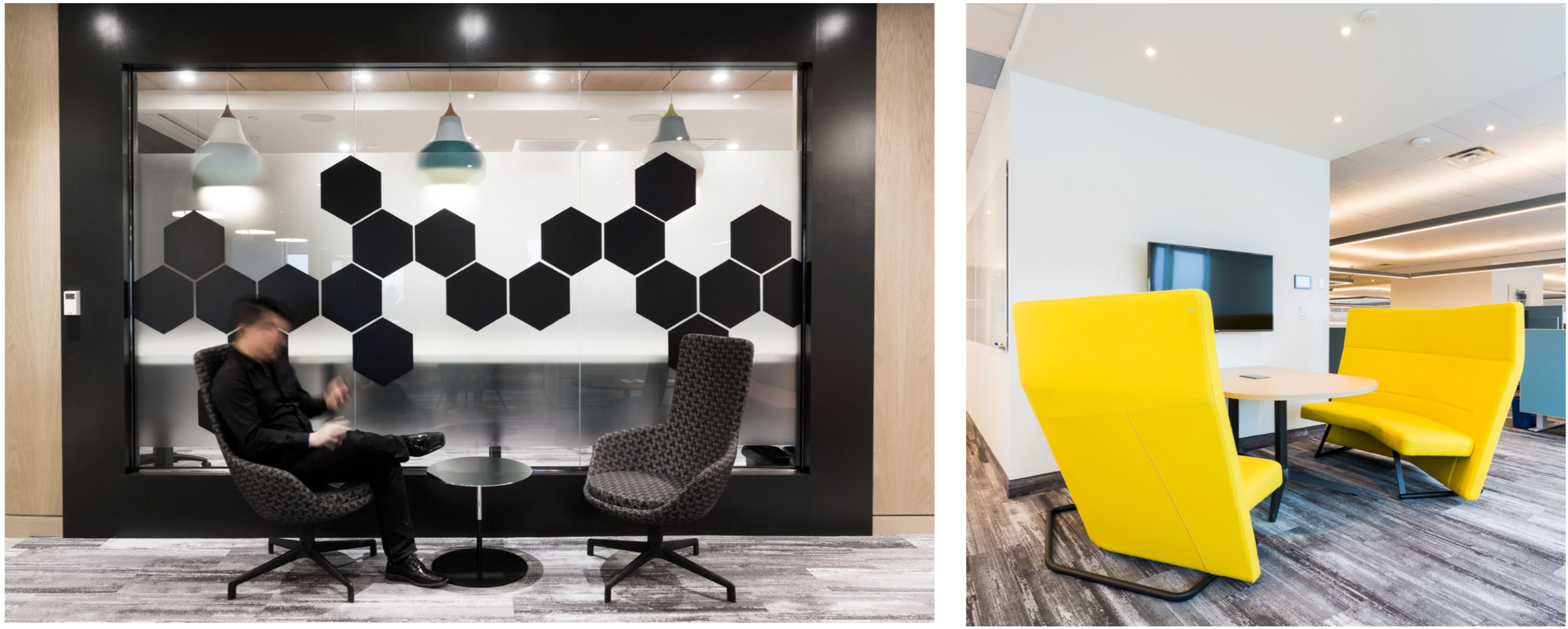 In an earlier post, I mentioned this great debate over whether offices should have an open or closed plan.
It's quite a heated talking point — but at SDI, we think they're missing the point. Instead of deciding between an open or closed office, they should provide a variety of spaces within the workplace where people have the flexibility to do different types of work.
Our ideology is "made for humans." We really focus on that human experience.
Here are a few examples of how we've applied this principle to our projects.
Beasley Insurance
Let's start with a UK insurance company called Beasley and their Toronto-based office.
What we did here was, we convinced the client to go with unassigned seating — so none of the employees in the office have their own desks.
Instead, what they have is a variety of environments that are conducive to the type of activities they are working in at the moment, and also accommodates the different types of people in the office.
So, the blue in this diagram is a focused area — it's like a quiet place. Here, the company has imposed a no-talking policy so that people can come here and focus if they need to.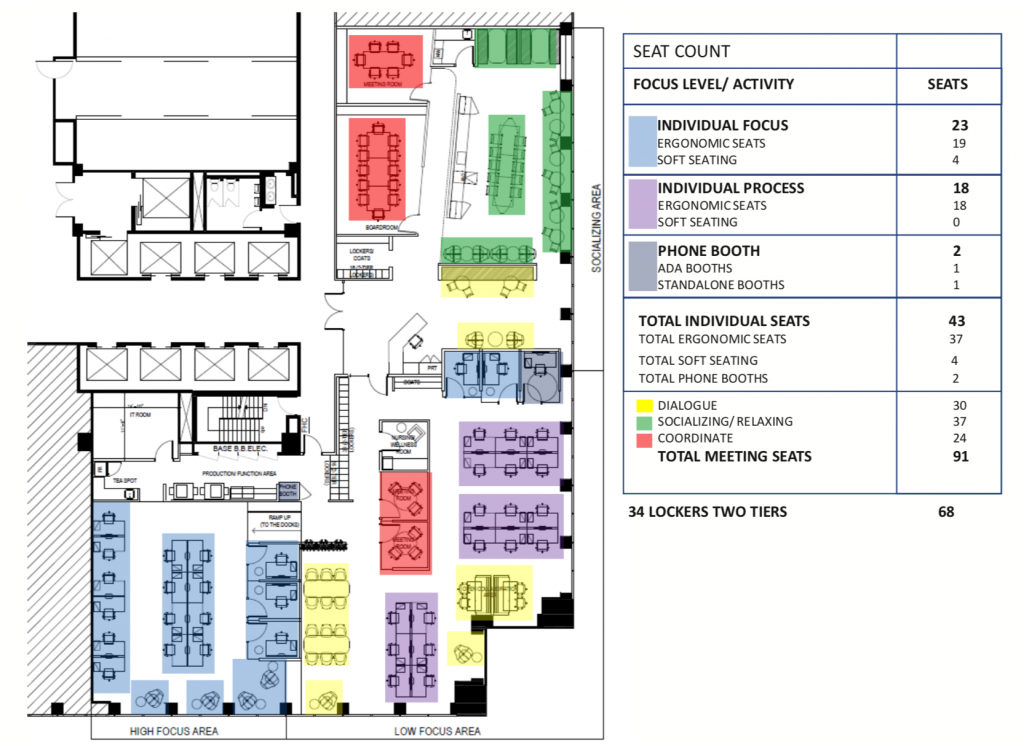 Again, they're not assigned so that they can be booked by whoever needs them. And even within that space, there are different types of furniture and different types of environments that cater for the different personalities.
Then we have the purple, which is like an individual processing area. What that means is, you're still working alone, but you don't mind having brief interruptions while you're working. So then someone might ask you a quick question where you might shout over to a colleague who is sitting across from you and have a brief chat.
We also have a phone booth, which is for those private conversations with your mother that you don't want to talk about in front of your colleagues, or you know, a confidential conversation with a client.
And then we've got dialogue spaces, which is the yellow. These are more like breakout spaces where it's acceptable to speak.
The green area is the socializing and relaxing area. So we have a large cafe that you can have meetings and presentations, but it also is used just to kind of go relax and recharge. And then of course like private meeting rooms to coordinate and to present and to work in those meetings.
Let's do a little walk through. This is the reception. You just enter into the space and straight away you have these breakout areas. So for example, if you have a client who's just coming to say hello or drop something off, you don't necessarily have to take them through the entire space and the meeting room — you can have a really casual chat just here.
If you want to sort of get away and work kind of in a cafe feel, you can come out and work in the lunchroom. And again, it's multipurpose: You can have lunch here with your colleagues, but you can also work in the back.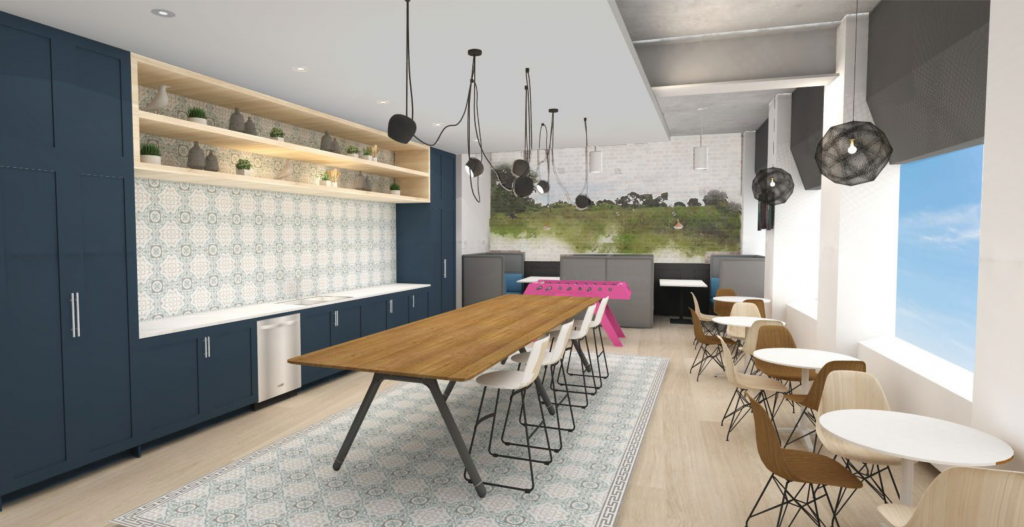 We've created these more private booths where you can have lunch but also have a meeting or grab your coffee while having a meeting. So you're not necessarily in a stuffy office all the time, but you can come out and be in a more casual setting but in the same space.
Now we go to the processing area where you can do personal work, but you don't mind getting disturbed. So within here we have the processing areas open, but you can also go into these more close semiprivate areas.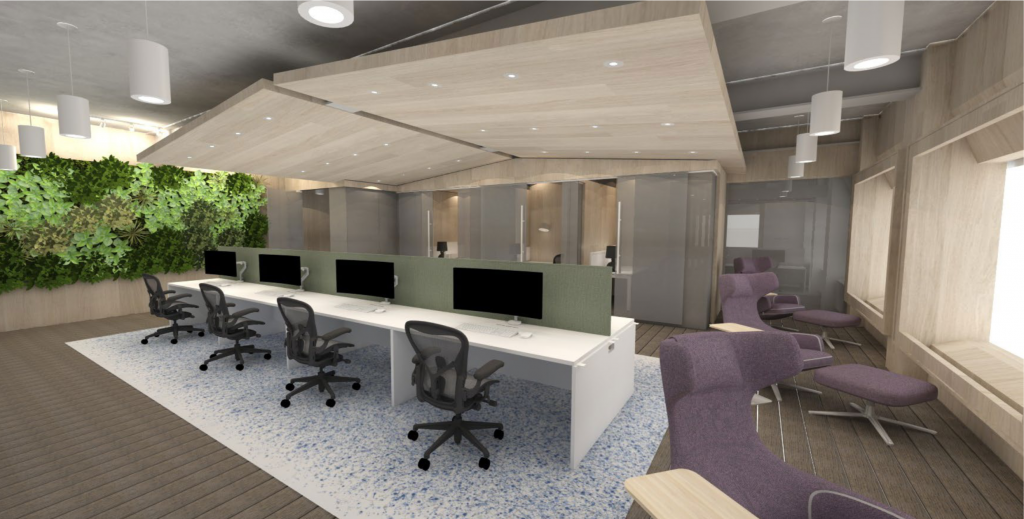 The ceiling has sound attenuation paneling too to make sure there's not as much of an echo in that space, again for sound purposes.
This other space over here, we have a few more of those processing stations, but also break up stations for teams to have to be able to work on a presentation or something similar.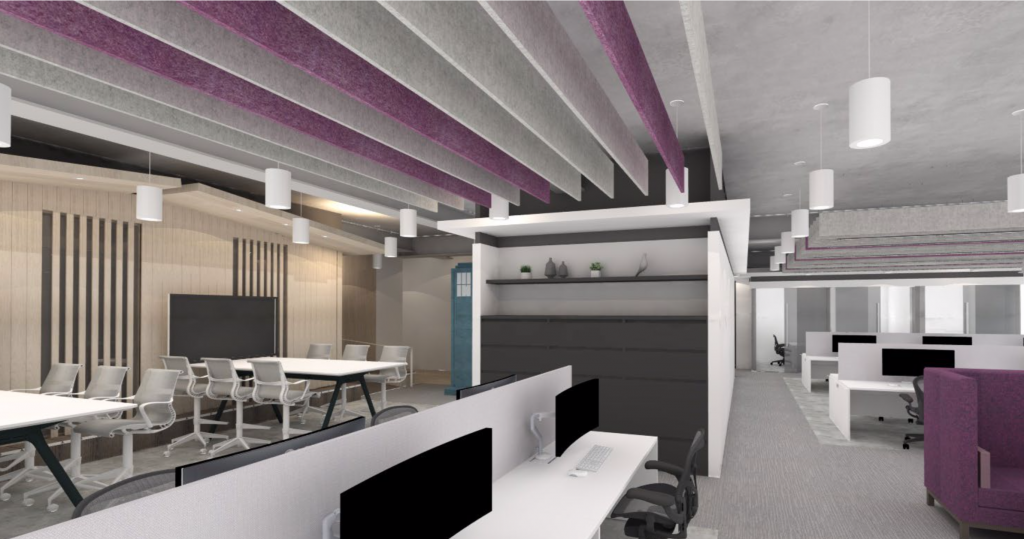 If you want to just go and work at one of these tables, you can, and then that area behind is a quiet, focused area. We've also done the traditional Doctor Who phone booth, paying homage to British origins of this company.
So that's Beasley, and it's a great example of demonstrating different varieties of space.
Novo Nordisk
Now we jump into Novo Nordisk. It's a Scandinavian company, based out of Denmark, that have headquarters in Canada. Novo approached us and said, you know, their last office had a lot of silos within the space — different departments. They're not talking to each other.
So what we did was, there's two floors: The ground floor was client-facing floors with meeting rooms and a breakout spaces and cafes so they can host their events and have people there.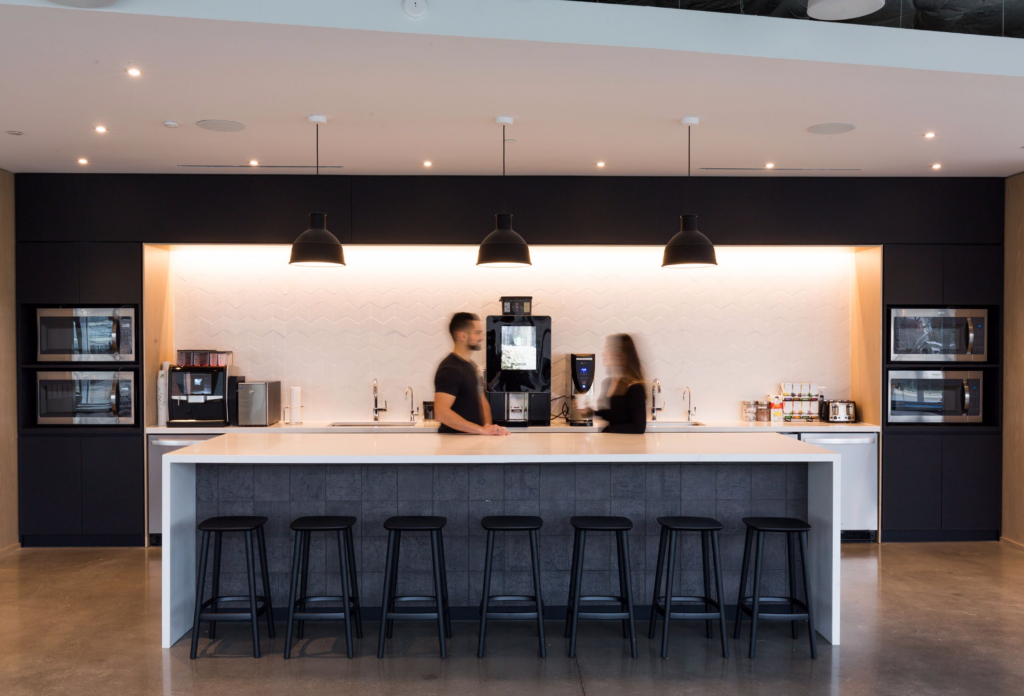 So the staff come down here every day and they have lunch here, and the company provides them with hot food every day. However, this is also an area where they can work and interact, and it creates the opportunity for a lot more interactions with colleagues.
They have a policy that they're not allowed to eat at their desks. So every time they want to eat, they'll have to come down. And every time they come down, then it might be other people down there or during lunch time when the food is served, they get to interact with other colleagues to kind of counter that loneliness epidemic that is happening.
Now these are sort of little breakout spaces.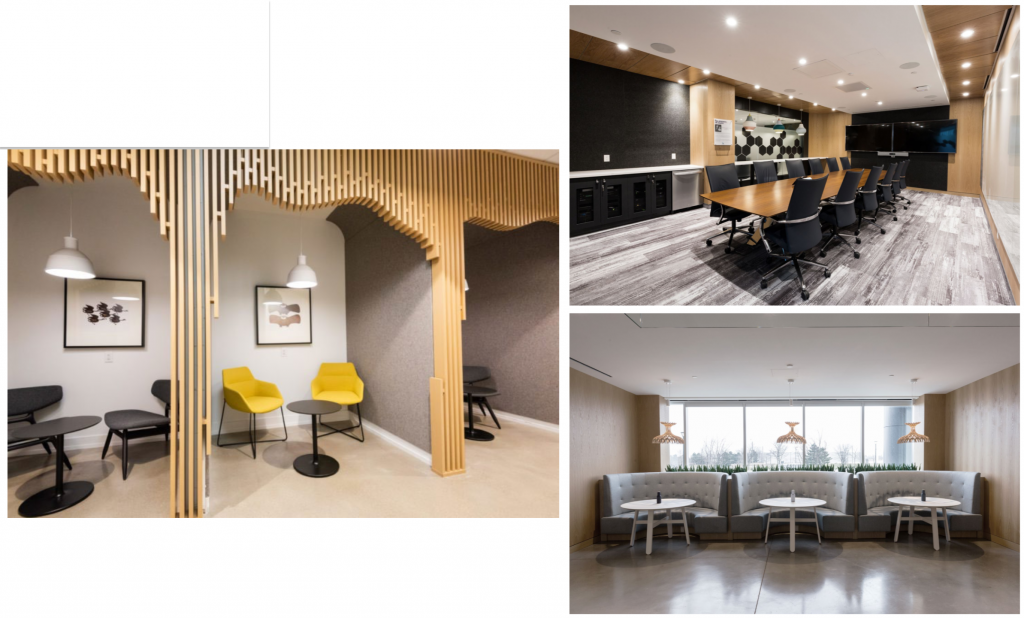 These sit just outside of the workstation. So we created like clusters of workstations with different teams, but within that area we've created a lot of different breakout spaces.
Then we have these yellow benches.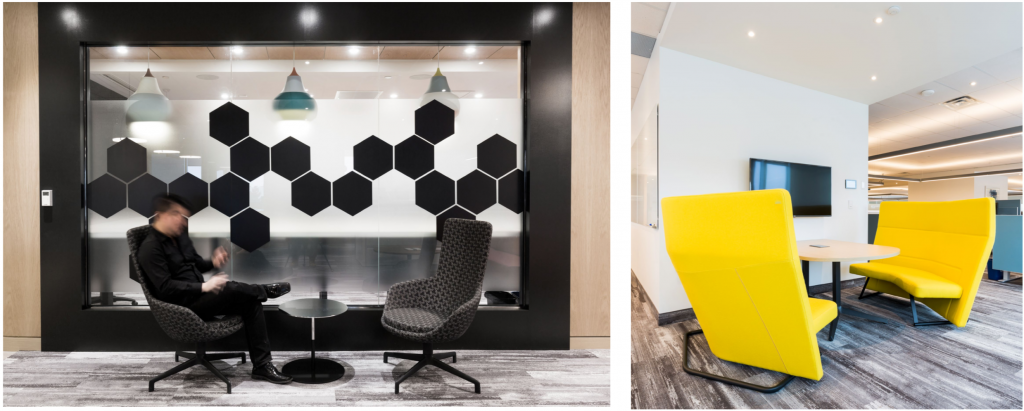 They're situated right next to the workstations. These two chairs just outside this meeting room is an area where, you know, let's say you're about to have a meeting. Often, you get people lining up waiting outside. We've all been there where we've waited for a meeting and someone's still in the meeting room. This gives the opportunity for you to just talk to your colleagues in a more relaxed manner, and you can sit down and wait comfortably.
So again, providing a lot of different varieties of space for the employees to engage, interact, and conducive to different tasks and personalities.
SDI
And then finally, this is our office, and these are some extractions from our Instagram. So the first two, which is actually identical — you can see that the same space can be used for two different purposes.

This is Sam, who's found all over the office every day. Here you can see he's either individually processing, so maybe he's on Fohlio and he's looking at different specifications and he's just going through and checking everything is specified.
Or maybe he's relaxing. Is he browsing on Facebook or texting his girlfriend or something? So, same furniture, same solution but has two purposes.
The third image on there, that's the focus area.
We've created more private areas to have a call, to work, focus if we want to, step away from our desk and actually do some meaningful deep work. And then some dual processing, as well.
So again, having an area you can kind of step away from your desk, you're not disturbing anyone and you can actually work on a task together with another member of the team.
Um, okay, what else we've got and forming. And I just realized that the title is the correct. Um, so ignore that a in four weeks. So within our studio, so our students actually didn't.
Our office is two thirds flexible and communal space. And then one third is where we have the desks, you have workstations, but everywhere else is flexible space.
And we have this huge cafe. It's a cafe, but it's also, it can be divided up into the bleachers so someone can give a presentation or it can be cleared entirely for an event.
So really having that opportunity, a flexible space is really key and I feel like a lot of companies now are moving away from that and giving less square footage to individual employees for that workstation and giving them more variety and more options to go into work within that space. So here are just a couple more examples of different activities that are happening within our studio.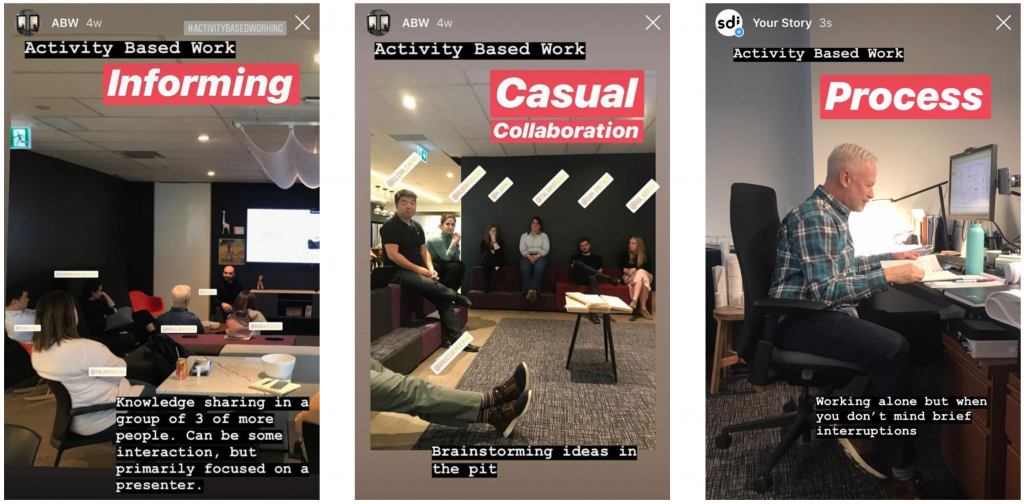 And I think it really goes back to that point, you know, where it's not necessarily about the open concept versus the closed concept. It's really about the human factor. So these elements, the real estate and finance, the functional requirements of your space are critical, but it should be driven by that user user experience, the human factor.
This post is an excerpt of a webinar and podcast by Noam Hazan, hosted by Fohlio Inc. You can watch the complete webinar with visual aids here, read the first part here, or listen to the complete podcast here:
Subscribe to our podcast here!
Fohlio helps you put together service and job site packages more easily, calculate cost and profit, and deliver more projects in less time. Check out our features here. Schedule a demo here.
Expore Fohlio
Learn how to:
Save days of work with faster specification
Create firm-wide design standards
Automate and centralize procurement
Keep your whole team on the same Page
Manage product data
Track budget against cost in real time.
Prepare for asset valuation
Know more
Don't forget to share this post!