7 of the Most Beautiful Olympic Stadiums and Venues Ever Built
Architecture and the Olympics have always had an intimate relationship. World-class athletes perform superhuman feats; it's only proper that they do it in the most magnificent Olympic stadiums.
As the games heat up, let's take a moment to look back at some of the most beautiful Olympic venues ever built. We might even take some inspiration from them.
In no particular order:
Olympiastadion, Munich, 1972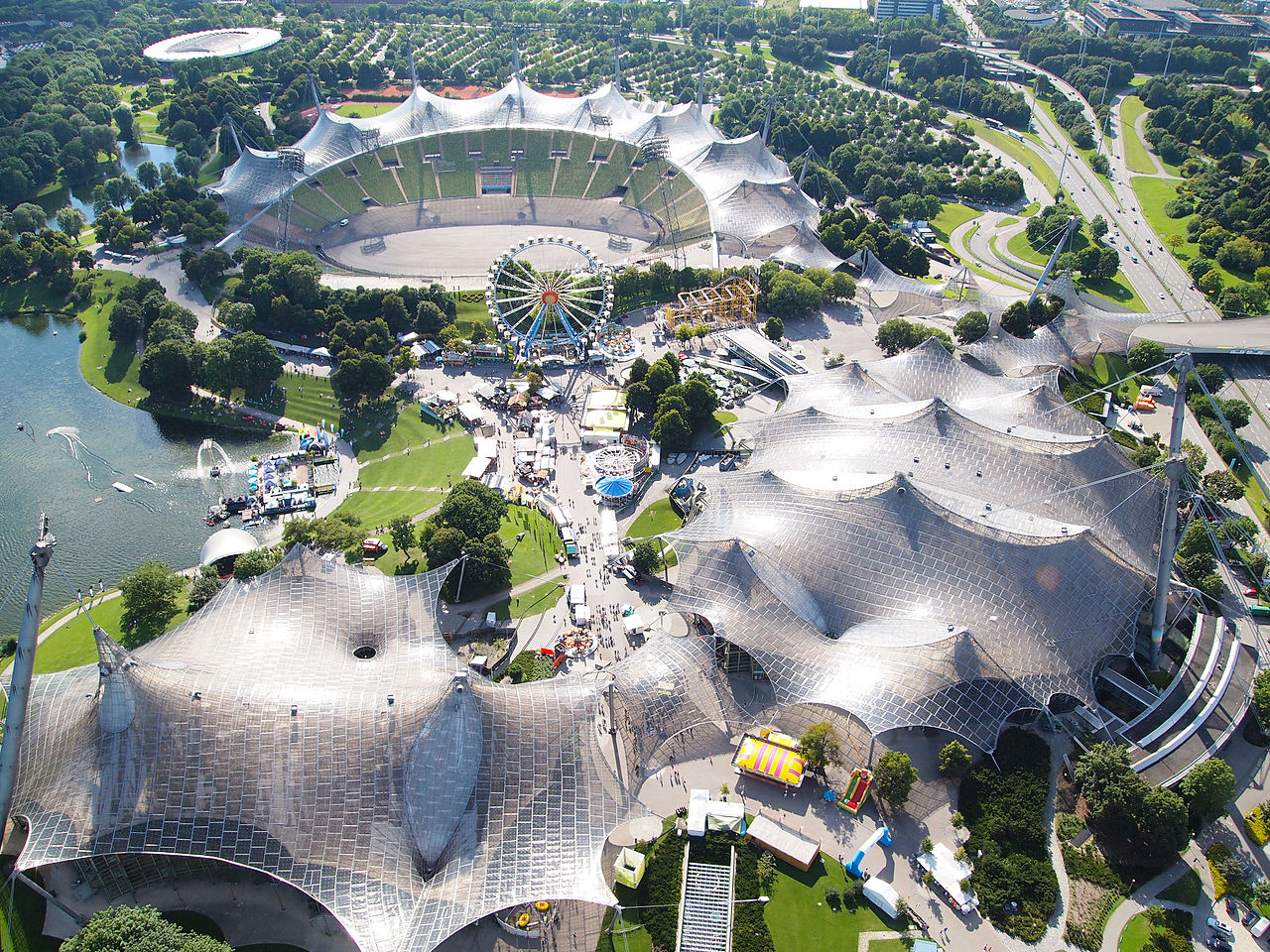 Frei Otto's masterpiece blends effortlessly into its surroundings. The roof forms peaks and waves, reflecting the nearby Alps. It's also built into a hollow created by bombing in World War 2 — not just practical, but also a symbol of Germany's rise from the ashes.
The stadium demonstrates Otto's pioneering use of tensile and membrane architecture. Instead of the typical opaque roofs, he designed a translucent canopy made of steel cable and acrylic panels.
436 kilometers of steel cables were strung between 58 cast-steel pylons, which supported 8,000 Plexiglass panels.
Even though the Olympiastadion is one of Otto's most celebrated works, it left the architect disappointed and disillusioned. For one, he had originally planned for it to be a temporary structure using light membranes, but the project used Plexiglass instead.
Bird's Nest, Beijing, 2008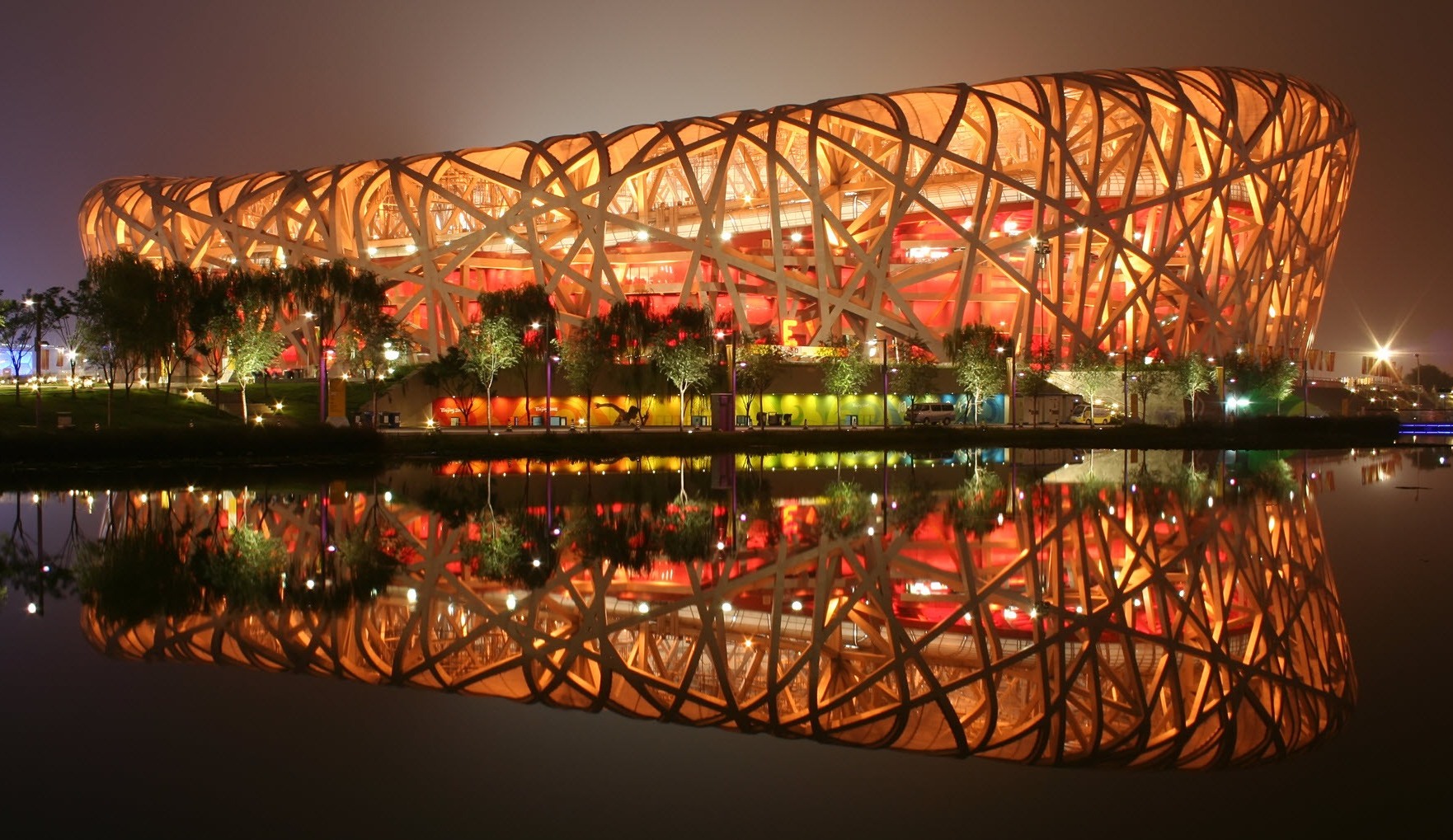 "Bird's Nest" started out as a nickname given to the venue by Beijing locals. While the lines seem random, it's actually a sophisticated pattern: It follows complex rules for which advanced geometry was defined. The circular shaped symbolized "heaven."
The stadium is supported by 24 trussed columns, each weighing 1,000 tons. Smaller beams are welded between them to increase strength and enhance its crosshatch appearance.
Because Beijing is one of the most active seismic zones in the world, local government required that the stadium be able to withstand 8.0 magnitude earthquakes. The temperature was also highly variable, so the architects had to deal with thermal expansion, as well.
Their solution was to produce a new steel called Q35, with high hardness and ability to bear stress up to 35 x 106 pascals. The Q35 was used in the construction of the columns.
Another type of steel was produced, called Q460. It was high strength but flexible, and provided support for the trusses.
Yoyogi National Gymnasium, Tokyo, 1964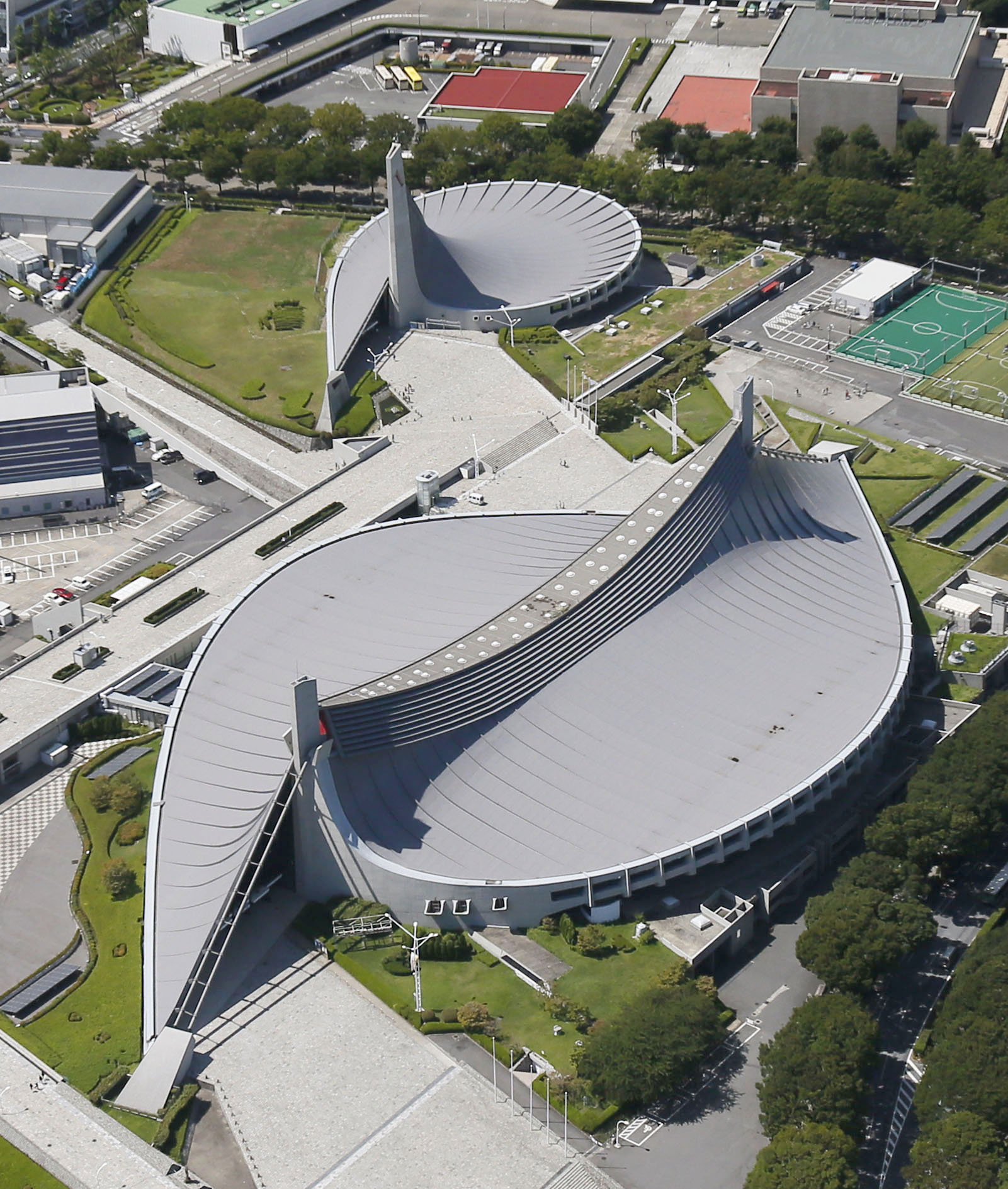 Gentle waves flow out in graceful contours, connected at the center by a steel spine, which in turn are strung between towers. At the time of its completion, it was the largest suspended roof in the world.
The central spine is made with two 126-meter long steel cables. 13 inches in diameter each, they are covered with a grid that also create the connection to the ground.
It is unmistakably modern, but as is usual with the Japanese, marries traditional elements. The places where the towers and the cables meet, for example, are reminiscent of the upturned corners of Japanese pagodas.
Aquatics Centre, London, 2012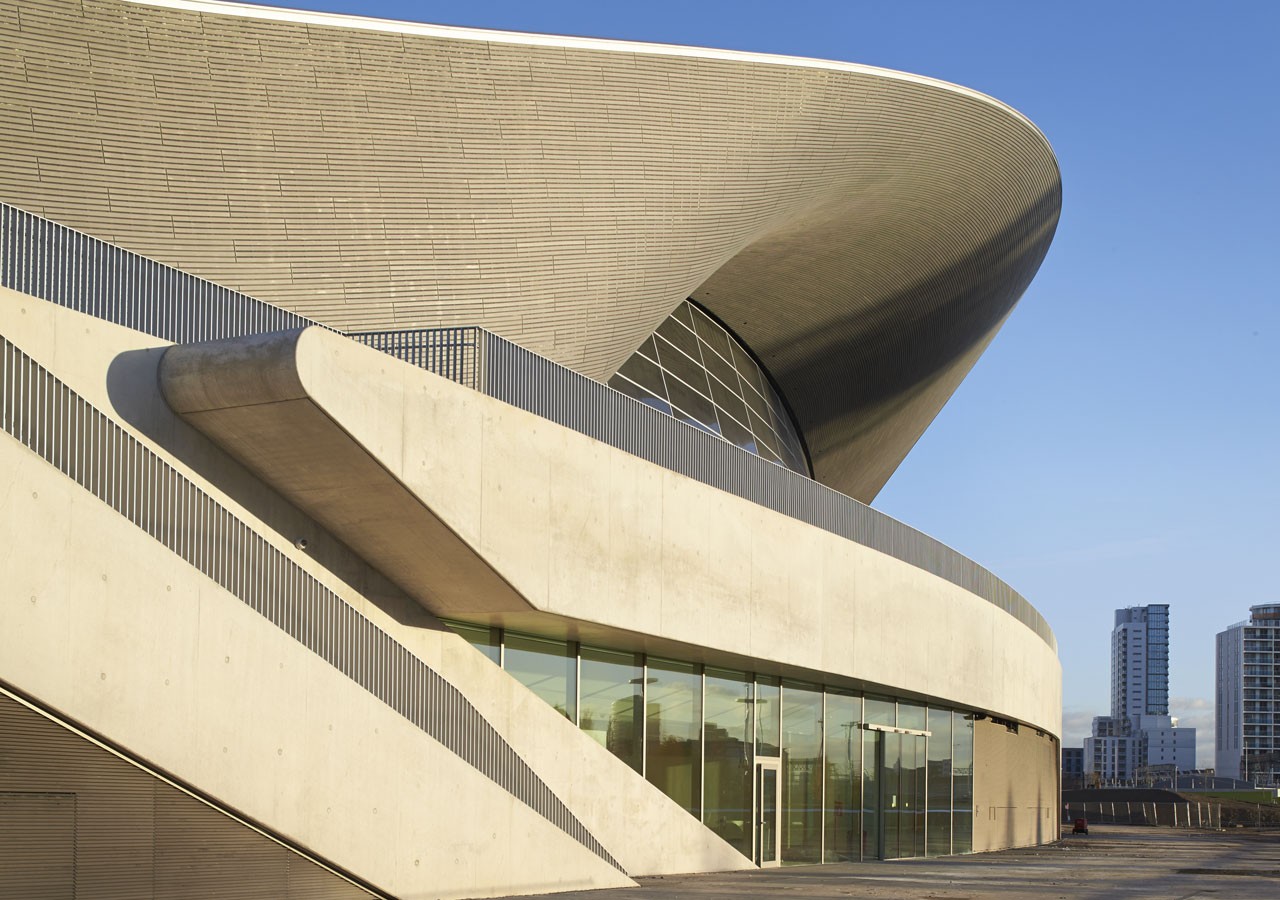 Despite not being the main venue, Zaha Hadid's creation essentially took home the gold during the London Summer Olympics.
It wasn't until the competition was over that the structure could be viewed the way it was originally meant to be seen. Removing the two wing-like seating structures revealed a dramatically swooping roof. The stadium was inspired by water in motion, and blends harmoniously with its surrounding river landscape.
850,000 tiles cover the floors, pools, and changing facilities. Springboards, diving platforms, and the cluster of towers are made of concrete, formed and cast onsite. Interestingly, a by-product of steel production was recycled and added to the materials, which reduced the necessary concrete by half.
Spyros Louis Olympic Stadium, Athens, 2004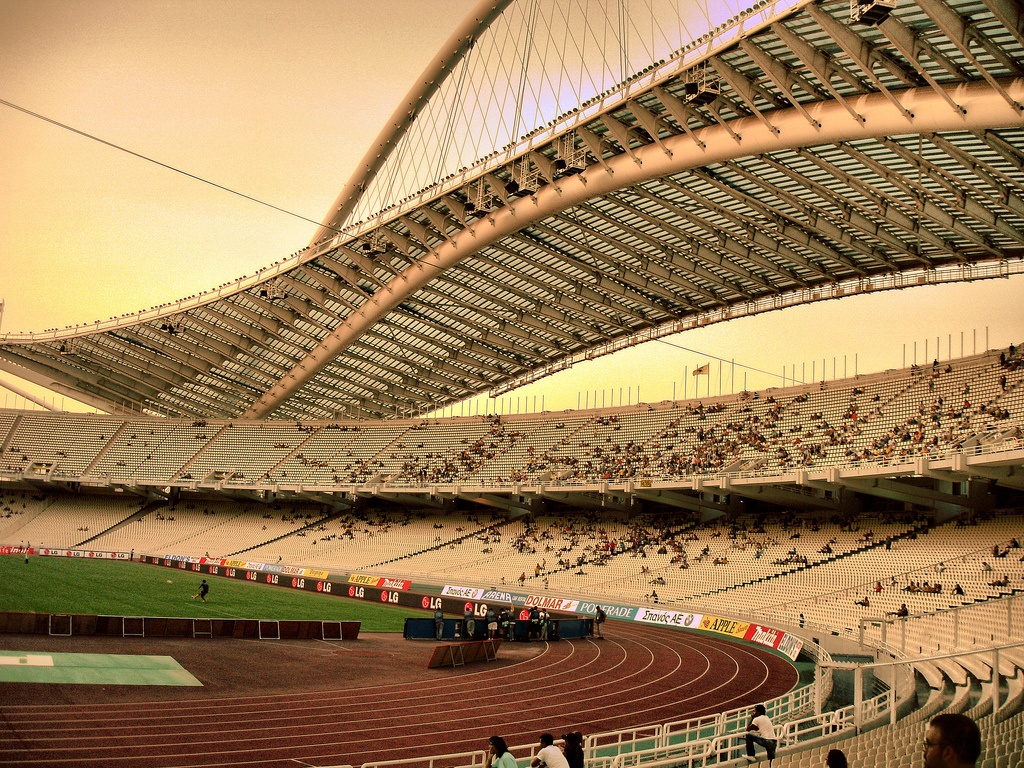 One great thing about this particular venue is that it was not completely built from scratch. The stadium was completed in 1982, originally to host the European Championships in Athletics. Since then, it has hosted several other sporting events, including UEFA.
It was renovated for the 2004 Summer Olympics. Santiago Calatrava, known for his immense steel structures that resemble animal spines or rainbows, and that seemingly defy gravity, designed the roof.
For the Spyros Louis, Calatrava formed two tubular steel arches. These rise to a height of 72 meters, and support a laminated glass roof 25,000 square meters wide.
National Aquatics Center, Beijing, 2008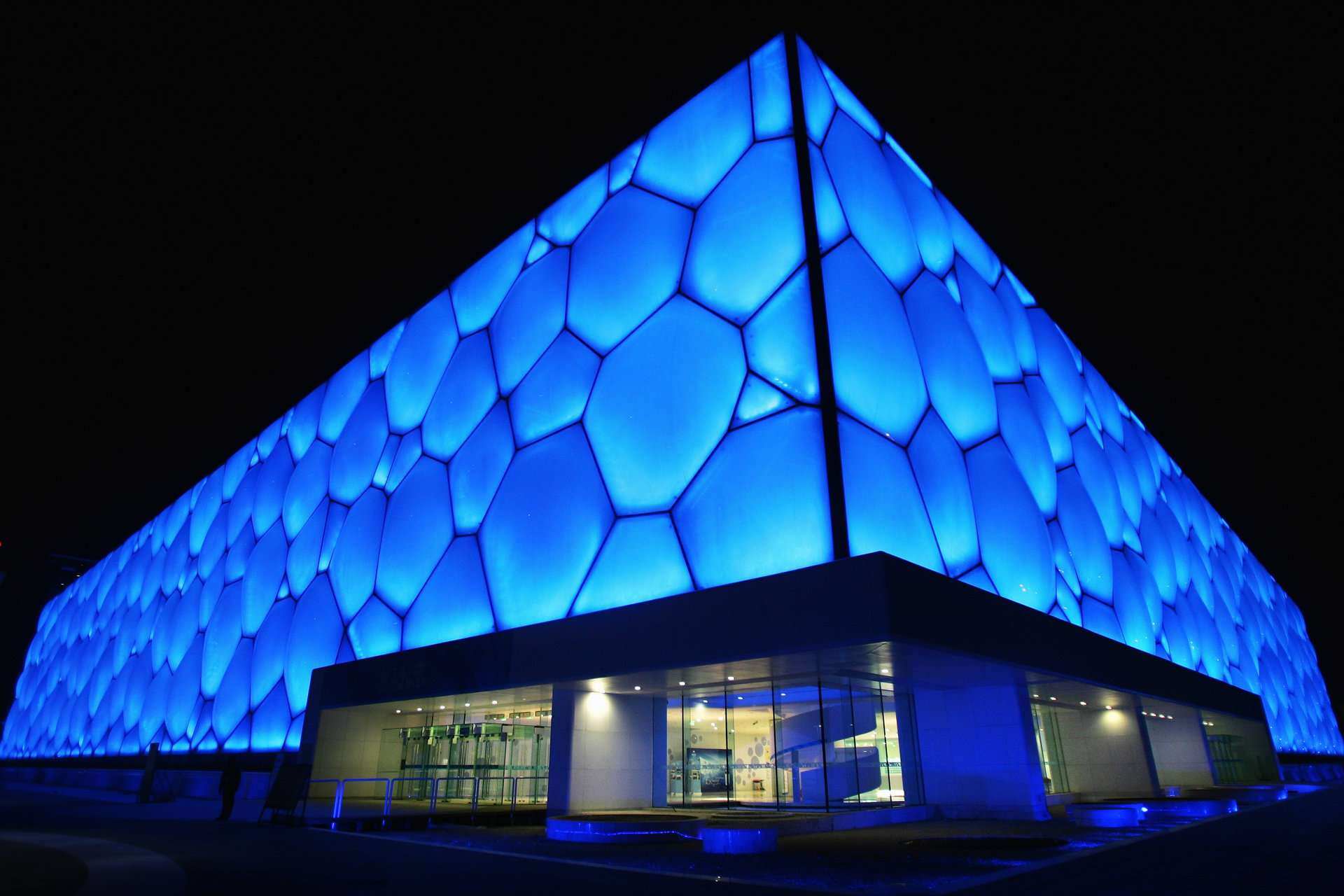 Also nicknamed the "Water Cube," this venue was built alongside the "Bird's Nest." While the latter represented heaven in Chinese tradition, the cube represented earth.
The steel frame is clad in ethylene tetrafluoroethylene — ETFE for short. This is a type of plastic that is highly resistant to corrosion and can withstand a wide temperature range. The ETFE cladding's pattern is based on the Weaire-Phelan structure, the pattern naturally formed by soap bubbles in water.
Besides durability, this material provided another significant benefit: It allows more light and heat to penetrate than traditional glass, which saves the Water Cube 30% in energy costs. And as for weight? It's only 1% as heavy as glass.
Speaking of efficiency: The Beijing National Aquatics Center is one of the few Olympic stadiums that have managed to be reutilized. In 2010, it was reopened to the public as a water park. And in 2022, it will host the curling event for the Winter Olympics.
Panathenaic Stadium, Athens, 2004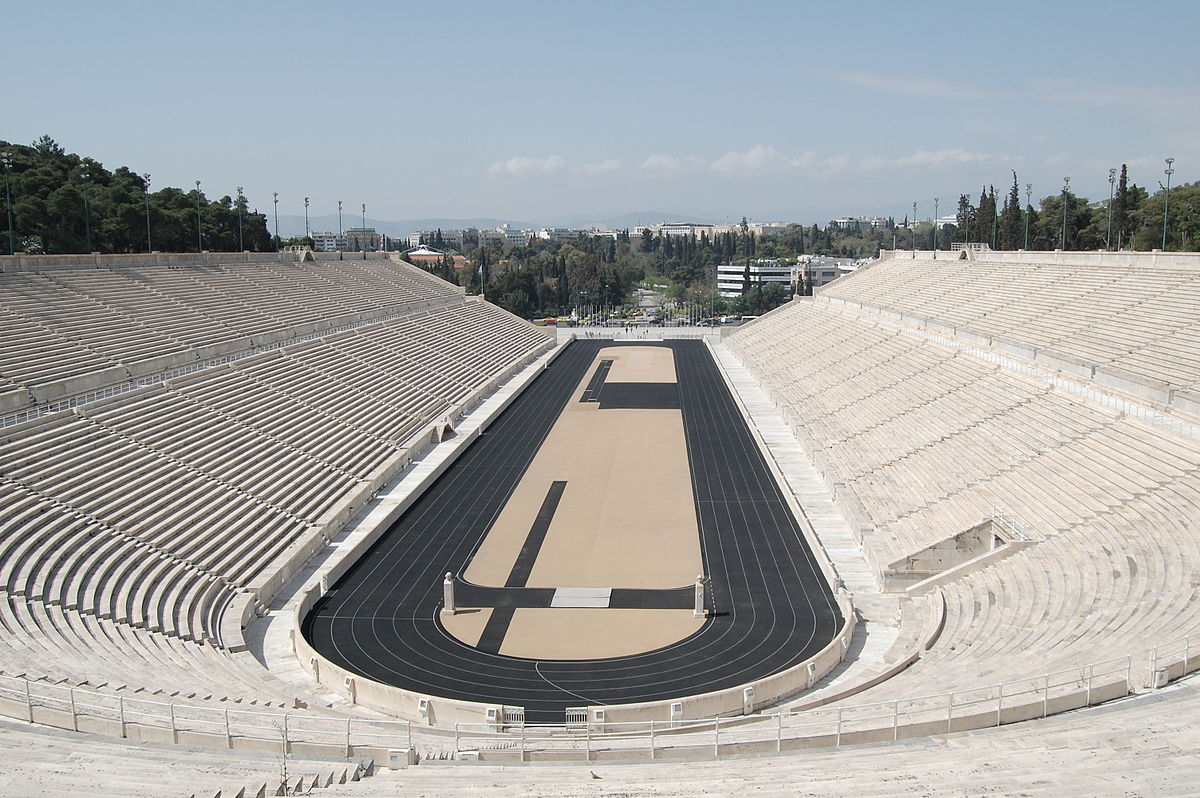 Okay — at first glance, it's really unremarkable. But allow me to explain.
First of all, this stadium is close to 2,000 years old. And that's not even counting its first incarnation as a racecourse in 330 BC. In the 144, an Athenian Roman senator rebuilt the entire thing for the Panathenaic Games (a sort of smaller version of the Olympic Games).
It was refurbished for the 1896 Summer Olympics, the first international Olympic Games held in modern history.
What else? Oh, just that it's the only one of the Olympic stadiums that's built entirely in marble. I don't know about you, but the gorgeous material coupled with an extremely simple design is a striking contrast. It's one of the reasons it didn't need major refurbishing for the 2004 Olympics, despite its exposure to the elements.
But what about the Pyeongchang Olympic Stadium?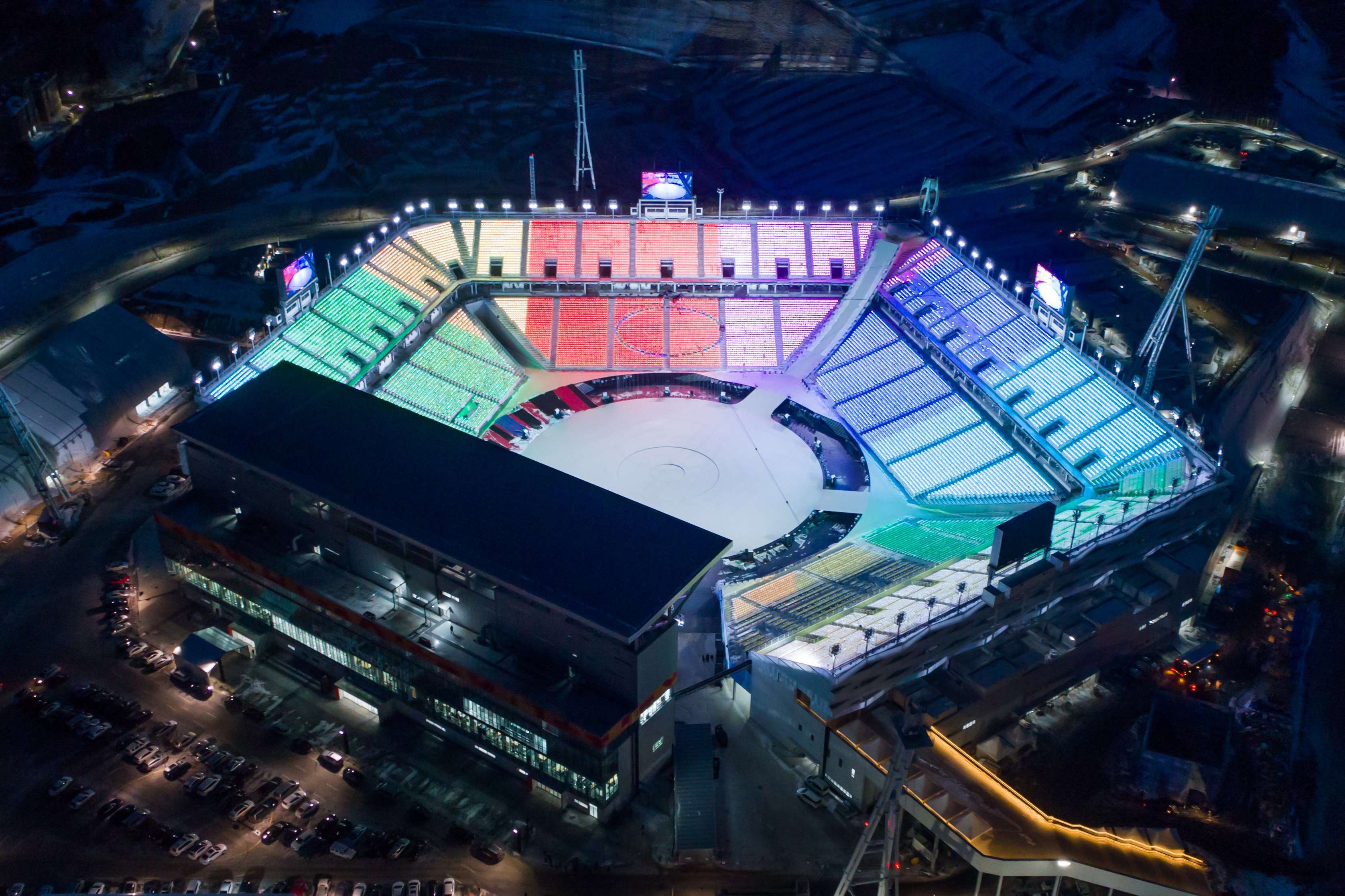 We'll let the Testy Tastemaker do the talking: "South Korea's stadium looked like a cross between a broken-down dog-racing track in Tampa and a 1970s office park in Stamford, Connecticut… I won't even get into the bizarre metal phallus that ushered the sacred flame from torch to cauldron."
On top of that, the stadium has no roof or built-in heating, despite being nestled in snowy mountains and buffeted by freezing winds. To make things worse, this year's lows are breaking records.
To be fair, polycarbonate walls were installed to protect spectators from the winds. Blankets, raincoats, heating pads, and gas heaters were also provided, so they're definitely doing their best to take care of the fans.
It's also worth noting that these cost-cutting measures are part of a planned obsolescence. It may be the smartest thing to do, since Olympic stadiums do have a long history of being white elephants.
Which of the Olympic stadiums is your favorite and why? Tell us in the comments below!
In the meantime, check out Fohlio — whether you're building Olympic Stadiums, hotels, restaurant, or single-family homes, FF&E specification is faster and easier.
Sharing is caring -- click one of the icons on the left to post it on your favorite social media.
---
Also published on Medium.
Your email address will not be published. Required fields are marked *