Government Construction Projects, Part 2: How to Adjust Your Spec Sheets and Design Standards
Fohlio helps you deliver projects faster, with fewer errors. Collaborate better, specify more quickly, and create design standards. Schedule a demo with us or explore different features with one of our account managers.
Government construction projects differ significantly from private ones in several ways. In a previous article, we discussed specific requirements that would allow you to bid on federal projects, among other things that will help you get started.
In this article, we're going to talk about terminology and how to set up your digital materials library and spec sheets. This will help you adapt your system to federal design standards, schedules, and more.
Terms Used in Organizing and Specifying for Government Construction Projects
Joint Schedule Number (JSN) and Nomenclature
Joint Schedule Numbers or JSNs are the alphanumeric symbols used to categorize materials used in federal construction projects. You can think of them as the equivalent of CSI Division Codes.
The JSN format consists for five characters: an alphabetical character followed by four additional alphanumerical ones. The alphabetical character denotes a material's commodity group, while the following four characters identify the product type, or "nomenclature."
A Architectural
C Fixed Casework
D Dental Equipment and Casework
E Modular Casework
F Furniture and Furnishings
G Physical Therapy and Gym Equipment
K Food Service Equipment
L Laboratory Equipment
M Miscellaneous Medical Equipment
P Plumbing Fixtures
R Refrigeration Equipment
S Sterilizers, Decontamination and Associated Equipment
T Shop Equipment and Tools
U User Defined Items (used in SEPS only)
V Veterinary Equipment
X X-Ray Equipment and Accessories
A filing cabinet, for example, would be classified under CSI Code 12510, and the product type would be Office Furniture. Using JSN, on the other hand, its code would be C02D0, and the nomenclature would be Cabinet.
Your digital materials library will likely already be organized according to CSI Divisions. When specifying materials for a federal project, you'll need to create a column each for JSN and Nomenclature.

You'll have to fill in the JSN and Nomenclature columns for each item in your library. Make the process more efficient by going through the products by division, then bulk editing when you can.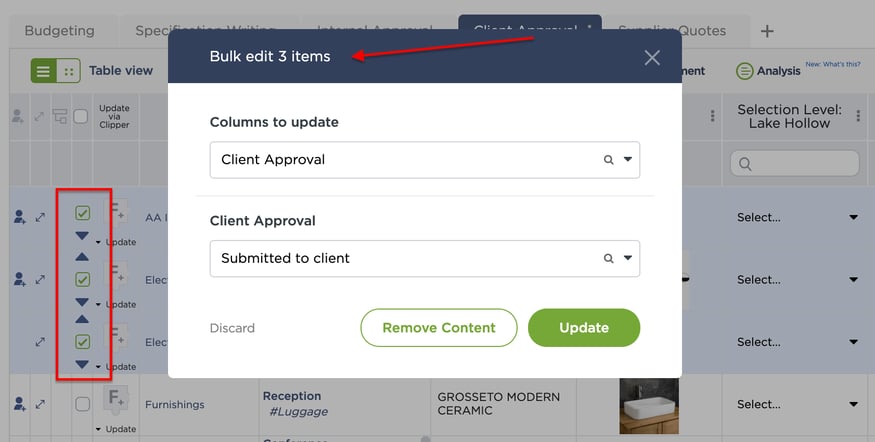 Procurement Terms for Government Construction Projects
National Stock System (NSN)
A National Stock Number or NSN is a numerical label assigned to an item that is repeatedly procured by the United States federal system — and beyond. Besides the US, the NSN is also utilized by the North Atlantic Treaty Organization (NATO) and other governments around the world.
The NSN makes it efficient for different nations' military services to cross-service and coordinate.
Iowa State University's Gordon Bonnes illustrates best how NSN is utilized: "First, the army buys a rifle. They like it so much that they expect that they will buy lots of these over a long period of time. In fact, they expect that they will use them so much, that they will need lots of replacement parts to keep them working in tip-top shape. So they start assigning Part Numbers and Sub-Assembly Numbers to the replacement pieces that they think they will want to order. These are not the part numbers on the manufacturing drawings. These are new numbers that are constructed from an inventory handling point of view.
"In another example, the navy uses a lot of ball point pens, so instead of issuing solicitations every few months for purchasing more pens, they decide on a specification for the pen (probably adopted in part from previous purchases) and create an NSN number for it. This makes it easier to buy them."
The NSN is a 13-digit code. A mercury vapor lamp's NSN is 6240-00-357-796. 6240 would be the Federal Supply Class, 00 the country of origin, and 357-7976 would be its unique number.
Like JSN and Nomenclature, you'll need to create a separate column for NSN. The good news is that not all materials are given an NSN code, so this should be less work than assigning JSNs.
Logistical Category (LOGCAT)
Logistical Category codes are used by the Military Health System to assign procurement and installation responsibility.
In private projects, installation is typically handled by contractors. Purchasing may be managed by the design firm, a standalone procurement agency, or again by contractors.
With federal projects, the government is an additional entity that needs to be accounted for within its own matrix. That is, it needs to be decided whether the government or "contractor" (a design firm, procurement agency, or general contractor firm) is responsible for purchasing and installing a specific item.
| | | |
| --- | --- | --- |
| LOGCAT | Responsibility | Description |
| A | CFCI | Contractor Furnished Contractor Installed. Equipment is purchased and installed by the construction contractor. |
| B | GFCI | Government Furnished Contractor Installed. Equipment is purchased or provided by the Government and installed by the construction contractor. |
| C | GFGI | Government Furnished Government Installed. Equipment is provided by the Government and installed by the Government (equipment vendor or agent). |
| D | Leased | Other. Leased or rented equipment, arranged by the Government, or any similar type arrangement requiring special funding and/or condition. Justification and approvals may be required for use of this category. |
| R | Reuse | Reuse. These are existing equipment assets that will be transferred and reused. There may be no purchase costs although relocation funding may be required. |
Your LOGCAT column is not a replacement for your existing supplier, manufacturer, and other procurement-related columns — but it is higher in the hierarchy. That is, you first need to decide whether you, the contractor, are logistically responsible for certain materials. If so, you can then proceed to procure items the way you normally do, unless otherwise required.
Adjusting Your Spec Sheets and Digital Materials Library
Besides the codes mentioned, there are numerous others that you may need to learn about and incorporate into your workflow.
And because they will all need their own columns, you may also want to set up an entire tab so that you can see all this new data at a glance.
We strongly recommend reading our guide on how to create project templates and product selection catalogues to help you manage all these additional pieces of data. Our guide to using columns and tabs is also extremely helpful for organizing your library and workflows in general.
Fohlio helps you deliver projects faster, with fewer errors. Collaborate better, specify more quickly, and create design standards. Schedule a demo with us or explore different features with one of our account managers.
Featured image: Defense Logistics Agency
Sources:
https://www.gsa.gov/cdnstatic/2018%20P100%20Final%205-7-19_0.pdf
https://ms1691.facilities.health.mil/milstd1691/#/
https://www.wbdg.org/FFC/M1691/MIL-STD-1691_2016.pdf
https://www.cfm.va.gov/til/Prototype/CBOC/CBOCPrototype-06-EquipLayouts.pdf
http://www.4specs.com/s/12.html
http://www.plainsbuilders.com/ipin35/IPIN2/MFDivisions.asp?Start=12500&End=12600
https://www.dla.mil/Portals/104/Documents/SmallBusiness/NSN%20Info.pdf
https://www.aptac-us.org/national-stock-number/
https://www.asap-components.com/nsn/manufacturer/jsn-inc/
Your email address will not be published. Required fields are marked *