Five Awesome Shortcuts To Make FF&E Specifications Fast And FASTER
(This article was originally published October 2017 as "Six Tips to Make FF&E Specifications Fast and FASTER.")
Standardize, digitize, and automate your design and construction workflows with Fohlio. Schedule a demoor book a consultation with one of our account managers to explore these features today.
FF&E specification is usually a tedious, clunky process — not only does it cut into your bottomline, it's honestly annoying as well. That's why we built Fohlio: Because we're all about making life easier for designers, architects, contractors, and everyone else in the AEC industry.
With Fohlio, you can centralize your workflows and make them more efficient, so you can specify, procure, and manage your material data in one place.
Here are five ways Fohlio will make your FF&E specification process faster and more efficient.
1.) Go From Punch List to Spec Sheet — in Minutes
It's easy to get lost in endless spreadsheets, and in the process, forget an item or two that you need. There's a quick, efficient way of building lists that you can easily upgrade to a full-blown spec list.
Just build your list of must-haves and options directly in Fohlio. You can do this in a couple ways.
If you're setting up your first project, or your first project of a specific project type, quickly make a list using "Add New Item."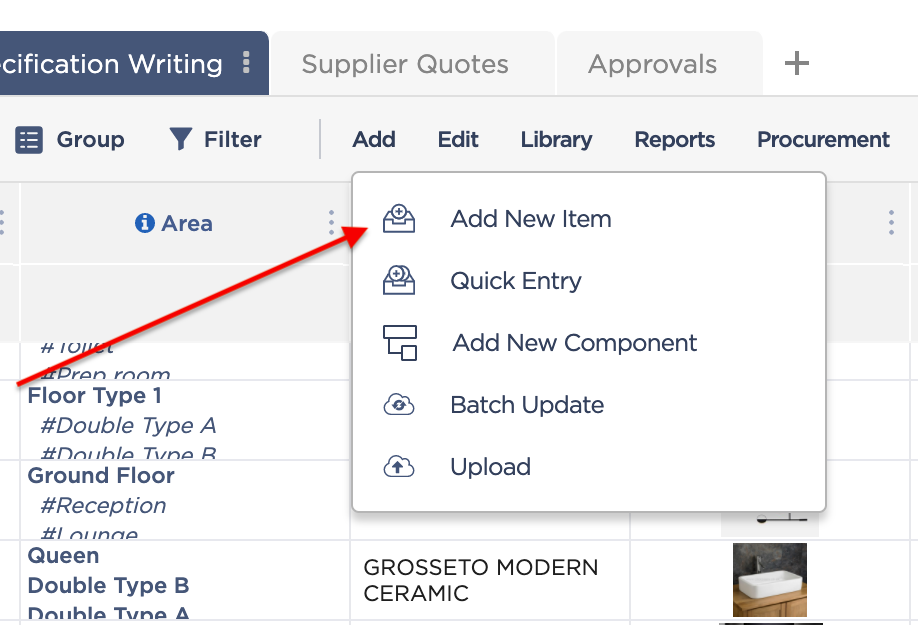 Let's say you're renovating a kitchen, and you already know that you're getting an oven, a range hood, a dishwasher, tiles and all the other usual accoutrements.
"Add New Item" lets you quickly build a list without having to fill in the specifics. Or, you can click "Quick Entry" to do the same thing, but indicate what type of product you need, as well(range, dishwasher, etc.).
When you're ready to start looking for products, just click the F+ button in the row of the item you're starting with. Then, go to your favorite sourcing websites. When you find something you like, click the F+ shortcut in your browser's menu bar, and the Fohlio web clipper will open up. You can then fill in the details of your product, like its name, image, color, price, etc. You're essentially "crossing off" the items in your list.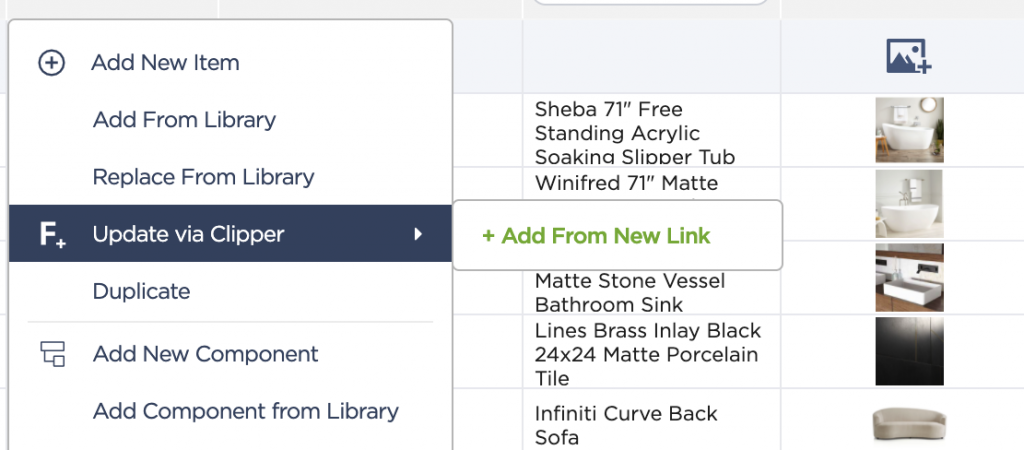 2.) Use Templates
In case you haven't been exploring Fohlio yet, here's something you should know: We're big on templates and catalogues — pretty much any system you can build in advance so each project rolls out more efficiently.
I just had a client tell me they wanted to build an extension to an office I already did the design for. Because it's already an existing project, all I have to do is copy my old project and re-use details that I know will work for my client.
It has the same templates, products, folders — everything so you don't have to start ff&e specification from scratch. Tweak it to make it something new, or an extension of an old project.
Just go to Project Editor, select the project you want to make a copy of, and click Duplicate.
To take this concept further: Your firm likely specializes in one or a few types of projects, like single-family homes or hospitals. You already have a good idea of the basic necessities for each project type, which means you can build templates that can be quickly expanded once you take on a new project with its own unique needs.

3.) Build Product Catalogues
Are you sensing a theme here? Catalogues are one of our favorite things for a lot of reasons.
Say you're a large hotel chain with franchises all over the country (or even the world!). You're working with a large team of designers, contractors, and owners. Adhering to brand identity is important, but so is avoiding cookie-cutter builds. You also want to maximize discounts you've already pre-negotiated with suppliers.
What you do is build a brand-approved product catalogue-slash-design standard. This way, you've already narrowed down material options before your designers start their FF&E specification, which means:
a, You save time by not having to select products from scratch.
b, Designers can only select products from suppliers you already have relationships with.
c, Designers only specify products that adhere to the brand, but will still have room for individual concepts.
Learn more: Read our guide on how to create product catalogues and project templates.
4.) Import from Pinterest and Turn Pins Into Full Specs
Many people, and especially designers, consider Pinterest to be their best friend, and for good reason. It's a venerable treasure trove of ideas and inspiration, plus everything is so easy to save — what's not to like?
Let's face it, though: Pinterest is hardly a complete solution because it doesn't make FF&E specification any easier. So what do you do? You save your Pinterest boards to Fohlio, of course!
Just click on Integrations on the bottom left of your screen and select the board(s) you want to import to Fohlio. Turning inspiration into real-life projects just became seamless.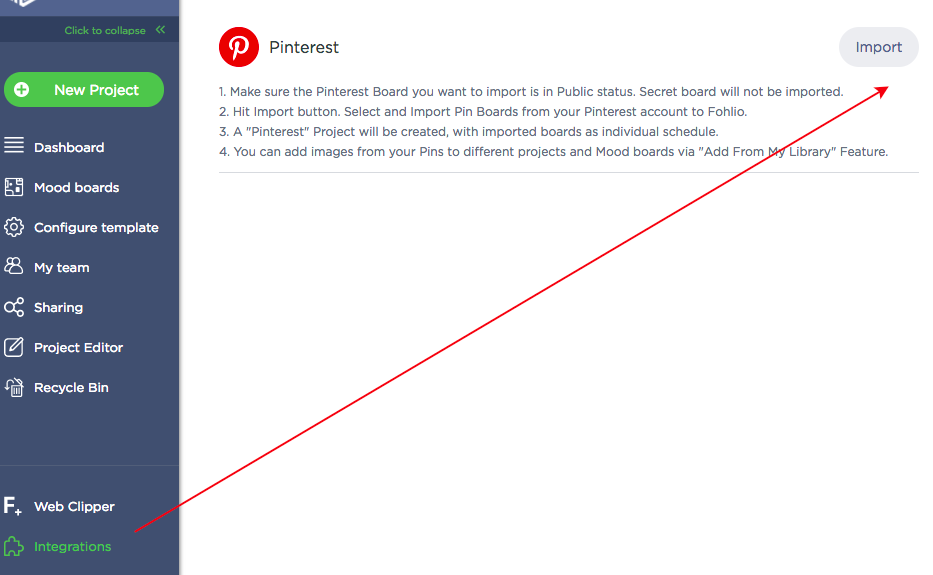 5.) Mood Board First, FF&E Specification Later; or Vice-Versa!
Want to put together a mood board quickly without having to bother with the specs just yet? You can! You know what's even better? You can go back to these items to add details without having to start over.
Just click on Mood Board, and start adding images using any item from your digital materials library. That includes your imported Pinterest inspirations, everything you've ever specified in the past, and even concept images you uploaded from your computer.
This is a great way to create a mood board to present to your client, an images-only item list, or a concept image to guide your design.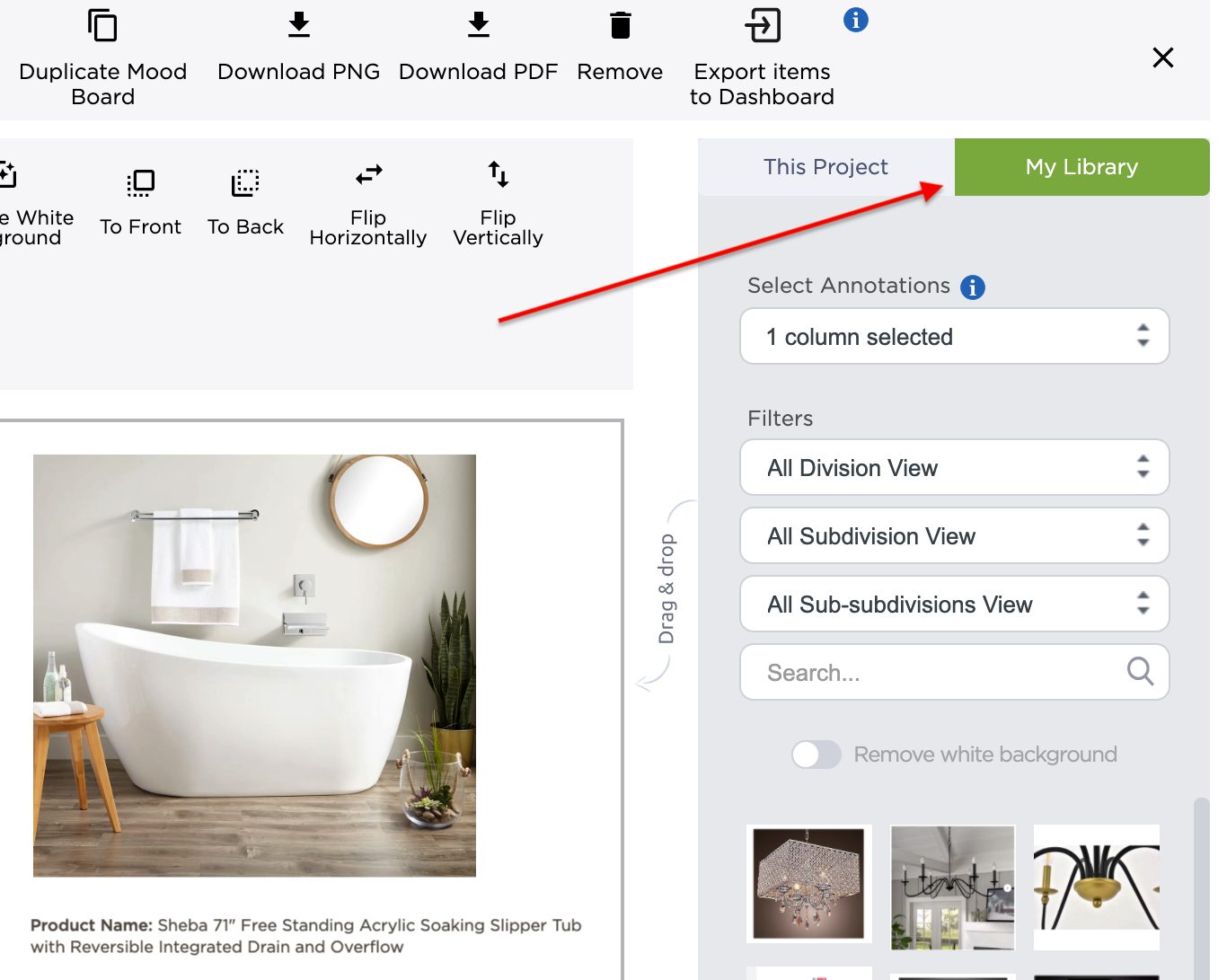 Even better: You can absolutely start your creative process using the mood board, and then move on to materials and FF&E specification — all without duplicating work !
Just add images to your mood board, then click "Export Items to Dashboard," and voila! You've instantly specified all the items you just added to your mood board.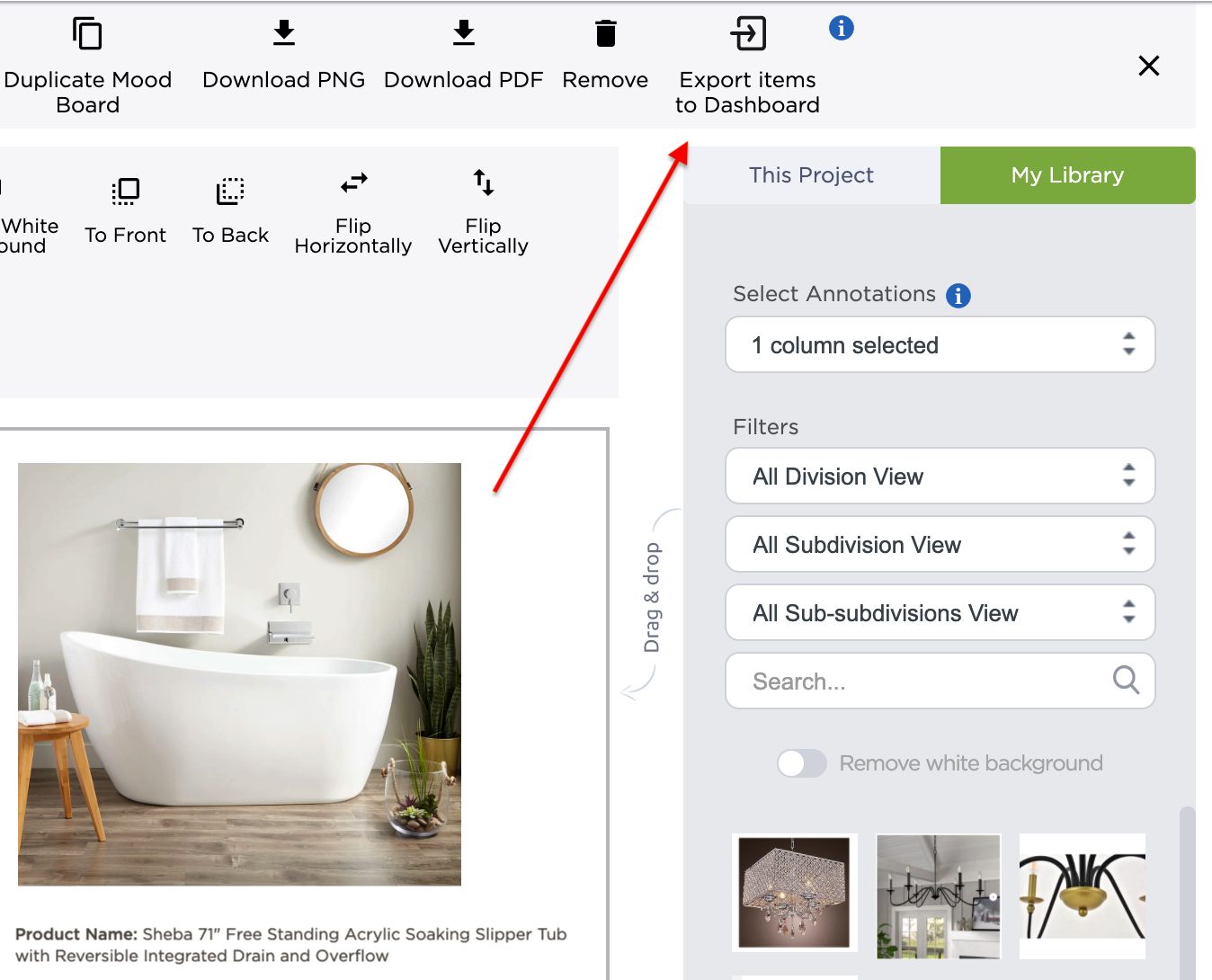 Standardize, digitize, and automate your design and construction workflows with Fohlio. Schedule a demo or book a consultation with one of our account managers to explore these features today.
Featured image: VanBerlo Headquarters.
---
Specification FF&E Tips & Best Practices
Your email address will not be published. Required fields are marked *