4 Ways to Make Telecommuting Work For Your Design and Construction Firm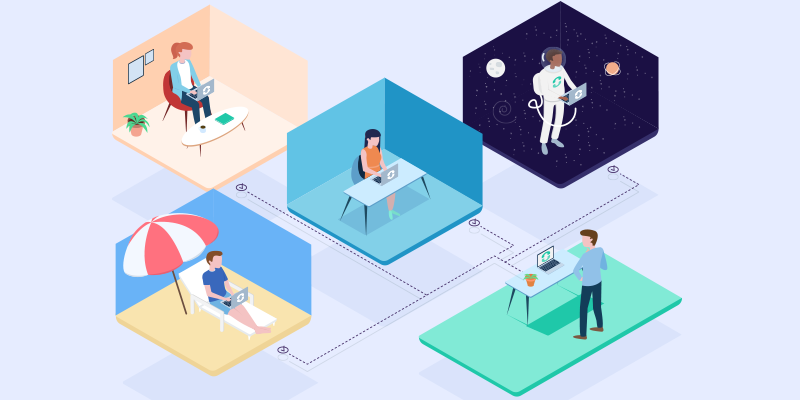 One after the other, companies around the world have started encouraging their employees to work from home. With the spread of the Coronavirus still picking up steam, your firm could be the next to implement remote work — that is, if you haven't already.

For many design and architecture firms, the idea of letting team members telecommute just seems implausible. One reason is that the entire industry is still traditional in a lot of ways, and so creative work is seen as something that needs done in the office, collaborating with teammates. Another reason is that there are no protocols or technology in place to make it possible. In fact, a lot of firms still rely on local servers to manage their materials libraries.
The good news is, getting infected with COVID-19 doesn't have to be one of the ways you suffer for your art.
Read: How Prefabrication — and Standardization — Allowed China to Build Two Hospitals in Two Weeks
While we are a long way away from human-less construction, there's still a lot of value in a firm having the ability to be as productive as usual, while having the flexibility of allowing its designers to work from different locations.
With a flexible and collaborative system, you can:
Access your data from anywhere, whether it's your firm's office, a client's office, a job site, or anywhere around the world.
Collect and build on information in one platform.
Massively cut down on repetitive work.
Reduce errors.
Access help from anywhere, including overseas offices and outsourced help.
How to Make Remote Work a Viable Option for Your Design and Construction Firm
So maybe you're backed into a corner, forced to find a way to make telecommuting work in order to protect your team. Or may you've been convinced for a while that remote work is the way to go in order to afford more flexibility and happiness for your team.
Here are a few requirements in order to set up your collaboration system.
Go cloud-based.
The first step to improving your design firm's collaborative abilities is to make your database accessible from anywhere. The answer, of course, is in the cloud.
Moving your data to the cloud means being able to instantly access accurate information and make changes during a lunch meeting with your client. Or making quick decisions while you're on the job site and needing to swap materials.
Read: 8 Elements of an Indispensable Digital Materials Library
It also means being able to keep working on a project even if you lose your computer, because the latter no longer means losing all your previous work as well. Or having someone from halfway around the world take over some of the work while you sleep, in order to meet a tight deadline.
And currently the most relevant benefit: it means a project doesn't have to grind to a halt even as you try to protect your team from sickness by making them stay home.
Keep all your data in one place …
In order to maximize every bit of product and project information you already have, everything has to be in one place.
This means being able to quickly put together a budget proposal based on previous projects. It means designers working on a certain hotel franchise can easily select pre-approved products based on the hotel chain's brand guidelines.
Centralizing data also means you can have your whole team on one page, which saves a lot of man hours and prevents a lot of errors resulting from manual work. For example, your procurement team can create purchase orders straight out of spec sheets, and not have to manually copy and paste (or even type!) already-existing information.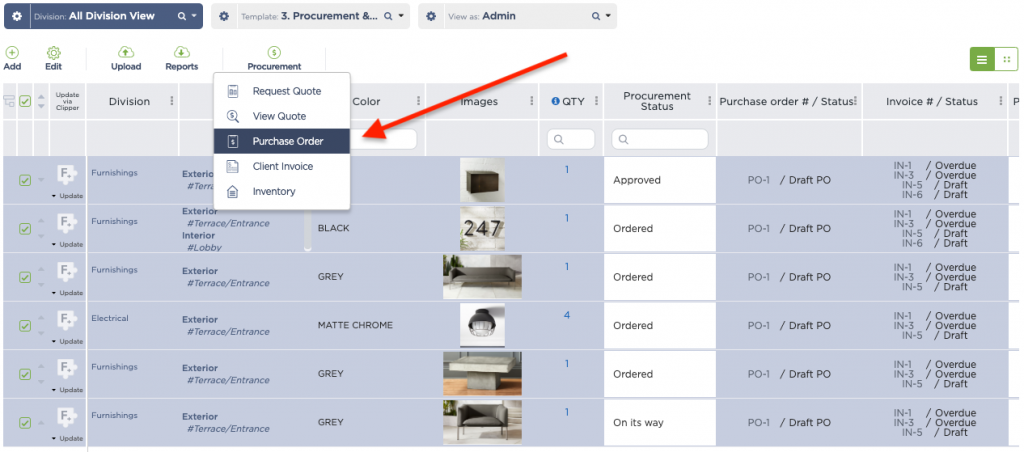 Read: 3 Cost-Saving Reasons Your Hospitality Design and Procurement Teams Should Collaborate Better
When your entire team has access to the same set of data, you're also ensuring that everyone is working on the most updated information. Your architects can upload, approve, and download submittals in one place — and have a trail of documents arranged in chronological order. Your librarians can mark items as discontinued, so your designers can avoid specifying them, only to find out from the procurement team several days later that they're no longer available.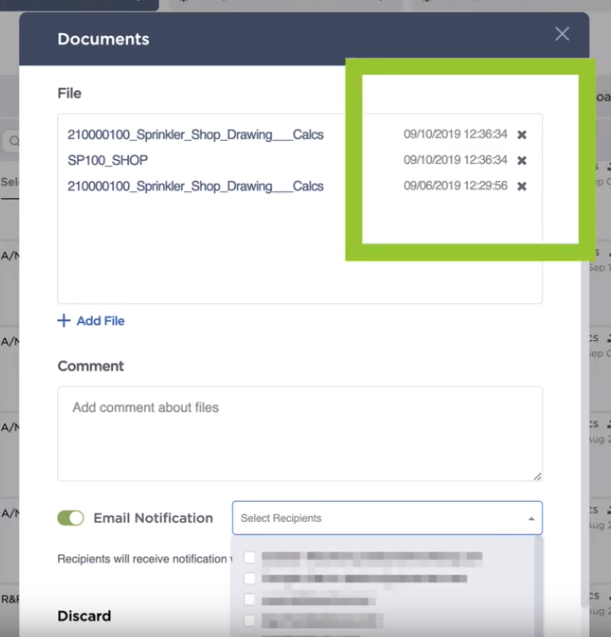 Read: How to Manage Project Phases and Submittals in One Place
Managing a team — remote or otherwise — is also much easier if everything is in one place: Project managers and teammates can perform checks and balances quickly if they don't have to go hunting around for information in different places.
Finally, having all your data in one place means you're not relying on one or two key team members for crucial data. Your new hires may not have the same amount of experience or expertise, but if they have access to your firm's cumulative data, then they're already ahead of the curve, and they become more valuable to your firm as well. This way, they're not as reliant on other people around them as they would have been otherwise.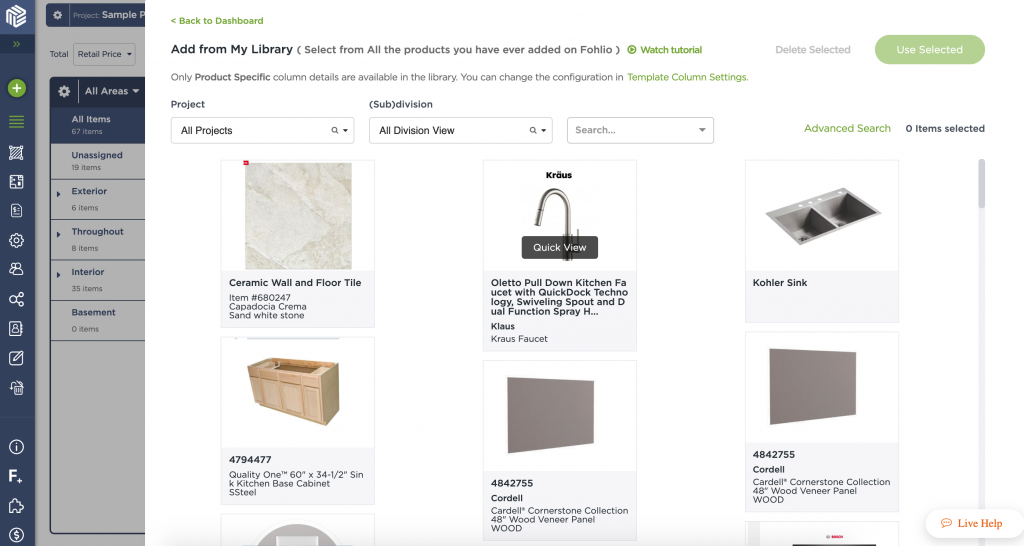 … but be able to silo.
While it's true that the more information you have, the more informed your decisions are going to be, it's also true that there is such a thing as too much information.
Let's put it another way: In order to grow smarter with each project, every member of your team has to be able to access all the information they need. And in order for all this data to be easily accessible, every team member has to work off and add to the same set of data.
The problem is, not every member of your team is going to need the same bits of information. For example, your designers will need to be able to see product information like finishes, colors, dimensions, and hardness rating. Your procurement team, on the other hand, needs to see data like lead times, supplier bids, and delivery schedules.
You need a system that allows you to create different views or templates for these separate workflows. It not only helps different team members focused — working with smaller chunks of data also keeps them from getting overwhelmed.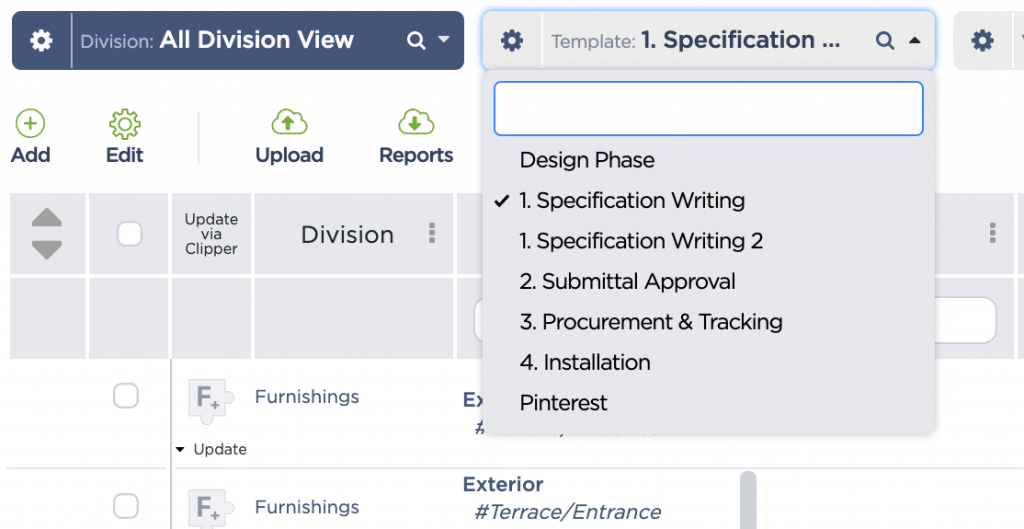 Read: How to Keep Your Whole Team on The Same Page, From Specification to Construction
Create very specific access standards according to roles.
Different roles within your team are going to need different types and spheres of access. Internal team members like designers, librarians, and the procurement team, for example, can probably be allowed access to all the information within your firm.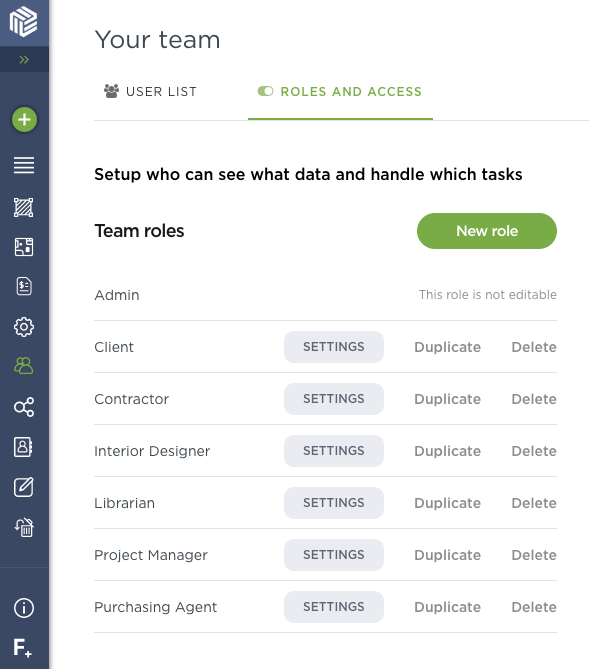 And then, you also want to invite external collaborators like clients, builders, and vendors. However, there's a lot of sensitive data you don't want them to see. For example, clients probably shouldn't see your trade discounts. Neither should your contractors see your suppliers and pricing lest they shop you. And of course, your vendors should only be able to see the information that they are providing themselves, because that's the only thing that's really relevant to them.
You can set up granular access by specifying which columns a certain person is able to see. And you can also decide whether they can see a certain column, be able to edit it, or just keep it from them altogether.
Finally, you can also restrict certain administrative actions to specific team members. You can do this to make sure nobody deletes projects or adds unauthorized people by accident.
Larger teams will find it useful to be able to set specific types of access according to a person's role. A junior interior designer, for example, can be allowed to edit most data columns but not create an entirely new project. This latter function can be assigned to project managers in order to ensure project standards from the beginning.
Client access can include not jus the ability to view non-sensitive product data like images, color, description, and price, but also the ability to edit an approval column so they can approve each item one by one.
Creating standard access according to roles saves a ton of time when you know what a certain person's functions are supposed to be, so you don't have to manually set access to each bit of data every time you have to add a new team member.
Fohlio helps you specify, procure, and more on one platform: Collaborations are easy and workflows are much more efficient than ever before! Get your free trial today — so you can design and build more profitable projects.
Expore Fohlio
Learn how to:
Save days of work with faster specification
Create firm-wide design standards
Automate and centralize procurement
Keep your whole team on the same Page
Manage product data
Track budget against cost in real time.
Prepare for asset valuation
Know more
Don't forget to share this post!