The Ultimate Guide to Setting Up Your Online Materials Library, Part 4: Establishing Attributes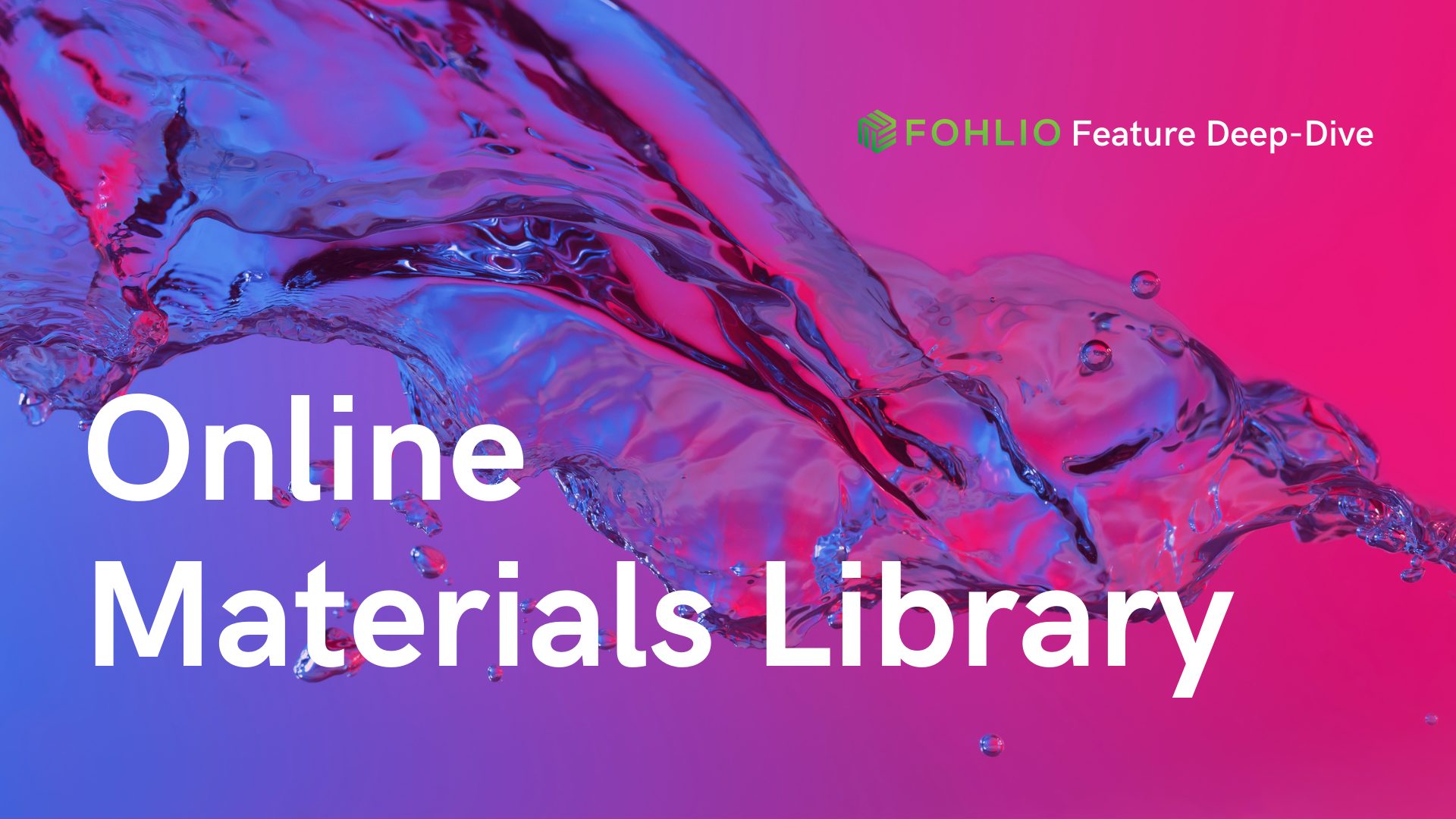 Manage FF&E specification, procurement, and product data at scale. Take on bigger projects with confidence and grow your firm with Fohlio. Schedule a demo or book a consultation with one of our account managers to explore these features today.
If you haven't yet, please read Parts 1, 2, and 3 of this series now.
In a previous article, we established how any data associated with a product is called a property. Properties are divided into two types: fixed and variable.
Today, we're exploring the other kind of fixed property: attributes. Setting up attributes in Fohlio is a crucial step to creating a materials library that:
Is more than just a list of products.
Assigns specialty properties to different product categories.
Accommodates all your products and associated data in one place.
Helps create spec packages faster.
Allows you to build design standards quickly.
Generates room by room reports in seconds.
Lets you create budget summaries with ease.
And more!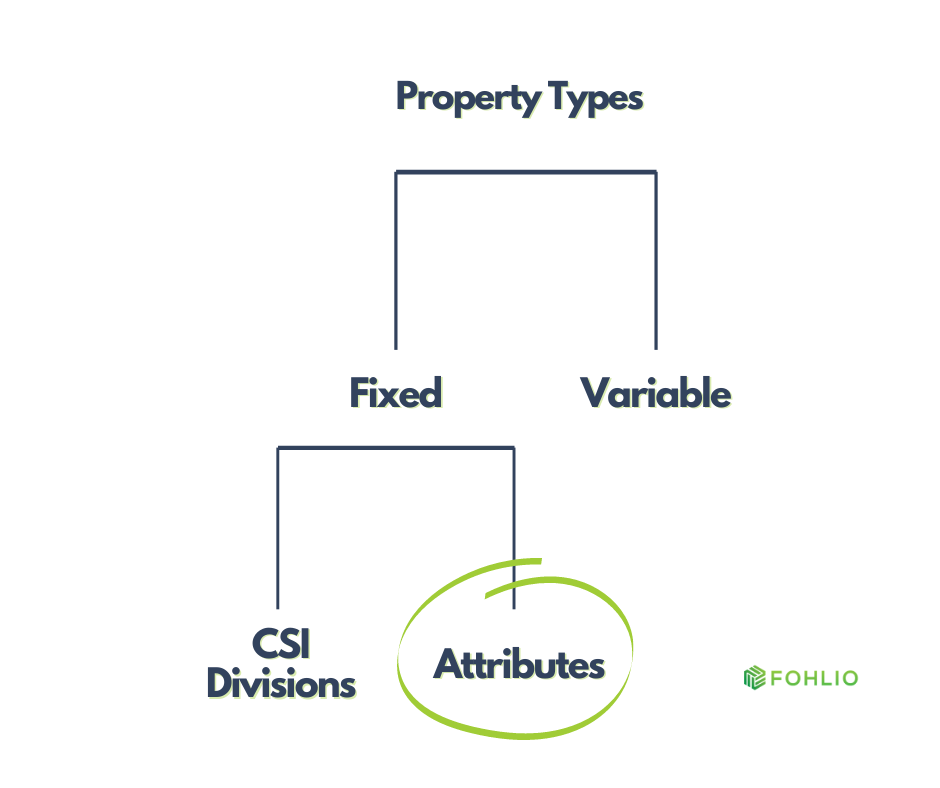 Product attributes, also called product characteristics, are considered fixed properties because they do not change from one project to the other. To quote a previous example:
A fixed property is data that is inherent to a product, and stays the same from project to project. For example: Sofa XYZ's fixed properties could be their images, upholstery material, color, dimensions, name, and description. These properties never change (unless you modify them on purpose).
How to Set Up Attributes in Your Digital Materials Library for FF&E, Finishes, and Materials
In your Fohlio dashboard, attributes are displayed as columns.
You may hear the words property and column used interchangeably — and while that's not completely accurate, it's not completely incorrect, either. Properties are the data associated with your products. Columns are the visual representation of those properties on your dashboard.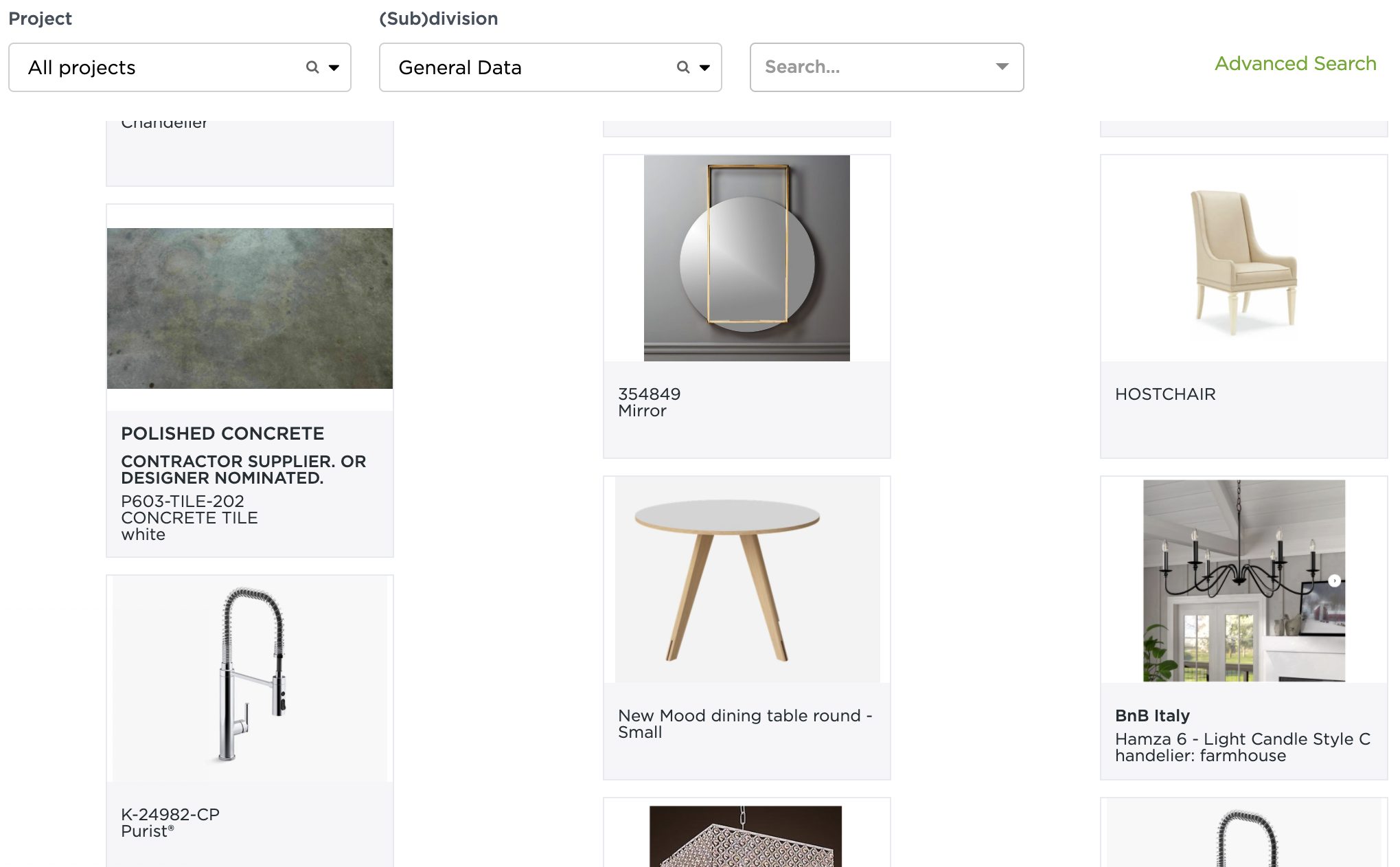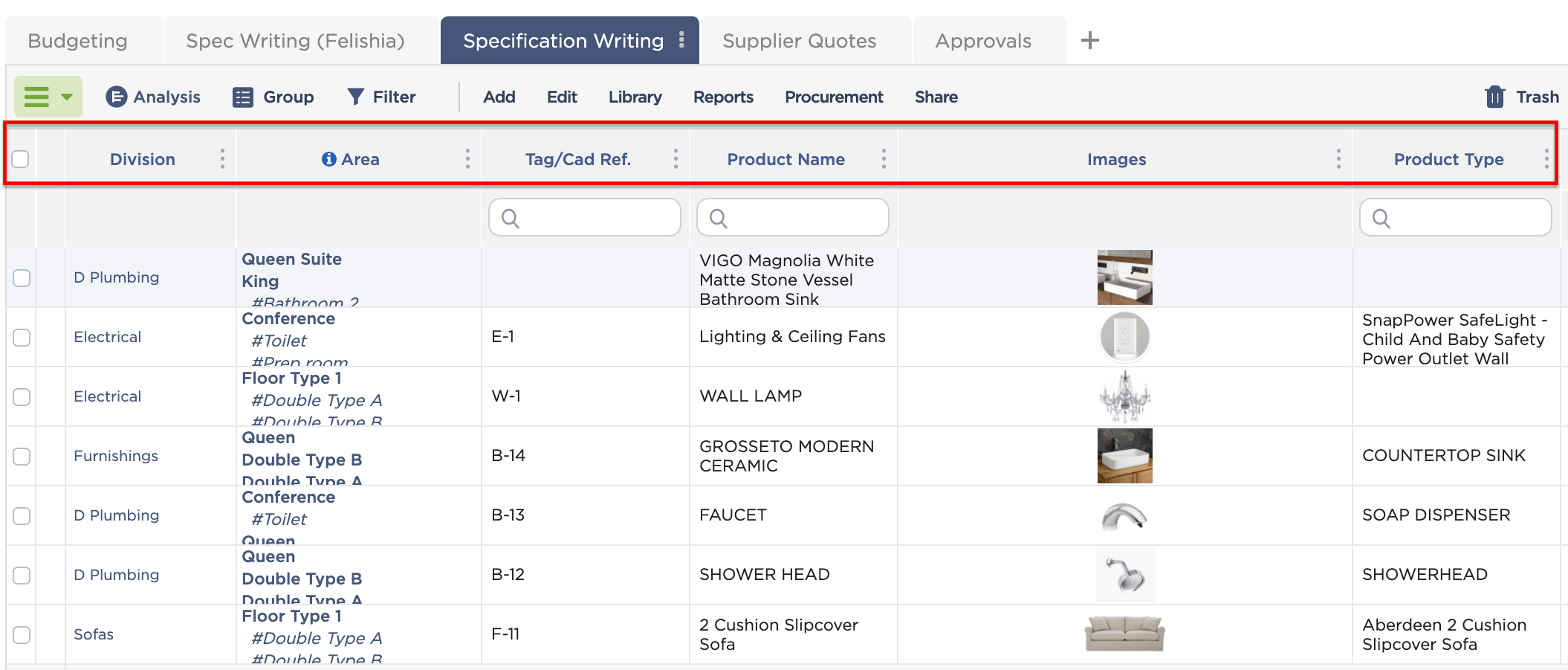 There are several different types of columns in Fohlio, but for the purposes of building and organizing your online materials library, we're only focusing on these four today:
Generic columns carry text, numbers, and formulas. You can use generic columns for information like product name, description, color, finish, quantity, total client cost, and so on.
Dimensions

are specifically for measurements, which are separated by semicolons. These are your width, length, and height information.

Image

columns contain product pictures. A single cell can carry more than one. You can use it for manufacturer-supplied images, color swatches, drawings, component sketches that you create using the mood board function, and even an actual mood board.

In Document

columns, you can upload installation manuals, spec sheets, CAD drawings, warranty information, and more in different formats (PDF, Word, DXF, DWG, RFA, 3DS, etc.).
As you can see, these four column types are what allow you to build a truly comprehensive library for your ff&e, finishes, and materials. That means no longer having to store information in separate "containers" like spreadsheets for product details and DropBox folders (or your desktop) for images.
Let's look at some of these columns in action.
If you were to build a database of all your furniture in a spreadsheet, it may look something like this: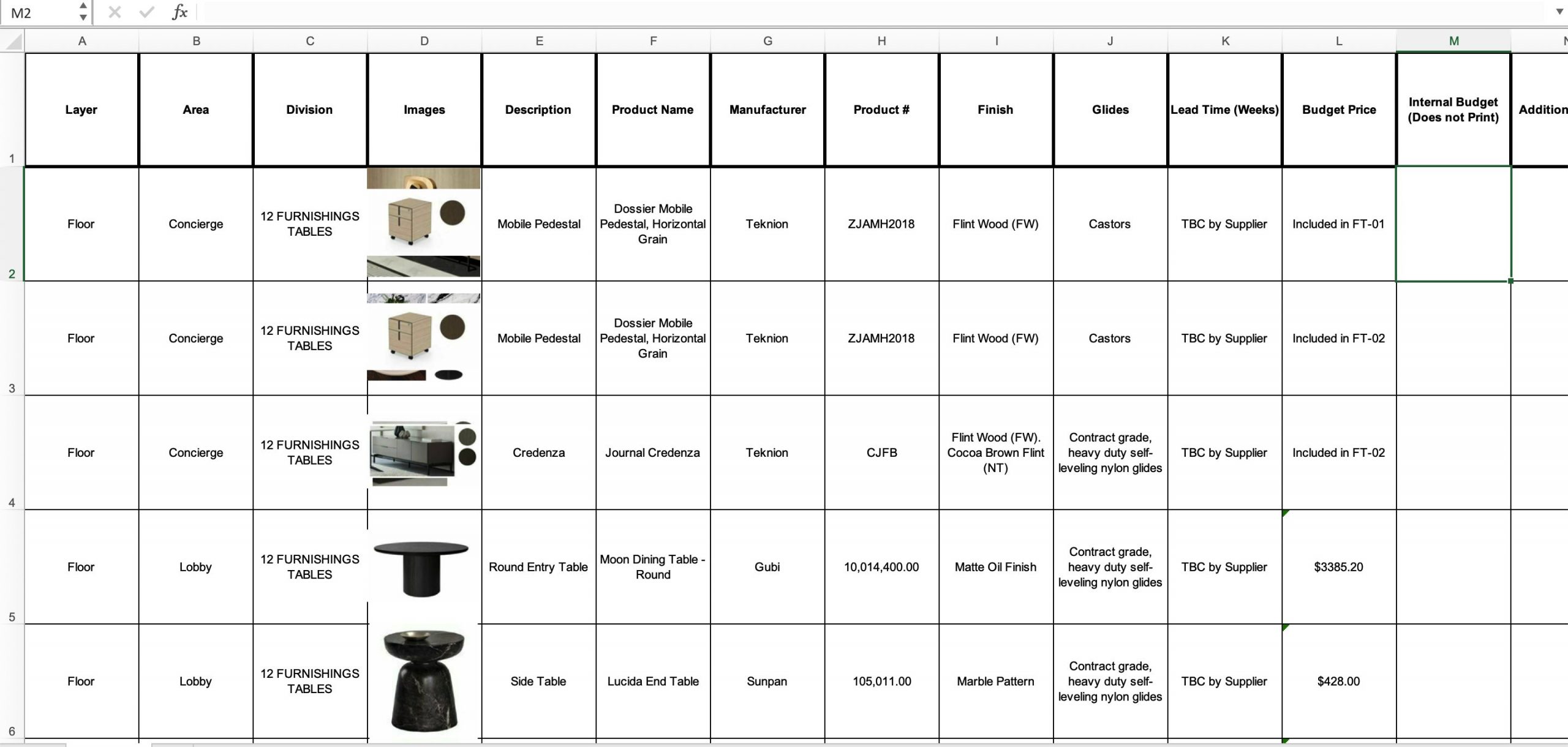 In Fohlio, the columns for description, product name, manufacturer, product number, and finish are all created using the generic column.

And the image column? Here's what that looks like when you have multiple images for a single product: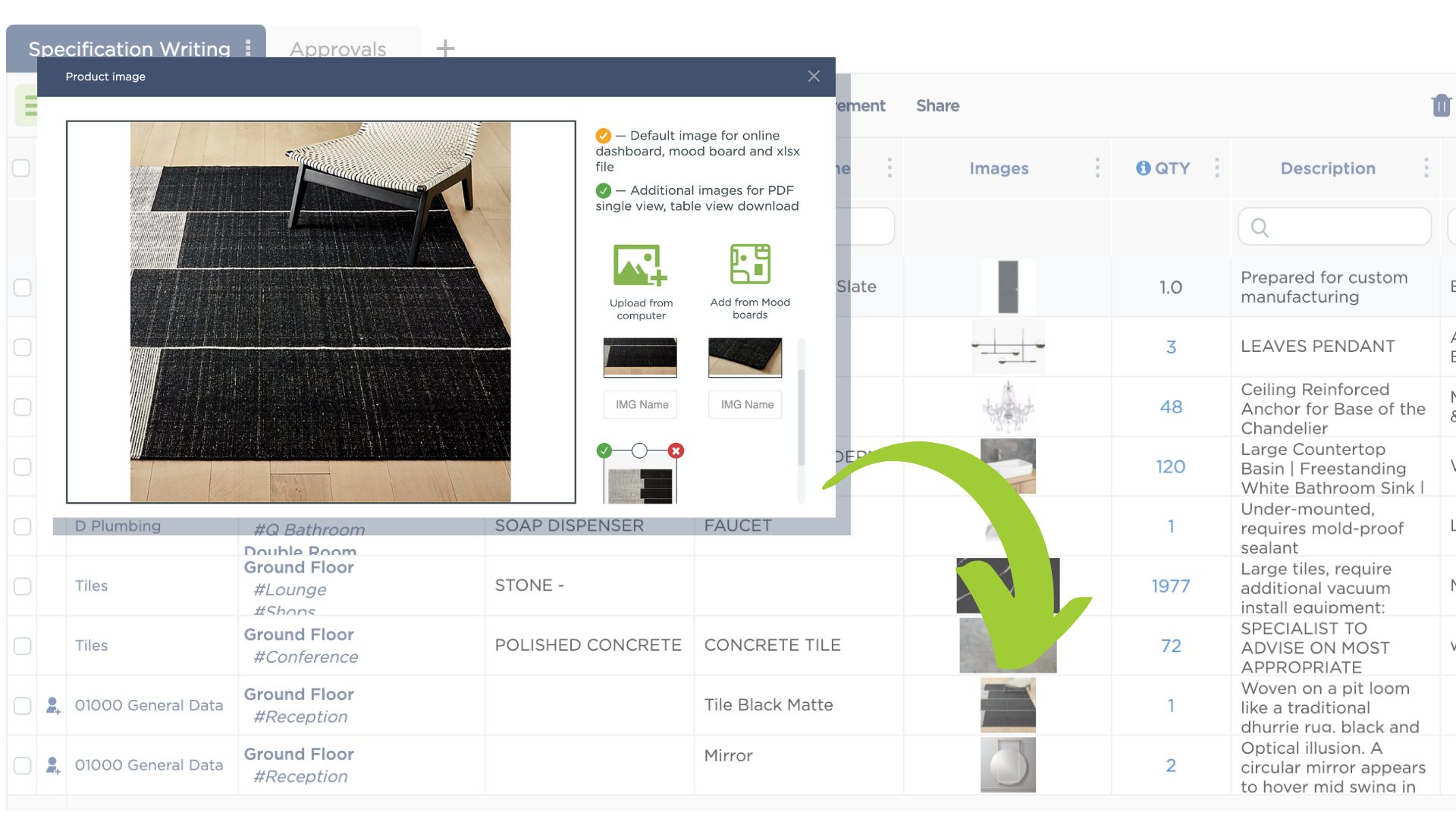 As for document columns: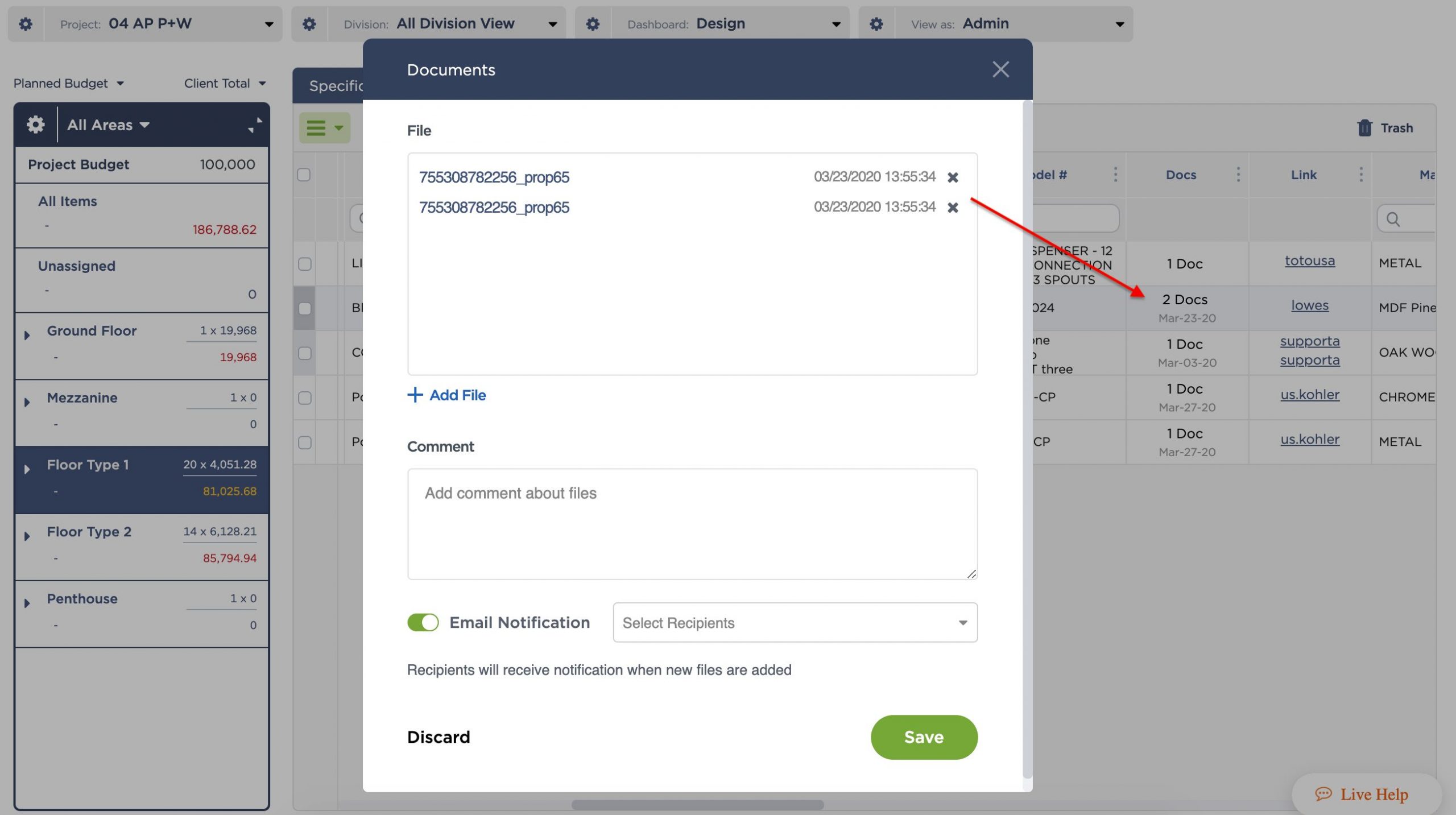 Like with image columns, they can carry as many documents as you need: helpful not just for comprehensive storage, but also for keeping track of ever-changing submittals.
Whether you are specifying directly into Fohlio using the web clipper, manually adding a product as a line item in your dashboard, or uploading a spreadsheet with your ff&e and finishes — you will need to set up these columns so that your product properties have somewhere to go.
We can help: Talk to us about setting up your personalized columns so you can start building your firm's online materials library.
From here, it's all about maneuvering your data in order to make it produce output like reports and budgets.
Which brings us to the last part of this guide, where we'll go over how to upload products to your digital materials library, fill in missing information, and enrich data. And finally, we'll also talk about the practical ways you can use your library to improve your firm's workflow — like manage all your products, from all categories, in one database.
Manage FF&E specification, procurement, and product data at scale. Take on bigger projects with confidence and grow your firm with Fohlio. Schedule a demo or book a consultation with one of our account managers to explore these features today.
Expore Fohlio
Learn how to:
Save days of work with faster specification
Create firm-wide design standards
Automate and centralize procurement
Keep your whole team on the same Page
Manage product data
Track budget against cost in real time.
Prepare for asset valuation
Know more
Don't forget to share this post!