4 Ways to Prevent Time and Cost Overruns by Improving Design and Construction Workflows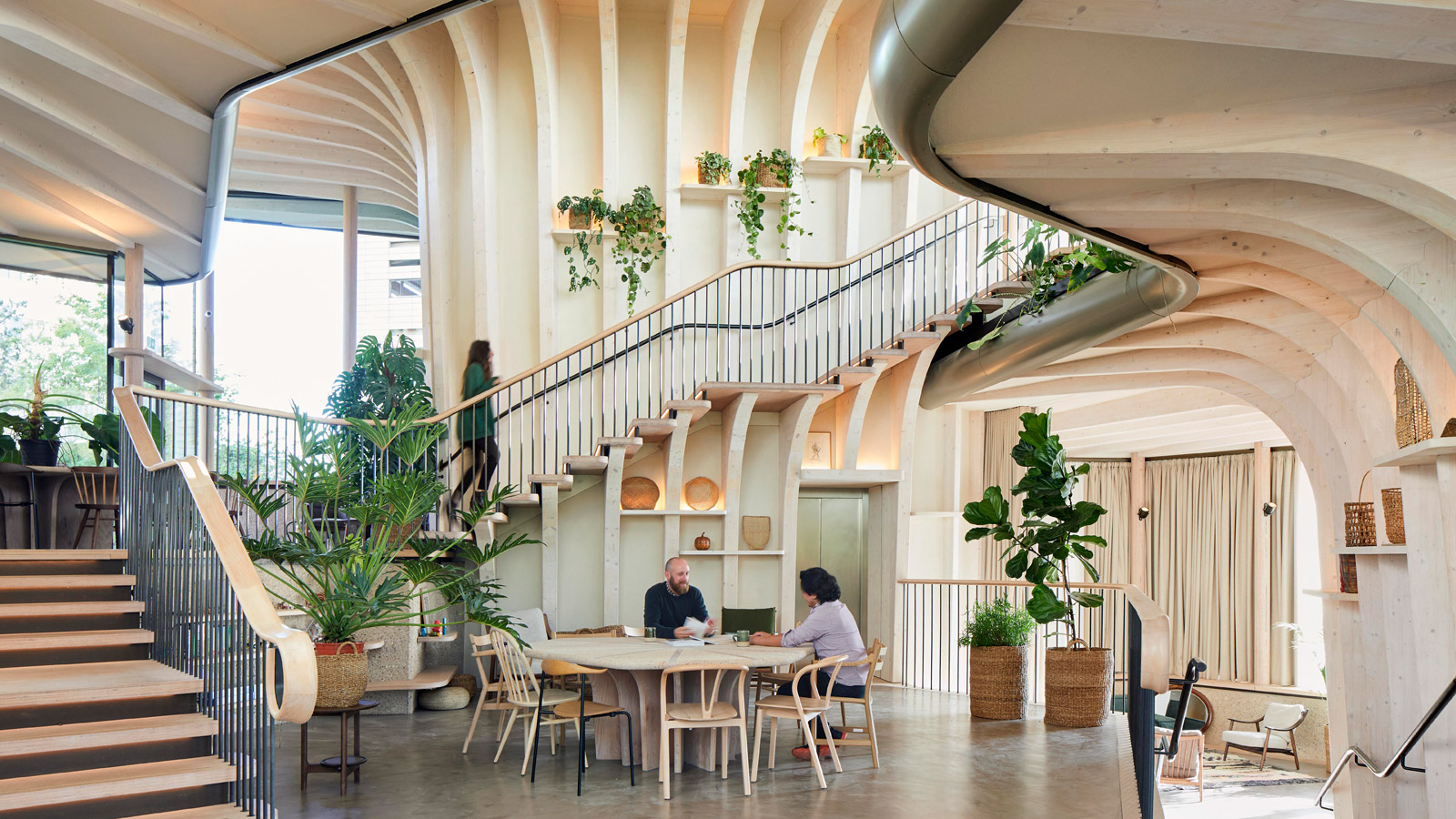 Standardize, digitize, and automate your design and construction workflows with Fohlio. Schedule a demo or book a consultation with one of our account managers to explore these features today.
Time and cost overruns are the two most common issues holding back the design and construction ecosystem. According to management consulting firm McKinsey & Co.,* several shifts are coming (and have, in fact, already started), and the current economic crisis is only going to accelerate the speed at which these changes will occur.
A big reason is the overall lack of digitalization, automation, and standardization. Shockingly, the majority of firms (yes, even the big ones) still rely on spreadsheets for specification. Pen and paper is still considered part of the norm in procurement, even for major development firms.
The result is that companies that can't or won't adapt will be left behind and lose their share of the $1.5 trillion global profit pool.
Here are 4 changes your firm can make right now in order to keep up with these shifts and massively cut down on time and cost overruns.
Standardize your product data.
Starting a project from scratch is fine if you're building a single-family home. Even then, you'll have a list of products you either trust for their quality and value, or a list of suppliers with whom you have relationships. And these could all be products that your clients wouldn't care about either way as long as they're dependable and a good value, like pipes or concrete.
But what if you're working on a chain of hotels? Or urgent care clinics, senior homes, apartment complexes, etc.?
Creating design standards (like a pool of pre-approved products to select from) means you can roll out projects faster, with less time spent on specifying products and submitting them for approval.
As an owner or developer, you'll have a list of suppliers with whom you have pre-negotiated prices.
Having a digital materials library where you can store all this data makes it easy to:
Create brand-approved product catalogues that designers can choose from.
Create a pool of products from trusted suppliers that contractors can choose from.
Create a list of products that comply with medical regulations, environmental certifications, etc.
You get the picture.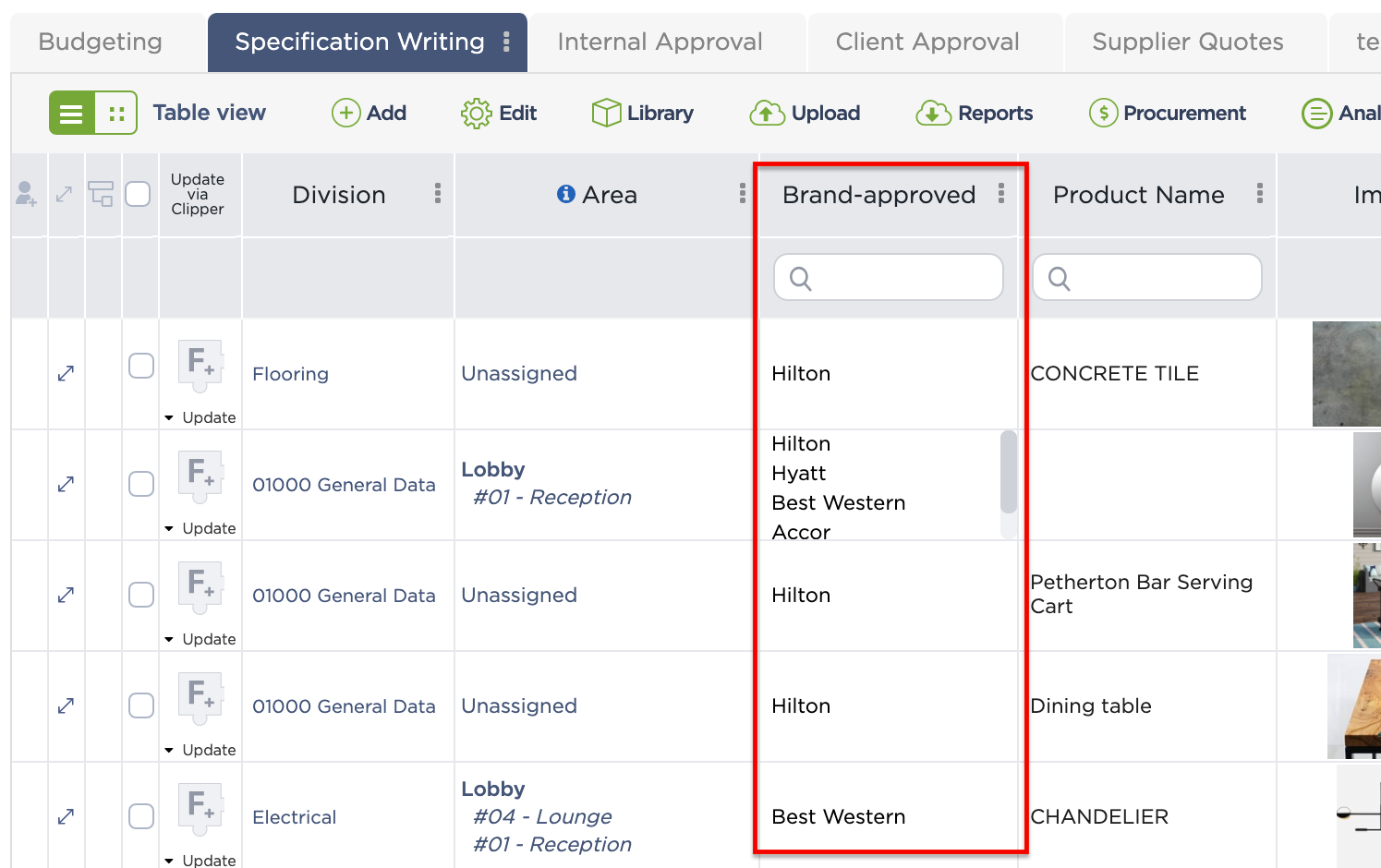 Having a centralized, cloud-based digital materials library also makes it easy to share ideas and best practices with all of your studios anywhere in the world.
Standardize your design and construction workflows.
The same way you can set parameters and filter out "acceptable" products for a project, you should also set standard operating procedures that your team and even external collaborators can routinely follow.
To start, you can create workflow templates that make it extremely clear which bits of data are needed for each phase of the project, or which team to turn the project over to when they're done with their own phase.
For example, group your product pricing data so that the design team knows to stay within the budget.

Then, create the next group of data to show that the procurement team needs to take over the next phase of the project, and so on.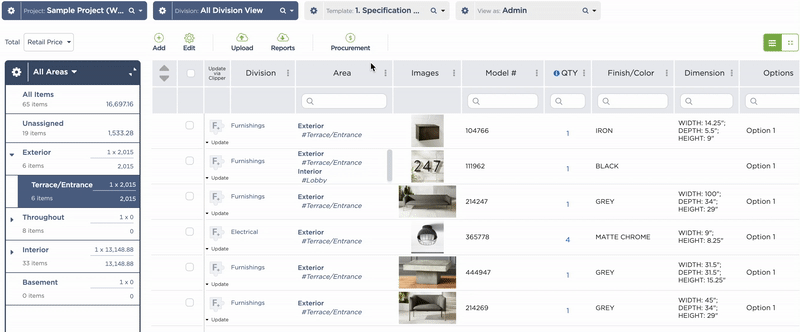 To put it another way, you're automating a checklist of standard actions that ensures a smooth workflow, eliminating the need to grope in the dark for the next step, and guaranteeing that none of the necessary data is forgotten.
The result? Fewer bottlenecks, errors, and do-overs.
Creating these siloed workspaces also makes it easier for everyone to work together, which leads us to:
Collaborate better.
Having all your data in one place doesn't just mean product data. It also means accumulating and tracking all the actions that were executed in your project.
Getting your entire team and even external collaborators on one platform is the best way to keep everyone on the same page. Forget asking for the most up-to-date spec sheet, missing the email that was meant to bring everyone up to speed on changes, or checking to see that the document you have is the one labeled "12July20-C" instead of "12July20-B."
This also helps your team massively cut down on errors and repetitive work. Your procurement team, for example, won't have to manually create purchase orders from designers' spec sheets.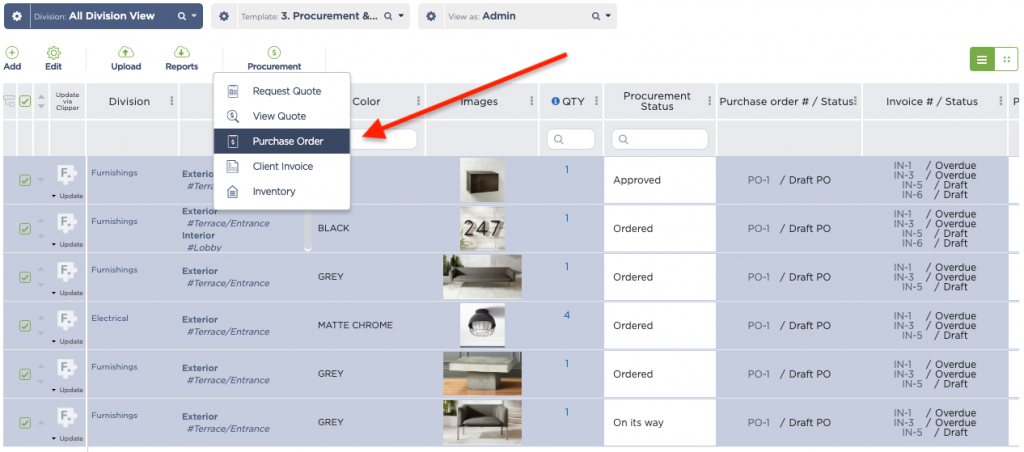 Though not as big of an issue, a lack of skilled labor is also an issue for many firms. With a centralized digital materials library that is accessible from anywhere in the world, asking team mates in other studios — even across the globe — is feasible.
Tight deadline? All-nighters are no longer the sole option, as a team mate from a different time zone can take over while you catch up on some much-needed rest.
You can even outsource some manual work that may otherwise be too expensive where you're based.
Read: *Feature Deep-Dive* How to Have More Control and Flexibility Over External Collaborations: Clients, Vendors, Etc.
Stay on top of your design and construction budget.
While there's no way to completely eliminate cost overruns, there's a lot you can do to mitigate much of it.
Being more granular with your budget means it's easier to see whether you're actually still within your limits and where exactly you overspent.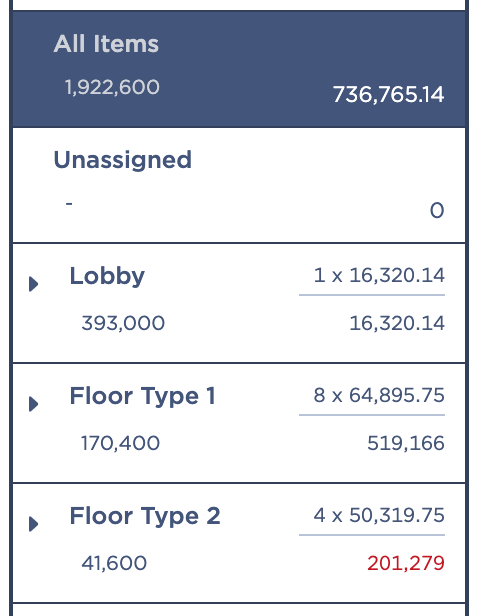 Your client may have no objection to shelling out more money to make up for a shortfall, but that would inevitably also mean having to pause operations until you get approval or funds, which then leads to extra days of renting equipment or hiring labor.
Not to mention: Going back to the client for more money is always an awkward situation and could be detrimental to your reputation.
You could even budget out all the products in advance and adjust your funding before any of it is spent.

On the other hand, you could be well within your budget, but funds are released in tranches. Having a clear picture of how much you've already paid out for a project, what products you have to pay for in the next month, and which supplier invoices' deadline are coming up also lets you plan out your budget better, again forestalling possible delays in funding approval.
Standardize, digitize, and automate your design and construction workflows with Fohlio. Schedule a demo or book a consultation with one of our account managers to explore these features today.
Featured image: Maggie's Centre Leeds by Heatherwick Studio
*Source: The Next Normal in Construction: How Disruption is Shaping the World's Largest Ecosystem (McKinsey & Co., June 2020)
Expore Fohlio
Learn how to:
Save days of work with faster specification
Create firm-wide design standards
Automate and centralize procurement
Keep your whole team on the same Page
Manage product data
Track budget against cost in real time.
Prepare for asset valuation
Know more
Don't forget to share this post!