4 Ways to Make Your Process More Efficient (Upgrading Your Design and Construction Workflows, Part 3)
Templates. Standards. Processes. Spending time creating these systems at the beginning of your project will save you time (and headaches!) down the road.
Managing all the myriad moving parts of a design and construction process is a delicate art and science: You want all the relevant information at your fingertips, but only what's necessary at the time, no more and no less.
Of course, all this is magnified several times over when you're working on a branded property with several different locations.
Here are 4 foundations you can lay today for a smoother, much more efficient project rollout.
Create design standards.
It's tricky enough translating an identity into materials, finishes, and FF&E. But when you have several properties under one brand, you're trying to balance uniformity with local culture. Having a matrix of accepted paint colors, product brands, technical specifications, and more helps your team make decisions and find contingencies faster.
An effective design standard is accessible from anywhere, easy to update, and contains all the information you could ever need, without being a hassle to wade through.
Read: 5 Ways to Create Design Standards That Work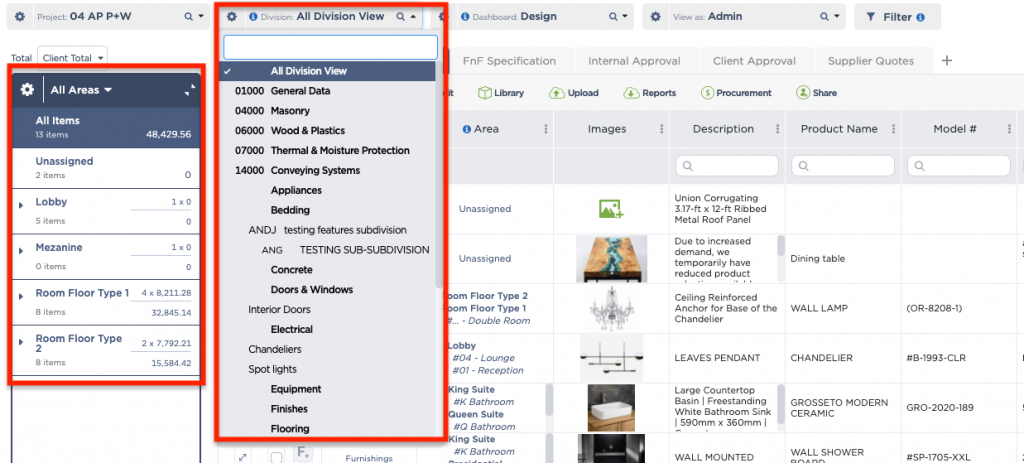 Cement your workflow processes.
How does your project go from Point A to Point B? From budgeting, to client approval, to purchasing, to installation? How do you know when you're officially done with one phase and ready to start the next one? Who are your gatekeepers?
The clearer the protocols are, the less time you and your team have to spend asking and waiting for approvals, asking who has which bit of information, or whether everyone has seen the most updated versions of the spec sheets.
You can do this by drawing a diagram — but you can also take it to the next level by setting up a master template of your end-to-end workplace.
Which leads us to …
Segment your data according to workflow and phase.
A large project utilizes a large amount of data, which is never easy to manage. An effective digital materials library allows you to manage your entire team and all their workflows in one place, so that team members can:
Build on top of existing data instead of doing manual and repetitive work.
Focus on their own project phases without having to deal with anyone else's.
Instantly see what data is necessary and what needs to happen next.
You're essentially creating templates that you can reproduce and adjust as necessary for each iteration of the branded property.
That means your designers can specify products, your procurement team can purchase items, and your builders can install equipment — all utilizing the same platform but using different "views" or "filters".
Read: How to Group Your Workflow Phases for Better Collaboration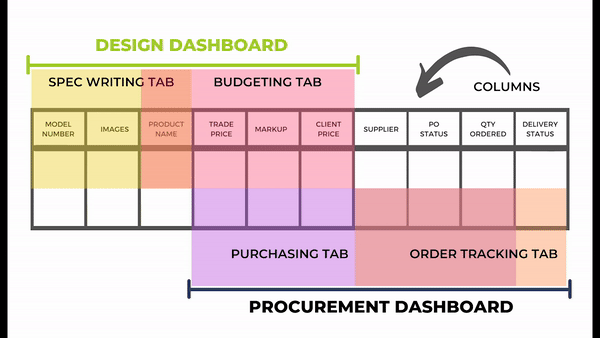 Create team member and collaborator profiles (aka internal and external team profiles).
More on segmentation: There are many reasons you would want to limit access amongst the different people involved in a project. For example, you would only want selection approval areas to be editable by design managers, but have it visible to designers.
On the other hand, you would only want your builders to be able to see product details but not edit them, plus be able to download manuals and type in installation notes.
In short, there's sensitive information you may want to keep within your team only, and there's information that needs to be shared but can't be edited.
Taking the time to figure out which parts of the project a procurement manager needs access to means you can create a profile "template." This will be a list of rules that will govern any other procurement manager in any other project.
Same goes for any client in any given project: As standard operating procedure within the firm, clients are able to see product names and details, but not your trade price. They're also able to mark items as "approved" and leave notes. You can set this up as a profile, so that any other client in the future can be assigned this profile, and you don't have to comb through every bit of information with every new project to decide whether or not they can be shared.
Read: Get Granular Control and Flexibility Over External Collaborators
Fohlio allows you to manage your entire team and all your workflows in one place. With Fohlio, you can specify, procure, and more on one platform: Collaborations are easy and workflows are much more efficient than ever before! Get your free trial today — so you can design and build more profitable projects.
Expore Fohlio
Learn how to:
Save days of work with faster specification
Create firm-wide design standards
Automate and centralize procurement
Keep your whole team on the same Page
Manage product data
Track budget against cost in real time.
Prepare for asset valuation
Know more
Don't forget to share this post!