5 Ways to Avoid Budget Creep in Design and Construction Projects With Better Data Management

Manage FF&E specification, procurement, and product data at scale. Take on bigger projects with confidence and grow your firm with Fohlio. Schedule a demo or book a consultation with one of our account managers to explore these features today.
According to a 2016 McKinsey analysis, "construction projects typically take 20 percent longer to finish than scheduled and are up to 80 percent over budget." Exacerbating the already-bad situation is frequent litigation, which is a whole other ordeal of time and cost.
Preventing bloat requires accurate forecasting, crystal-clear visibility, and frequent assessment of project statuses.
Historical data also helps inform current and future decisions, so keeping it easily accessible can only help.
Here are 5 ways you can avoid scope and budget creep using better data management.
Automate Product Costing
Specifying products using Fohlio's web clipper allows you to easily populate important data, including price. That means fewer costing mistakes, because you're not manually copying and pasting numbers into a spread sheet.
But here's what makes it even better: As soon as that pricing information is saved, it lives forever in your product database. And that means as soon as you specify that product again, you also automatically get the price, too. You not only save time — you also drastically lower the chances of making mistakes because you're not having to manually grab that piece of information again.
And lastly, Fohlio automatically keeps a running total as soon as you specify products.
Identify Cost Overruns Upfront
Once you've set a project budget, you can set up that number in a place that's easily visible, so that you're always reminded. No more forgetting and having to redo your numbers!
Even better: Each area and product division in your project can have its own specific budget within the overall project budget. This granularity makes it even easier to see where you're spending too much or where you have a bit of allowance to make adjustments.
And to top it all off, Fohlio's organizer provides a very visual alert when you're over budget, way before purchasing even begins. You're correcting mistakes as soon as they happen, instead of down the road where errors like this are much more expensive to fix.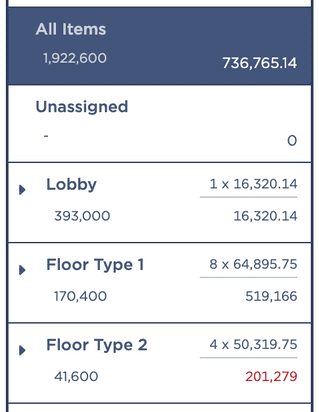 Keep All Financial Data in One Place
Another way to have granular control and wide-angle insight at the same time is by keeping all your pricing data in one place.
What's the total retail cost of all the products the design team has specified so far? How much of a trade discount is this project getting? How much is the client going to pay in comparison, and is it going to cover your vendors' invoices, with enough profit? Are you still within the planned budget?
With Fohlio's cost analysis feature, you can answer all these questions and more — all at a glance.

Additionally, having all this information upfront also makes it easy to prioritize spending. For example: Are you spending more money on areas that provide higher returns, like updating the lobby according to COVID-19 safety regulations, instead of making the luggage area look nicer?
Analyze Costs by Area, Division, and More
In Cost Analysis, it's also easy to drill down into where you're spending, according to different categories. Using the Group By feature, you can compare different areas of a project, like the lobby versus economy rooms versus luxury rooms.
You can also group your costs according to product divisions, like doors versus plumbing, or flooring versus window treatments.
Grouping your costs according to suppliers can also give you data that you can leverage for better deals and discounts.
Learn more: Manage Your Project Budget by Area and Cost Divisions
Forecast Funding Needs
Remember that overall budget we set at the beginning of the project? That also shows up in the Purchase Order area. That makes it easier to keep an eye on how much money you have left to spend versus how much you still owe to different vendors.
Learn more: 5 Ways to Lower Procurement Costs: Streamlining Your Procurement Process
Sounds nice, but here's something even better: You'll see the total amount for POs you've already sent out, the total amount for POs in draft status, and the total amount for approved POs.

You can also switch to supplier invoices and see totals for invoices that you've received, how much you've paid, and how much is still outstanding.

Great, but what does it all mean? It means you can forecast the amount of funds you'll need for the next 30, 60, 90 days or however far ahead. You know how one single delay can snowball into everything else being pushed back? With this feature, you always know exactly how much to ask for in the next tranche, way before you need to ask for it. That means plenty of time to cement your numbers and get them approved.
Oh yeah, these two areas also very clearly state how much is left in your overall budget to spend, once again easily reminding you how close you are to overspending before it ever happens.
Manage FF&E specification, procurement, and product data at scale. Take on bigger projects with confidence and grow your firm with Fohlio. Schedule a demo or book a consultation with one of our account managers to explore these features today.
---
Also published on Medium.
Expore Fohlio
Learn how to:
Save days of work with faster specification
Create firm-wide design standards
Automate and centralize procurement
Keep your whole team on the same Page
Manage product data
Track budget against cost in real time.
Prepare for asset valuation
Know more
Don't forget to share this post!