Government Construction Projects, Part 1: What You Need to Know to Get Started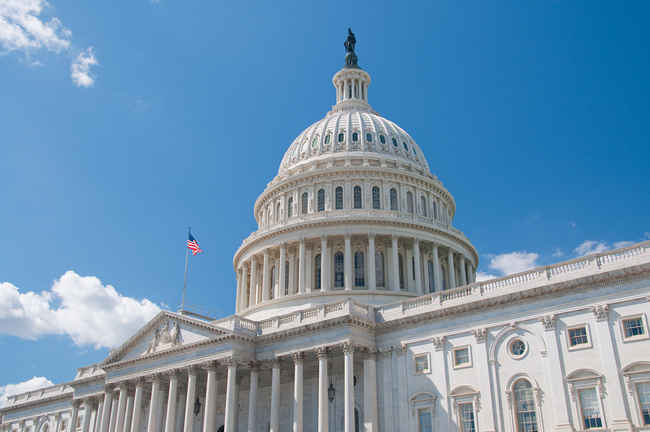 Fohlio helps you deliver projects faster, with fewer errors. Collaborate better, specify more quickly, and create design standards. Schedule a demo with us or explore different features with one of our account managers.
Government construction projects are lucrative during the best of times. Now that many projects have stalled because of COVID, however, federal projects have become even more important for design and construction firms — they're one of the few sectors that are still pushing forward.
If you're interested in expanding your operations to include government construction projects, here are a few things you need to know.
Where to Find Government Construction Projects
The United States General Services Administration (GSA) is the federal agency that handles most of the government's space requirements. GSA bids out architecture, construction, urban development, and other projects to private firms.
In order to participate in the bidding, your firm has to be registered in the System for Award Management (SAM) and the Federal Business Opportunities (FedBizOpps or FBO).* The latter is where design and construction contracting opportunities are listed and where drawings and specifications are issued.
*In October 2020, FBO will be moved to the SAM website, and will be known as "Contract Opportunities."
Requirements Before Bidding on Federal Construction Contracts
Besides registering in SAM and FBO, there are a few other stipulations before you can compete for a contract.
You need to know the North American Industry Classification System (NAICS) code for your industry. This six-digit code is required in order for you to be able to bid. For example: If you work in Commercial and Institutional Building Construction, your NAICS code is 236220. If you're in Highway, Street, and Bridge Construction, however, your code is 237310.
You need to register for Data Universal Numbering System (DUNS) code. This is a nine-digit code that the government uses in order to track your company's credit record. It's managed by a private company called Dun & Bradstreet, and registration is free.
How to Increase Your Chances of Winning a Federal Construction Contract
1. Be prepared.
Before anything else, you need to decide whether federal contracting is a good match for your business. Working on government contracts requires a lot of resources which you may not have.
There are also numerous regulations and laws to which a federal contractor must adhere. For example, you have to comply with labor standards like the Service Contract Act, Contract Work Hours, Safety Standards Act, and more.
It's also important to understand standard provisions that protect the integrity of the government procurement process, like the "officials not to benefit" clause, the "anti-kickback" provisions, "gratuities" clause, and more.
The government has its own set of standards and terms that you must be familiar with, as well. GSA has published and regularly updates Facilities Standards (P100), which "establishes design standards and performance criteria." This document details general requirements for building, performance tiers for different materials, and more.
In addition, materials spec sheets will require information like Joint Schedule Number (JSN), National Stock Number/Federal Stock Catalog (NSN), Logistical Category (LOGCAT), and more. JSN is used to categorize FF&E: A is architectural, C is fixed casework, D is dental equipment and casework, and so on. LOGCAT, on the other hand, indicates which party is responsible for the procurement of specific materials. LOGCAT A is "CFCI" or "Contractor Furnished Contractor Installed," which means equipment that will be both purchased and installed by the contractor. LOGCAT B is GFCI or "Government Furnished Contractor Installed," and so on.
2. Determine whether you qualify for any special labels or programs.
Special labels are also called "set-aside types," due to the government's practice of setting aside some contracts specifically for small and/or disadvantaged businesses. Qualifying for special labels may also mean receiving preferential treatment when competing for contracts.
3. Actively find opportunities.
SAM may be where all contract opportunities are listed, but don't solely depend on it. One thing you can do is to scour local news and announcements. For example, your city could post a bid for design services for a new local government building. A construction project will be sure to follow — and knowing about this early means you can prepare your bid for it.
While this guide is by no means exhaustive, it should be a good starting point for finding more information. I've listed resources below. Next week, we'll be talking about how to prepare your digital materials library, spec sheets, templates, and more for federal contracting.
Fohlio helps you deliver projects faster, with fewer errors. Collaborate better, specify more quickly, and create design standards. Schedule a demo with us or explore different features with one of our account managers.
Sources:
https://www.gsa.gov/real-estate/real-estate-services/for-businesses-seeking-opportunities/bidding-on-federal-construction-projects
https://www.gsa.gov/real-estate/design-and-construction-overview
https://beta.sam.gov/
https://www.gsa.gov/real-estate/design-construction/engineering-and-architecture/facilities-standards-p100-overview
https://www.gsa.gov/cdnstatic/2018%20P100%20Final%205-7-19_0.pdf
https://www.governmentbids.com/government-browse-category-construction-en.jsa
https://www.usa.gov/become-government-contractor
https://www.sba.gov/federal-contracting/contracting-guide/governing-rules-responsibilities
https://www.census.gov/eos/www/naics/2017NAICS/2017_NAICS_Manual.pdf
https://vsc.gsa.gov/RA/research.cfm
https://www.constructiondive.com/news/how-to-land-a-government-construction-contract/561782/
https://www.constructconnect.com/blog/the-ins-and-outs-of-governmental-construction-bidding
https://ms1691.facilities.health.mil/milstd1691/#/
https://www.wbdg.org/FFC/M1691/MIL-STD-1691_2016.pdf
https://www.sba.gov/document/support–table-size-standards
https://www.sba.gov/sites/default/files/2019-08/SBA%20Table%20of%20Size%20Standards_Effective%20Aug%2019%2C%202019_Rev.pdf
Expore Fohlio
Learn how to:
Save days of work with faster specification
Create firm-wide design standards
Automate and centralize procurement
Keep your whole team on the same Page
Manage product data
Track budget against cost in real time.
Prepare for asset valuation
Know more
Don't forget to share this post!