You Haven't Seen Collaboration Like This: 4 Tools to Streamline Specification and Procurement Teams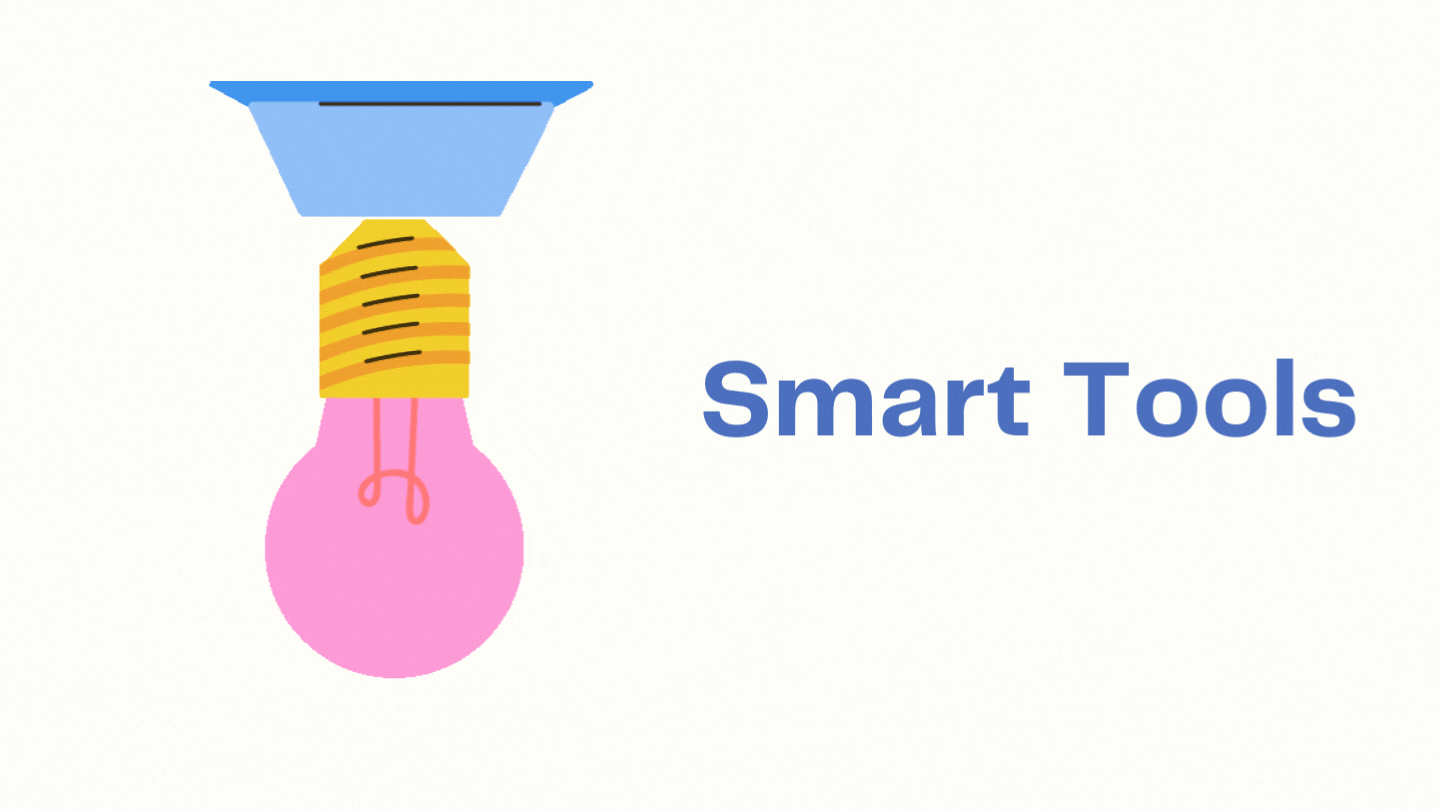 Manage FF&E specification, procurement, and product data at scale. Take on bigger projects with confidence and grow your firm with Fohlio. Schedule a demo or book a consultation with one of our account managers to explore these features today.
If you're part of the small minority of professionals who reside in the gray area that intersects with both design and procurement – congratulations, today's your lucky day! Have you ever found yourself stuck in a situation where you're unable to decide between prioritizing procurement software or design software first? (But you can't seem to make up your mind because your area of expertise needs both.) If this sounds like you, then listen up.
Here's the tricky part: It's common to find tools for design and procurement separately, but there's rarely an instance where you could have both. So this especially becomes a challenge to someone who works in a field where you need both design and procurement on your team. You've got a host of problems coming your way, like:
Overhead cost from different software for each team

Poor data sharing and migration between teams

Time spent on rework and respecifying

Risk of errors during the process of data migration

Delays
A lot of these problems are rooted in two things: lack of integration and collaboration. What if we told you that we've already found a solution to your dilemma? That integration and collaboration between two very different teams with different workflows is actually possible? That there's no need to weigh your opportunity costs? Sounds like something you could only dream about, right? We think otherwise.
Here are 4 design and purchasing features that could help your team improve cross-team collaboration:
A digital materials library filled with your standardized materials
To oversimplify, an online materials library could be the central repository for all of your trusted products. That's an amazing tool in itself because different material divisions typically have to go into separate spreadsheets.
With Fohlio's online materials library though, you can sort and organize your products any way you want. Literally. Write down all the attributes you can think of: material, color, sustainability scores, even brand pre-approvals. Now, go into Fohlio and set these up as categories, and voila! You can narrow down and find any product according to any classification, attribute, and quality.
Read: 9 Ways to Take Your Firm to the Next Level With a Digital Materials Library
With your digital materials library, you never ever have to rely on old emails, documents, and blueprints to help you remember and re-specify. Having access to a library in the palm of your hand means visible data for you and all the members of your team.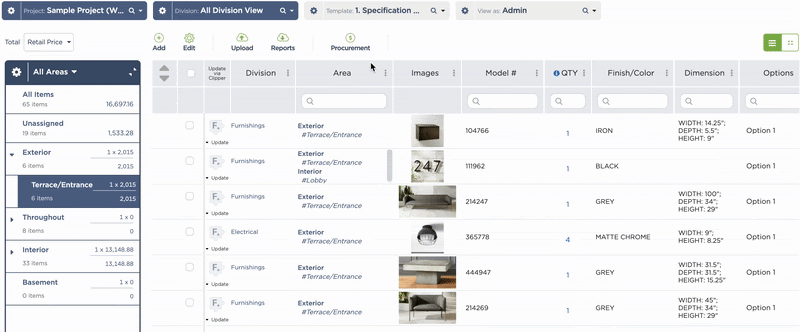 Create a digital materials library that you can reference every time you do specification writing for projects. Have all your assets in one place for easy access.
Read: Create Effective Design Standards With These 5 Templates and Catalogues
An approved vendors list
Besides having a list of approved materials, it's also important to have a list of approved vendors. Having this could easily help you and your team communicate to project managers the list of approved consultants and vendors to be engaged for all projects. Your approved vendors list, in combination with a digital materials library, will also help in communicating your company standard specifications to all of your third-party consultants. This will save you a lot of time and effort and will keep you up to speed with all of your project stakeholders.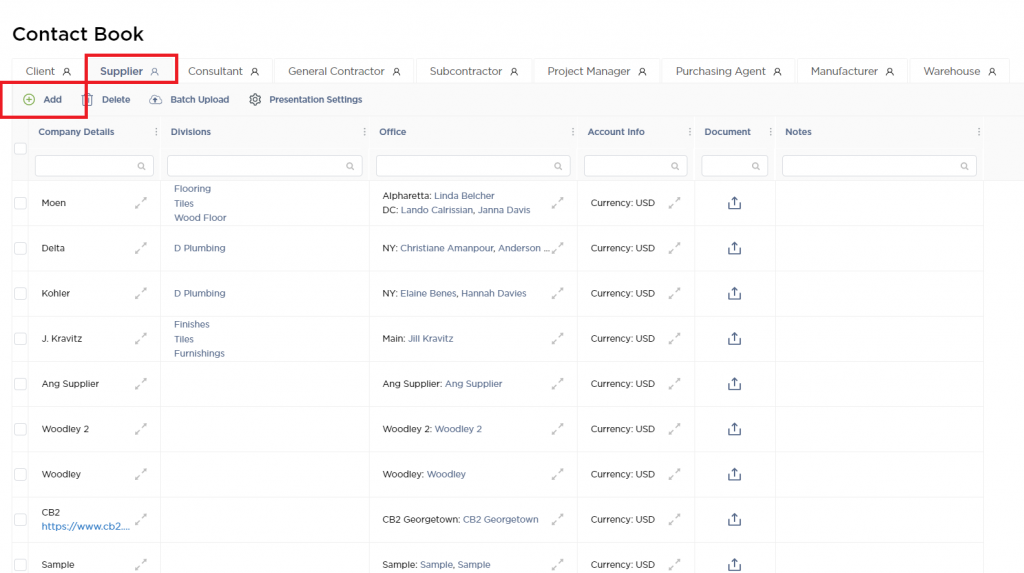 Keep track of your 3rd party stakeholders like consultants and suppliers in your contact book.
Read: Step Up Your Procurement Game: How To Build An Approved Vendor List (AVL)
Compilation of cut sheets and submittals
You can attach as many cut sheets and submittal documents as you want per specification. Need we say more?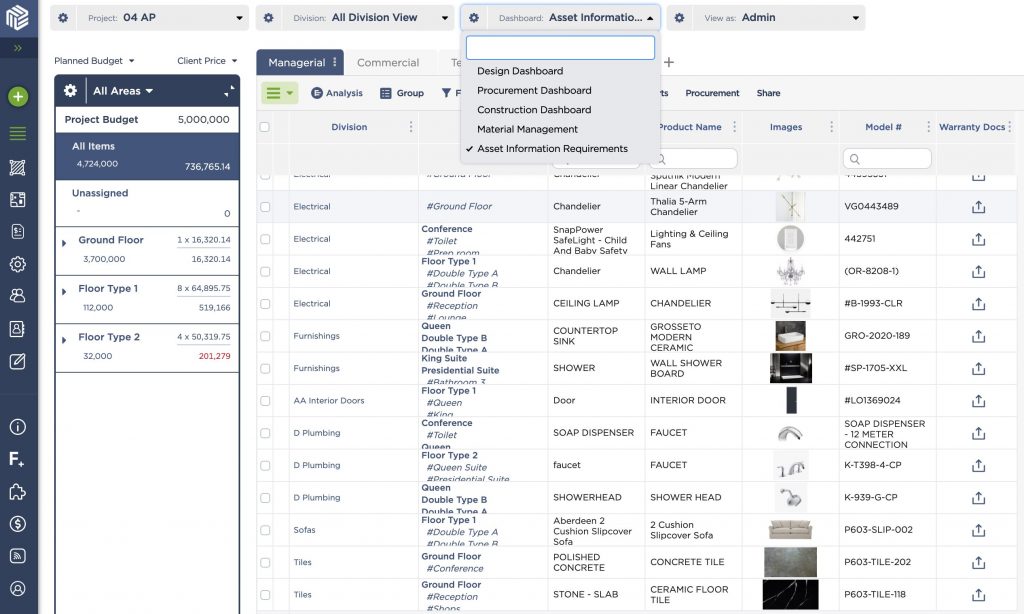 Uploading cut sheets is easy as pie, add a column in your dashboard, and upload cut sheets and other important documents there. Don't worry about storage. It's unlimited.
Read: Comprehensive Spec Book Template, and Better Project Access Control
End-to-end order status
When you're in procurement, it's always going to be a race against time. From the moment the materials are specified, up to order taking and order consolidation and shipping, you will always be counting your seconds. If there was a way to track all of this, wouldn't you? Wouldn't it be great if you could have a tool that tracks which items have long lead times and which ones have effective and alternative suppliers? We've got the thing just for you.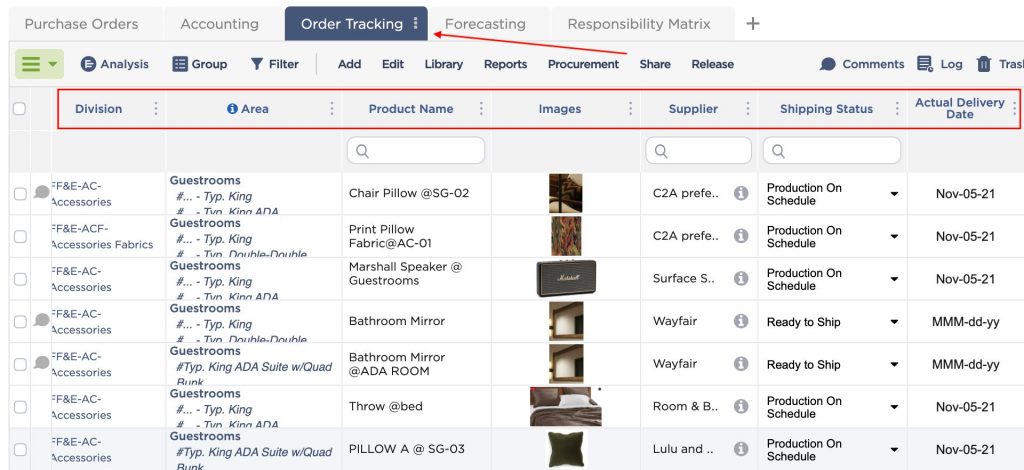 Keep track of the end-to-end status of your products. You can analyze everything from product performance to supplier compliance in your procurement dashboard.
Read: Track Status and Revisions in Purchase Orders
Manage FF&E specification, procurement, and product data at scale. Take on bigger projects with confidence and grow your firm with Fohlio. Schedule a demo or book a consultation with one of our account managers to explore these features today.
Expore Fohlio
Learn how to:
Save days of work with faster specification
Create firm-wide design standards
Automate and centralize procurement
Keep your whole team on the same Page
Manage product data
Track budget against cost in real time.
Prepare for asset valuation
Know more
Don't forget to share this post!