How Prefabrication — and Standardization — Allowed China to Build Two Hospitals in Two Weeks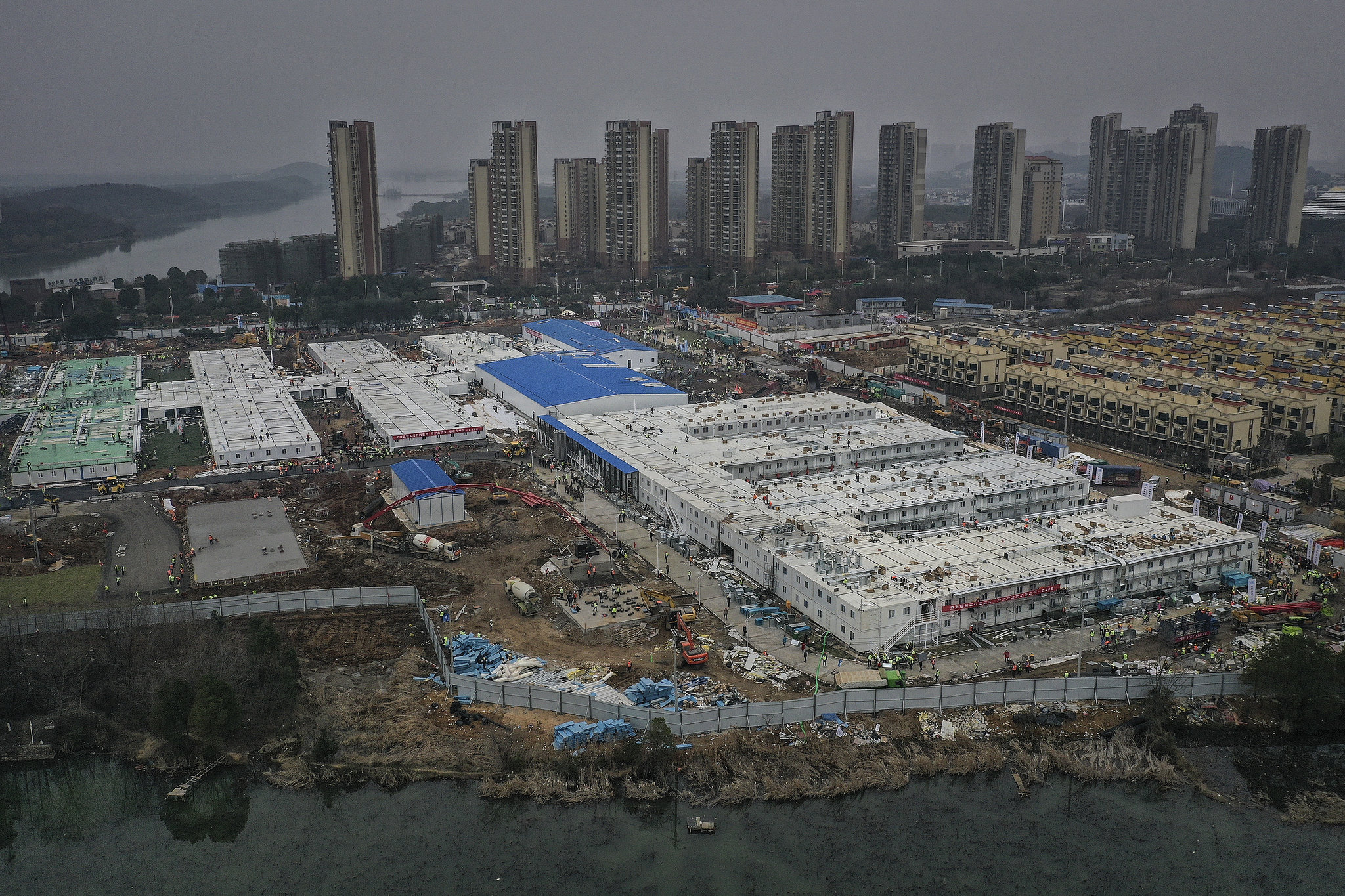 Ideally, you'd never have to be in a situation so dire you need to build a thousand-bed hospital in a week. Still — there's something to be said about how quickly China marshaled its resources to mount a monumental response to the recent health crisis.
The Huoshenshan facility in Wuhan started receiving coronavirus patients on February 3rd, just over a week after the project broke ground on January 23rd. The second facility, Leishenshan Hospital, opened on February 6th, having started construction on January 25th.
The two hospitals are able to accommodate 1,000 and 1,500 beds respectively.
If you think that's impressive, consider that this is actually nothing new: During the 2003 SARS outbreak, Beijing built the 1,000-bed Xiaotangshan Hospital in just eight days.
Read: How to Keep Your Whole Team on the Same Page, From Specification to Construction
Not Really Hospitals
Before take a deep-dive into discovering how China could achieve such a feat, it's worth noting that these buildings aren't hospitals in the most traditional sense of the word.
According to Raymond Pan, design principal at HMC Architects, Huoshenshan and Leishenshan are more of "infection, treatment and recovery centers … essentially a center for mass quarantine of patients."
Still, "It's impressive what's been achieved in a very short number of days in China," Michael Ryan, executive director of the World Health Organization's health emergencies program, said about the two new hospitals. It "represents remarkable efforts not only in public health, but in logistics and in planning and architecture."
How Can China Build Two Hospitals so Quickly?
Besides the scale on which they are built, the medical facilities also include an intensive-care unit and separate patient wards, consultation rooms, a decontamination room for ambulances, and medical equipment rooms, among others.
Even more impressive, according to Pan, is creating the underground infrastructure to bring in water, electricity and an air supply. "That's not an easy feat."
So how did they manage it?
Prefabricated Components
Prefab building admittedly gets a bad rep, especially when the discussion turns to customization and creativity.
However, there are several advantages that only prefab can provide.
Creating components in a factory, for example, allows for a much higher degree of precision and accuracy compared to custom builds.
Read: 3 Ways You Can Make Your Custom Digital Materials Library Work Harder For You
Thorsten Helbig, a structural engineer and co-founder of the German engineering firm Knippers Helbig who currently teaches at the Cooper Union in New York City, explains that "because units are assembled under the controlled environment of a factory, designers and builders can troubleshoot any problems and make sure all the modular blocks work together before they're even brought in."
"Traditional building, on the other hand, is reliant on weather conditions and the choreography of various contractors who work on different aspects of a project. Today, hotel chains from Citizen M and Marriott to KPMG's newly opened corporate retreat in Florida incorporate pre-fab parts in their build-out plan."
Another hospital which makes extensive use of prefabricated components is the Miami Valley Hospital in Dayton, Ohio.
Although the project's speed was nowhere near as breakneck as the ones in China, the prefabrication process made for considerably faster construction, not to mention "higher quality construction and a safer work environment," according to BDC Network.
Standardization is the Key to Everything
As you can see, prefabrication makes the most sense in projects that have a lot of repetition, like hospitals and hotels.
And really, prefabrication is just another embodiment of standardization, which is the only way to scale without a massively disproportionate outlay of money.
As an architect or interior designer who specializes in these kinds of projects, you know how important it is to not have to reinvent the wheel every single time. There's absolutely no need to specify new products for every project, you already know which materials you trust, and you've already built relationships with suppliers. Having this information at your fingertips greatly speeds up your process.
Speaking of standards: Wuhan has built these hospitals based on Beijing's blueprints. So you see, it's not just previous experience that has come in handy here: It's also the ability to use and learn from documentation that already exists.
The ability to tap into these resources — materials and documentation — quickly and efficiently is only possible if you have an effective digital materials library in place.
Read: Your Design Firm Needs a Digital Materials Library — Here Are 9 Reasons Why
Managing Procurement and The Workforce
Of course, all this would not be possible without the 7,000-strong workforce that worked shifts throughout the day and night.
Engineers were also brought in from across the country in order to meet the deadline, not to mention equipment like cranes, trucks, and cement mixers.
And after the facilities are built, medical supplies have to be brought in, either from factories or other hospitals.
Orchestrating such large amounts of data would ideally happen in one central database, regardless of which sphere or phase is concerned.
Read: 3 Cost-Saving Reasons Your Hospitality Design and Procurement Teams Should Collaborate Better
Fohlio allows you to manage your entire team and all your workflows in one place. With Fohlio, you can specify, procure, and more on one platform: Collaborations are easy and workflows are much more efficient than ever before! Get your free trial today — so you can design and build more profitable projects.
Sources:
Coronavirus: How can China build a hospital so quickly?
Prefab Trailblazer
How to design a hospital that's built in days, by someone who's done it before
China Pledged to Build a New Hospital in 10 Days. It's Close.
How China Built Two Coronavirus Hospitals in Just Over a Week
PHOTOS: China Builds a Medical Center from Scratch in Under 2 Weeks
How China can build a hospital for coronavirus patients in a week
Expore Fohlio
Learn how to:
Save days of work with faster specification
Create firm-wide design standards
Automate and centralize procurement
Keep your whole team on the same Page
Manage product data
Track budget against cost in real time.
Prepare for asset valuation
Know more
Don't forget to share this post!