Rebounding From COVID: How Designing for Wellness Could Give Your Hotel An Edge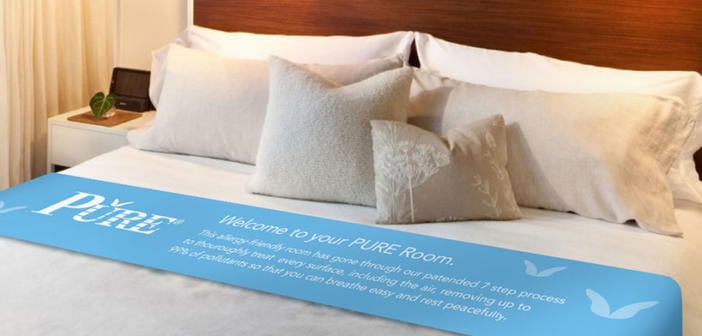 Manage FF&E specification, procurement, and product data at scale. Take on bigger projects with confidence and grow your firm with Fohlio. Schedule a demo or book a consultation with one of our account managers to explore these features today.
After a year and a half of quarantine, hotel reservations are climbing back up. Pure Wellness is helping hotels not just book rooms, but increase premium occupancy as well.

How are they doing it? As it turns out, their hypoallergenic protocol (which already has a strong following in the business travel sector) is also incredibly effective at removing COVID particles.
I discovered Pure Wellness during a recent stay at a hotel in Annapolis, Maryland. The first thing I noticed upon entering the room was the air purifier. Then, there was the sticker right underneath the shower head: It promised to remove chlorine and other impurities from the water.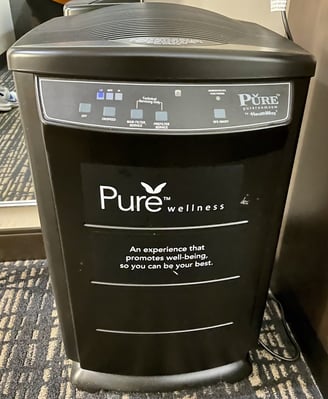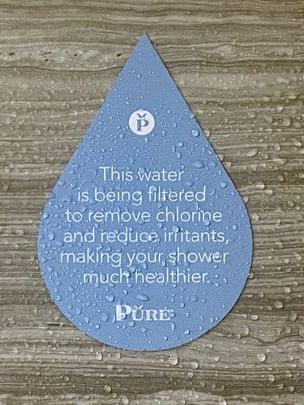 Intrigued, I started looking more closely around the room and noticed more teardrop-shaped blue stickers and signs explaining that this was a Pure Room: There was a special, 7-step process ensuring a hypoallergenic environment.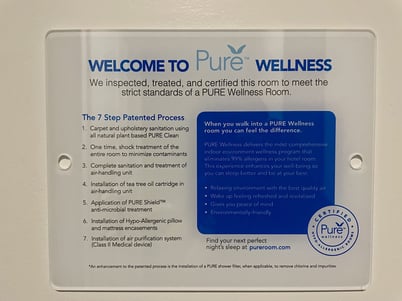 As someone with asthma and lots of allergic sensitivities, it was astonishing to me that I'd never heard of these rooms before. So long story short, I reached out to Pure Wellness.

Listen to our interview with Brian Shedd, Senior Vice President of Sales and Marketing for Pure Wellness, as he discusses:
How Pure Wellness is helping guests sleep better — in more ways than one.
How antibacterial remediation is an increasingly larger factor for meeting planners than just location.
How to position Pure Rooms as premium upgrades.
(You can also read the full interview transcription below.)
Manage FF&E specification, procurement, and product data at scale. Take on bigger projects with confidence and grow your firm with Fohlio. Schedule a demo or book a consultation with one of our account managers to explore these features today.
Ingrid (00:00):
So let's get started. If you don't mind, could you please introduce yourself?
Brian (00:18):
My name is Brian Shedd. I am the Senior Vice President of Sales and Marketing for Pure Wellness. Pure Wellness is a provider of air and surface antiviral, antibacterial solutions in a few spaces – originally in the hospitality space with hotels. We have evolved into office/commercial real estate environments as well as schools at this point. And based on the velocity of our business, I see that probably expanding into a handful of additional verticals here in the next 18 to 24 months. But today our primary focus is really on those three; within Hotels Office buildings and in Schools. I oversee the Sales and Marketing teams nationally for the company.
Ingrid (01:26):
Okay. Very cool. So how did Pure Wellness get started and when was it founded?
Brian (01:37):
It has a very interesting backstory that actually starts over in Europe many years ago, but in its current form the company Pure Wellness was founded about 15 years ago in Buffalo, New York. It was founded on the purpose of improving the sleep experience for guests in hotels and resorts who suffer from allergies and are sensitive to different products and things that are commonly used within a hotel environment; as well as things most people are obtuse to, such as dust or some minor mold type situation that's happening in the HVAC unit – things like that. Things that might cause you and me perhaps to be stuffy, but for people that are hypersensitive or have allergies, it can keep them up all night.
Brian (02:53):
And it's really, really tough for them to get a good night's sleep. So realizing that there are millions of people in the U S that suffer from allergies, this concept was brought to bear to create what's called a premium room type within a hotel where there's an entire process that we'll get into later that creates a Pure Room. And that process removes all of those potential allergic triggers within the room. And it also creates an opportunity for the hotel to to charge a premium for that room because you've created a distinctly different room type within the hotel. So there's an incremental revenue benefit to hotels as well as a significant sleep experience benefit for the guests.
Ingrid (03:55):
Very interesting. So there's a lot to unpack there. Let me go through that one by one. I'm actually glad that you said all those things. So, one – the way that I came across this was my husband and I went to a hotel on a whim just because we're both fully vaccinated. We're feeling a little more comfortable being out and about. We booked a Crown Plaza hotel room in Annapolis, and they gave us a Pure Room and I thought, wow, I've never seen this before. And I was kind of surprised by that because you know, like you said, the goal here is to help people sleep better, which you know, it's a constant thing to strive for in hotels. Two – I have asthma. I actually have a lot of allergies and I thought, wow, this is perfect.
Ingrid (04:58):
It's actually something that I'm surprised that not a lot more hotels have been telling me about because even though it was given to me for free, you said it was a premium type of room. It was given to me for free – but even though they didn't do that and I would have to pay extra for it, I would have been happy to do that. Had I known that this existed. So that's super interesting. And something else – how has COVID affected you guys if at all? I mean, it seems like you said, mostly to address allergies and some sensitivities, but has COVID been kind of a good thing for Pure Wellness?
Brian (06:01):
Not as much of a good thing as for Zoom for instance, I wish I had bought that stock in 2019. But the pandemic has obviously impacted the hotel business to a larger extent than possibly any other industry outside of perhaps restaurants, right? And it has been super, super tough. It is a daily struggle that Pure Wellness deals with, with respect to working with the hundreds and hundreds of hotels that we are in nationally with thousands and thousands of rooms, because we're in nearly every major brand; we're in Hilton and Marriott and Hyatt, and obviously IHG and others. And the challenge that you face within the Hospitality industry is a continuous training challenge because the front desk staff tend to be rather transitory.
Brian (07:20):
And so as a General Manager at a property, you're facing this continuous training issue for adding new staff, and when you add those new staff, you've got to cover off on a lot of elements that include Pure Rooms and the treatment of Pure Rooms in terms of how to present them in an effective fashion as an upsell to guests. And you know, sometimes it falls by the wayside, and yet there is a significant revenue opportunity for hotels that use the program the way they should. There's a number of hotels who largely due to a lack of training of the front desk staff, treat the Pure Rooms in a similar fashion to a standard room. The upside to that is, you wind up staying in one of these rooms and going, wow, what a phenomenal stay experience that was.
Brian (08:21):
And that experience generates an amazing amount of social media content for Pure Wellness and for the hotel, because a lot of guests who stay in a Pure Wellness room (without knowing about the room benefits beforehand), find themselves going on social media and just raving about their experience. That creates Word-of-Mouth marketing for the hotel. And obviously Word-of Mouth marketing is probably the most valuable kind of marketing that you can get. So going into the pandemic, we hadn't really been positioning these rooms to hotels as anti-viral and anti- bacterial, because it wasn't a thing at the time. Nobody was very concerned about that. We were really pursuing more of a hypoallergenic positioning for the rooms, because that resonated with the segment of guests who have a legitimate concern staying in a hotel.
Brian (09:28):
Pure also has a huge, loyal following of business travelers. If your job requires continuous travel, that can really wear you down. Just the act of going from location to location with different weather patterns and different environments can really be a beating. We've got a lot of consultants working for consulting firms and such that are constantly on the road traveling for business and Pure Wellness rooms are a must for them because they find that staying in these rooms helps give them recovery time and they sleep better. They wake up with more energy and more ability to continue doing what they do, which, you know, being on the road can be really taxing.
Brian (10:22):
So when the pandemic happened, it took us a minute to take a look at the technology and the products that we were using to create Pure Rooms. We suspected that we were removing all viruses, all bacteria, all small airborne particulate matter from the room by virtue of making them hypoallergenic. And that premise was actually proven out by independent third party testing. So, you could say these rooms are the safest rooms to stay in a hotel because they are completely devoid of any type of foreign particulate matter, whether it's in the air or whether it's on the surface due to the technology that we employ to eliminate those airborne and surface-based threats.
Brian (11:24):
But as a hotel, you don't want to create the impression for a guest that your standard rooms are in some way inferior to the Pure Wellness rooms; because most hotels only have something like 10 to 80 Pure Rooms, whereas the hotel may have 500 total rooms. It's not uncommon to find an entire floor in a hotel of Pure Rooms, but depending on exactly how big the hotel is, you're looking at 60 to 80 rooms on a single floor. Most hotels have 10% to 20% of their room capacity as Pure Rooms. So they've got 80% of their inventory that they still need to sell in an effective fashion without making those rooms seem to be in some way inferior to the Pure Wellness rooms that they have.
Brian (12:28):
Which brings me back to my original point – that it's a continuous struggle within hotels to keep front desk staff trained on the proper way to present these rooms in order to not undersell the standard room product. You're going to get a good night's sleep in any room in the hotel. The difference is you're going to get a great night's sleep in a Pure Wellness room. So there's a bit of a challenge there and it's ongoing and it's tough for us with so many hotels that we have today. Not to complain, it's great that we have so many Pure Wellness rooms nationally in hotels. It's great that there's a lot of options for travelers. When you go to book a Pure Room, you can literally travel from coast to coast and stay in a Pure Room every single night because we have that kind of footprint. At the same time, it's an account management challenge to continually stay on top of training that many hotels and front desk staff when they move around a lot. So that's the life we live on this side.
Ingrid (13:46):
So, that's pretty much the second half of your name "Pure Wellness" – I'm guessing we can say that a Pure Room is that extra level of wellness. If you want that for your stay. As somebody who didn't travel a lot before, I never really appreciated how my sleep in a hotel would effect me vs now as somebody who travels for work – because that is so important. It's really different when you're staying at a hotel for a vacation. I mean, you're having a good time during the day anyway. It's not like you need a good night's sleep to have energy for fun during the day. But it's really different when you need that for work, because you want to be operating at your best so that you can present your very best to your customers. Whoever you're speaking with, whatever you're trying to sell, getting a good night's sleep is a really, really big deal. And Pure Rooms are crucial to that.
Brian (15:03):
Agreed. I want to say Holiday Inn or La Quinta was doing an advertising campaign about a business traveler who's on top of his game. And the reason why is because he slept in a La Quinta or Holiday Inn Express – one of the two – and it kinda ties back to my earlier comment about why we have such a fanatical fan base of consultants from firms like PriceWaterhouseCooper and McKinsey and Boston Consulting – these guys who live their lives on the road. They're gone five days out of the week at a client site. And for them, you can get away with one night where you didn't sleep all that great because the HVAC unit was making a noise or you were stuffy, or any number of other challenges.
Brian (15:55):
But that becomes cumulative; and when the second night you don't get a great sleep followed by a third night, you know, by then you're just beaten up. You can't do your job well and it begins to have a noticeable impact on your performance. So that's why there's so much for us at Pure Wellness. There's so much of a message for us to get across on not just the healthy part of it associated with what these rooms eliminate for people – which certainly matters – but also conveying the incremental benefit that it makes to your work performance, because the same things that make these rooms healthier rooms for people with allergies also make these rooms, provide a really outstanding sleep experience, which creates a far more energetic, awake and productive person in the morning.
Brian (16:58):
So there's a lot there. And as a company, we struggle to convey all of those benefits in a way that doesn't become too much for a hotel front desk staff to explain to guests. As a guest, if you're not already aware of Pure Wellness rooms, there's a lot to unpack from a front desk staff trying to tell you about the product. We tell our hotel clients that all you need to do is put a guest in a Pure Wellness room one time, and then you don't have to sell it anymore because they will seek that room out at every hotel. They go from that point on, and that's how you create this continuous kind of base for guests who go to hotels and stay in these rooms. So there's definitely a connection to the quality of the sleep you get in a Pure Wellness room and the quality of your work performance the day after.
Ingrid (18:09):
Excellent. I know for sure that the next time I seek out a hotel, I'm going to be asking if they have a Pure Room, because it did help me sleep a lot better. And as someone with asthma and all of these allergies, it's been great for me. So let's let's go behind the curtains a little bit. What does qualify as a Pure Room?
Brian (18:37):
There's a patented seven step process that every room in a hotel has to go through in order to qualify as a Pure Room, and that seven step process addresses every element of the room itself. To briefly walk you through what those elements look like; we start with an ozone treatment – and ozone is toxic for humans. It's toxic because ozone depletes the oxygen in any environment. We seal off the guest room prior to using the ozone machine because any living organism in a room is relying on oxygen to live.
Brian (19:44):
So when we create ozone in the room, we're suffocating any sort of living organism within that space, right? It's also a reason why creating a Pure Room in a hotel is a four hour process. And it's also a reason why we have technicians – specialized technicians nationally – that do this. We can't subcontract conversion of a Pure Room to the housekeeping staff of a hotel because the process is very exact and it is somewhat complex and it needs to be done by professionals who know what they're doing. Certainly housekeepers and maintenance staff at hotels are very capable people, but when you're dealing with something like ozone, you want someone who's trained and certified in the process to do it.
Brian (20:41):
So first there's the ozone shock treatment. We then go in and dismantle the HVAC unit. We use a specialized product to deep clean and disinfect the coils, the condensation line, the drip pan. This is going to remove any mold or bacteria that can often grow in an HVAC unit because there's moisture present. Our tech goes in and disinfects essentially the entire HVAC. Next we put in a tea tree oil cartridge. Tea tree oil is naturally antibacterial and it smells great – it has a very spa smell to it.
Brian (21:53):
We put a tea tree oil cartridge in the HVAC unit and then put it back together. Then we deep clean the carpets and upholstery with a Pure sanitization product. It's an all-natural plant based solution to avoid chemicals that guests might be sensitive or allergic to. The products we use are meant to eradicate any sort of concerns on that front. We treat the carpet and the soft services with that product. Then we clean all of the hard surfaces, including the walls, the bed frames, the countertops, you name it, with a disinfectant that is removing any sort of particulate matter that had expired due to our ozone shock treatment.
Brian (23:01):
Next we apply a product called Pure Shield, which is a really cool thing. It creates a molecular bond with the hard surfaces in the room, and forms microscopic sword-like structures. These spiky molecular structures work to pierce the membrane of foreign particulate matter that falls from the air onto the surface and renders that matter inert. It's called a "mechanical kill". It's a pretty neat product. And because it chemically bonds with the surfaces, it won't be wiped off through routine application of cleaning products like Lysol or Clorox or something that the housekeepers might use on a daily basis. It's going to remain on that surface and effective for up to 90 days if you are wiping it every single day. It can last even longer if your cleaning regimen is not as routine as daily. So it remains in place for a very long time with this residual kill capability.
Ingrid (24:40):
So you're essentially creating antibacterial surfaces, correct?
Brian (24:45):
That's exactly what we're doing – creating anti-bacterial and anti-viral surfaces. We sometimes get asked if the room remains in this constant state of hyper-cleanliness – constantly free of bacterial or viral elements because of the treatment. The answer is – once the tech leaves and the room is an entirely new Pure Room that is certainly the case, but you have to remember, guests are checking into this room every day. So they're opening the door and outside air is coming into the room. And that outside air is going to contain exactly what it is we're trying to eliminate. So that's why the technology in the room needs to constantly work to to keep that room in a very hyper-clean anti-viral, anti-bacterial state. So we've got the soft surfaces treated and we've got the hard surfaces covered with some residual chemical protection.
Brian (25:43):
We then install a DFS-enabled air purification unit. DFS is a patented technology that is the most effective technology on the market for eliminating airborne particulate matter down to 0.007 microns. To give you a relative comparison about how small that is, HEPA filters that everyone is keen on because HEPA is a very commonplace type filter. HEPA filters are good for eliminating air particulate matter down to say two or three using a very, very dense weave. But the weave you would require to get a HEPA filter to remove something down to say a 0.1 micron, would be so dense that air just wouldn't pass through it. And so this this DFS technology which stands for Disinfectant Filtration System technology is actually an electrical grid.
Brian (27:05):
So it's using a different type of method to eliminate air particulate matter down to the very, very tiniest particles. The electricity causes the smallest particles to coalesce and then the electrical field makes them inert and they get captured by the electrical grid that's in this machine. There are a couple of pre-stage filters within the air purification unit to take out some of the larger stuff that your standard HEPA filter would capture, but the way we're able to achieve a 0.007 elimination is only through application of this patented electrical field technology – the DFS grid – and the COVID particle is 0.01 micron in size. So since the DFS grid is capturing particles as small as 0.007
Speaker 3 (28:19):
It's capturing the COVID particle
Brian (28:22):
And there again, third-party validated testing shows a 99.99% efficacy in removing particles down to that size. We could use different air purification technology, but we're very concerned with providing a product in the Pure Room program that is at the top of the game, the very best that you're going to find. And right now that is DFS air purification technology. You're simply not going to find something that's going to do a better job. So we've got the surfaces covered and the air treated with our air purification unit – as well as the tea tree oil cartridge that goes inside of the HVAC unit.
Brian (29:25):
We also install a filter in the shower that eliminates hard minerals that may be part of the water that's in the hotel. And we provide signage within the Pure Room that helps the guest understand the seven different steps that were taken to create this this Pure environment for them. Finally, we have a cover that goes on the mattress that is specifically designed to prevent any sort of dust mites or bed bugs or things from transitioning from the mattress up to any of the sheets. And we also apply pillows that are feather free because feathers can be a trigger for folks that are sensitive.
Brian (30:30):
There's also a feather-free duvey that goes on the bed. So there's a bedding component to a Pure Room in addition to the entire environment that's been treated. We support the hotel through signage in the room and a placard that can go on the exterior of the room. You may have seen one on the IHG room that you stayed at that identifies it as a Pure Room. So that's the whole process. It takes about four hours for technicians to convert a single room. And in a hotel in general, you'll find no fewer than 10 rooms that are Pure Rooms within the property. Hotels see a very healthy what's called Paid Premium Occupancy for these Pure Rooms because they are a huge draw even for the general public.
Brian (31:31):
It's not surprising to me that you hadn't heard of a Pure Room before, but for a lot of business travelers that are on the road often as well as people with medical sensitivities of some kind or allergies we actually have quite a following. One resource that's available is our website pureroom.com that has a hotel finder to make it easy for people to find Pure Rooms nationally. If they're headed to Seattle or they're headed to Washington, DC, it's easy for them to just go on the Pure Wellness website pureroom.com and locate hotels in Washington DC with Pure Rooms to help with their lodging decision.
Ingrid (32:25):
Excellent. So last thing I wanted to ask you was this, so you mentioned that it takes four hours to convert a regular hotel room into a Pure Room, and then there's also the additional products that the hotel is going to have to keep on hand, like the air purifier the special linens, things like that. So do you provide any help or guidance on the specification and procurement of these materials for hotels?
Brian (33:06):
Pure Rooms are installed under contract to hotels, and that contract is a two-year agreement. The reason it's a two-year agreement is we include all of the scheduled maintenance for the air purification equipment as well as a routine re-application of the protective surface barrier in the room. Every quarter we go in and provide scheduled maintenance for the rooms. The Pure Room program is meant to be turnkey for the hotel. In terms of the impact that it has on the hotel or the housekeeping staff; the only real impact that it has from an operative standpoint is making sure that housekeeping remembers the pillows that go in the Pure Rooms need to be pillows that don't have feathers in them, right?
Brian (34:15):
So feather free pillows. And they need to make sure the bed coverings we provide go back in the Pure Rooms. But aside from that, by design there is not any sort of special technical expertise required on behalf of the hotel to have Pure Rooms on property. Pure Wellness is actually strategically invested by several of the largest hotel ownership and management companies in the country – publicly traded companies. So our board is focused on providing guidance and concerned about making sure that we've got a product in the market that does not create some sort of additional burden on hotel operators that might increase their costs and slow down their housekeeping, cleaning regimen or things of that nature. We're being governed by the very people within the hotel space that we serve. I think it's a beneficial cycle of the people who are impacted also being the people helping govern how we do what we do and our product development and all of those things. So the Pure Room program is a very turnkey program.
Ingrid (35:43):
That's very smart, because if you really want to, if you really want the markets that you are servicing to quickly adopt what you're offering, then you have to make that barrier very low. This is something that we also discuss a lot. You know, we are a SAS company and this is something we talk about a lot. When we get new subscribers, one of the really big issues for them is the adoption of the technology, because it's something new, it's something that people have to be trained in. So I think that's a really smart thing that you guys are doing
Brian (36:22):
Well, the strategic capital provided by those hotel REITs certainly didn't hurt, but I think the fact that we've got that kind of guidance has really helped keep this company focused on delivering only those products and services that create a significant revenue impact for hotels. There's a lot of other things we could provide in rooms. We could provide circadian lighting and we could provide, you know, aroma therapy and mood music and yoga type stuff. But at the end of the day, that isn't really impacting the outcome that hotels are looking for when it comes to improving the guest sleep experience overall. We're focusing on the essential elements that deliver an improved experience while eliminating the costs associated with all of that extraneous stuff that we could be doing.
Brian (37:32):
Every company wants to innovate and constantly improve on their product offering. So it can be tough at times for us to stay focused on just providing those most important health impactful benefits without straying off into the chotskie component and adding a bunch of stuff that really doesn't deliver significant value. It just adds one more thing to a hotel room. I'd rather the hotels do that if they want – and we focus on providing the big ticket, key impactful products and services that really make a difference to the guest.
Ingrid (38:17):
Yeah. Precisely. So last question, cause I was just curious besides the actual rooms is there any other way that a hotel can incorporate Pure Wellness, like in a gym, for example,
Brian (38:32):
Great question. That has come up with increasing frequency within our hotel clients and also within our other industries. I mentioned before that we're also in office buildings and schools. The pandemic hit the hotel business harder than almost any other, and part of that crushing blow was the impact that it made to meetings and events that occur at hotels – which can constitute a significant portion of hotel revenue annually. Most hotels have Sales Directors whose mission is to acquire large meetings and events for the hotel. Meetings and events often are bundled with rooms at the property, and there's generally a food and beverage element in addition to space rental and things.
Brian (39:46):
There's a lot of revenue tied to conferences, meetings, and events that happen at hotels – and when COVID hit – that vanished overnight. A huge chunk of hotel revenue went away as a result, which made 2020 a really tough year. So as we look at vaccinations becoming more commonplace and people beginning to travel again, a key focus for a lot of our hotel clients is how to bring meetings and conference events back to the property. We have equipment to help do that and we are assisting hotels with applying the same efficacy in terms of air purification with that equipment.
Brian (40:48):
We also offer surface treatment that provides a residual kill capability for meetings, conferences and event venues so when they're talking to meeting planners, they can use that as a competitive advantage for their hotel versus another one. What a hotel is doing about anti-viral and anti-bacterial remediation is actually becoming more of a decision-making factor for meeting planners than location; which has historically been the number one factor. So interestingly enough, the pandemic has kind of reset the ability for a lot of hotels and conference centers to compete with others that typically got business due to their location.
Brian (41:58):
Now a lot of resorts and conference centers are able to compete for that same business when it comes back because they're taking measures to provide a safer environment for meeting attendees. And that's becoming a significant factor in space determination for meeting planners. So to answer your question, we do provide a solution for meetings, events and conferences, where we provide large format air purification equipment. And then our technicians go through and apply with an electrostatic spray our residual surface treatment so that the environment is as anti-viral and anti-bacterial as you're going to get for a large format gathering situation.
Ingrid (43:01):
Excellent. Thank you very much for your time today, Brian, that was incredibly, incredibly helpful and educational. And again, thank you for coming on at the last minute and doing this, you were excellent. I will send you a link to the, to the podcast when it comes up.
Brian (43:25):
Fantastic. I appreciate you giving us the chance to share the product that is Pure Wellness, and I'm thrilled to hear you had a great experience in one of our rooms.
Ingrid (43:38):
I really did. Thank you. Have a good day, Brian. Thanks, Ingrid. Take care. All right, bye.
Expore Fohlio
Learn how to:
Save days of work with faster specification
Create firm-wide design standards
Automate and centralize procurement
Keep your whole team on the same Page
Manage product data
Track budget against cost in real time.
Prepare for asset valuation
Know more
Don't forget to share this post!