5 Digital Strategies to Promote Products to Interior Designers that Actually Work
In today's digital era, if you can't be found online then you barely exist. This works the same way for the products you promote. Having a good online presence can help you reach your interior designer audience 24/7 and increase your sales all over the world with minimum effort. So we picked up five efficient strategies to get your brand noticed online by designers and architects.
1. Social Media

Unless you've been living in a cave this first one is obvious. The easiest, quickest and cheapest way to do so is to create accounts in social media. Make sure you can be found on the "golden four" of SMM: Facebook, Twitter, LinkedIn and Google Plus. If the products you offer are visual, Pinterest and Instagram are a must for you as well.
Here are the major ways to use them to promote your products:
Customer Support
According to reports, 68% of customers are likely to seek support from companies via social networks… 2 out 3 customers that have some issues will be searching for you on Facebook or Instagram. Use these networks for immediate support and keep your customers brand loyalty.
Advertising
Social Media has powerful engines for advertising. In many of them, Facebook and LinkedIn for example, you can target your ad campaign to a specific demographic of audience. In others, like Instagram or Pinterest, you advertise categorically.
News Update
Above that, social media lets you get closer to customers and keep them updated about your business with no pressure added. It's a great chance to remind customers about your existence and draw more traffic.
To reduce efforts for social media management try out some free SMM aggregators, like Hootsuite, to cut down the time you need for all the management.
2. Blog Posts

Another good idea for drawing traffic is getting a post featured on a professional blog or group. There are a few ways you can do this:
Pay for featuring
This is the quickest and easiest way. You simply pay for it, and sometimes, the article can even write itself. The downside to this is really good groups or highly subscribed pages might cost you a lot, so manage your budget wisely.
Get your brand to stand out on forums or trade shows
If you are good at establishing connections, this is the path for you. Before going to an event, prepare a press release you can hand out so that bloggers can easily write about your products without errors in communication.
Write a balanced blog post
Keeping the balance between useful content and marketing is a must for having an article published. It's not easy, but when you master it, it can bring you traffic for years. You can either ask for publishing or post it to groups on LinkedIn or Reddit. But don't go too hard on self-publishing, otherwise you might get a ban there.
3. Your Own Website

The best thing about your own professional site is that you can tailor how it looks and what information and services it can provide to visitors to maximize your brand.
Simply creating a website is not enough. You need to work hard to make it noticed and there are two effective ways to do so:
SEO
Search Engine Optimization (SEO) helps make your website easier to read for search engines. As a result, your site appears higher in the search results. There are a number of techniques SEO uses to convince search engines, like Google, that your website is valuable enough to show higher, this includes: links to other respected websites, keywords, meta tags, correct HTML-slicing and a lot more. If you are a newbie here, hire specialist for these needs. If you are on a strict budget, start with special SEO apps that will tell you what to do at the beginning.
AdWords
The essence of AdWords is similar to Social Media Ads. You set your target audience and pay per click or per view. Websites that have an AdWords module installed and meet the audience requirements, will show your add on their pages. If you do it right you can get pretty good results with this.
4. Banner Ad

Banner Ad strategy is similar to the AdWords one viagra ou. The only difference here is that you pay a singular website directly. If you want to promote your goods to designers, you can try cooperating with professional news websites such as Archdaily or Archinect.
Though banner ads work great for some areas of business, their popularity and efficacy have decreased in the last few years. One of the biggest drawbacks to banner ads is that even though the page view is quite high it doesn't necessarily mean that this is your targeted audience, or they are in the process of searching for specification when come across of the banner ads. Converting these visitors into actual customers becomes an even greater battle. Placing your ad on professional websites will cost you, so this is definitely an option for companies with a larger marketing budget.
5. Native Ad

The best method to promote your brand is through the use of native ads. By integrating your content collaboratively with websites that provide professional services to designers and architects your brand can engage your targeted audience more effectively than other other ad campaign method. This type of promotion is camouflaged within the natural look and function of the website to engage users while adding value to their experience.
For example, Fohlio, which is a smart specification platform for interior and architecture designers in 60+ countries, has some attractive product campaign elements. It offers a seamless native ad experience to their users and presents the sponsored products to the professional architecture and interior designers, while they are creating specification. This is the perfect way to generate higher click rate and sales leads. Here come the options Fohlio offers.
Sample A
When the User adds a product type to his specification list, Fohlio automatically shows the relevant products from vendor and directs traffic to their website.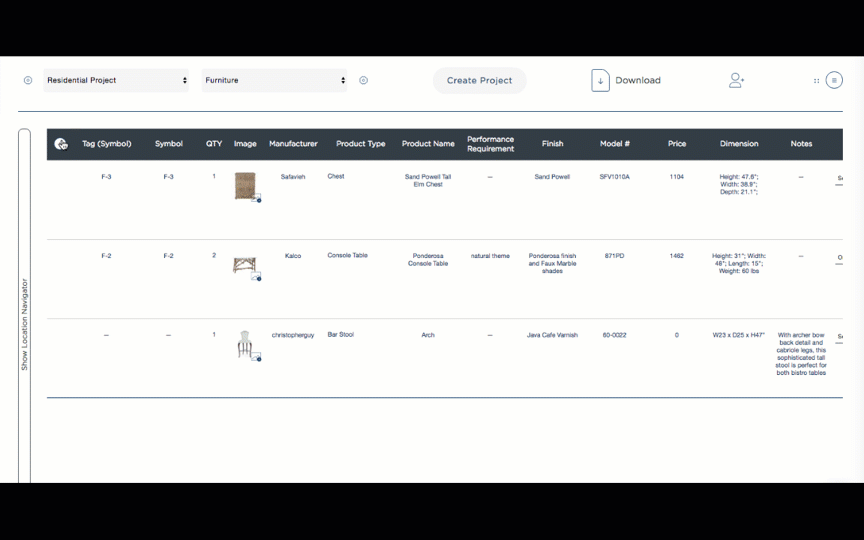 Sample B
When the User is editing the specification, previously specified products are displayed. If the vendor distributes the same products, a quote request from the User will be sent to the sales person. See image below.
Sample C
Products from the sponsor are displayed as similar products to user's previously specified products, which generates quote request to the sponsors.
Native Ad approach will help to spend your marketing budget wisely and establish great connections with designers from all over the world.

Hopefully, you have found the strategies described above helpful. Reach out to us here if you have more questions. We're interesting in hearing what method you find more effective for promoting your brand to designers? Share your opinion in the comments section below!
Industry Trends Design Tips & Best Practices
Your email address will not be published. Required fields are marked *