Adapting School Design to COVID-19: How to Keep Students, Teachers, and Families Safe
Implementing these school design solutions that help prevent the spread of COVID-19 is easier when you have tools to manage your construction budget by area and cost division, design standards, and material procurement. Schedule a demo with us or explore different features with one of our account managers.
One of the biggest challenges the public currently faces is keeping students and their families safe as schools reopen.
In many cases, allowing schools to stay closed is not an option. According to UNICEF, at least a third of the world's schoolchildren don't have access to remote learning.
And while children themselves are generally at a lower risk for the disease, they can transmit the virus. Where schools are reopening, around "37.7 million adults living with school-aged children and 2.9 million K-12 schoolteachers have definite or possible risk factors for severe COVID-19" according to Annals of Internal Medicine.
Design Firms are Reimagining Schools
The urgent need to rethink how schools are laid out and operate has promoted several design firms to come up with solutions. But the good news is, many of the actionable ideas presented don't need a huge budget.
Brooklyn Laboratory Charter School in New York, for example, has partnered with Urban Projects Collaborative and five design firms to produce the Back to School Facilities Kit. The 101-page document outlines ideas and examples of strategies that schools can use to prevent the spread of COVID-19.
According to Eric Tucker, Brooklyn Laboratory Charter School's co-founder and executive director, much of the approach to education is premised on the classroom ratio of one teacher to 30 students. "Social distancing has fundamentally shifted how that works," Tucker says.
"There's also a lot to redesign when it comes to arrival, bathrooms, and hand-washing stations. What is the flow of bodies in, and how can we re-imagine the classroom for social distancing in combination with anytime, anywhere participation."
Incorporating COVID-19 Solutions in School Design
There's no one-size-fits-all solution for preventing the transmission of COVID-19; but the good news is that schools can do a lot with what they already have.
Deborah Groner-D'Agostino, a healthcare facilities design consultant, "You can achieve a lot with social distancing and handwashing facilities. These are the easiest to do in a school environment, and facility administrators can implement them quickly."
Creating Additional Handwashing Opportunities in Schools
One solution presented was the addition of an area that readies students, teachers, and visitors for entering the school. The Back to School Facilities Kit makes it clear that "many public schools in America will require a front porch."
Not only will such structures provide shelter to those queueing to get inside, it will also serve as a handwashing facility. Here, administrators can also check temperatures and distribute masks.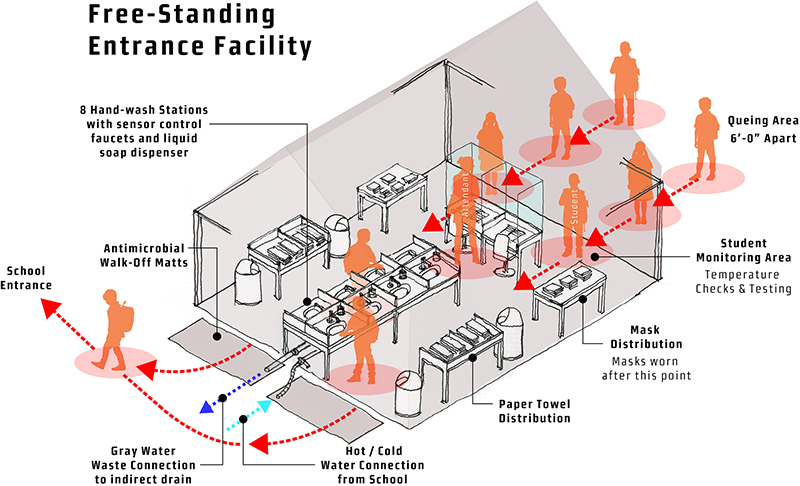 Handwashing stations can also be added to corridors and lobbies.
Utilizing Layouts and Barriers to Establish Social Distancing and Deliberate Traffic Patterns
The most prevalent method of COVID-19 infection is face-to-face interactions that facilitate the direct transmission of droplets: coughing, sneezing, and even normal speaking.
Of course, the best way to prevent this in schools is by creating distance between students. Urbahn Architects' plan is to "offset every other row instead of removing rows, creating almost a diagonal pattern, and in that way you're able to safely put more students in each room–as many as 14 instead of as low as 10."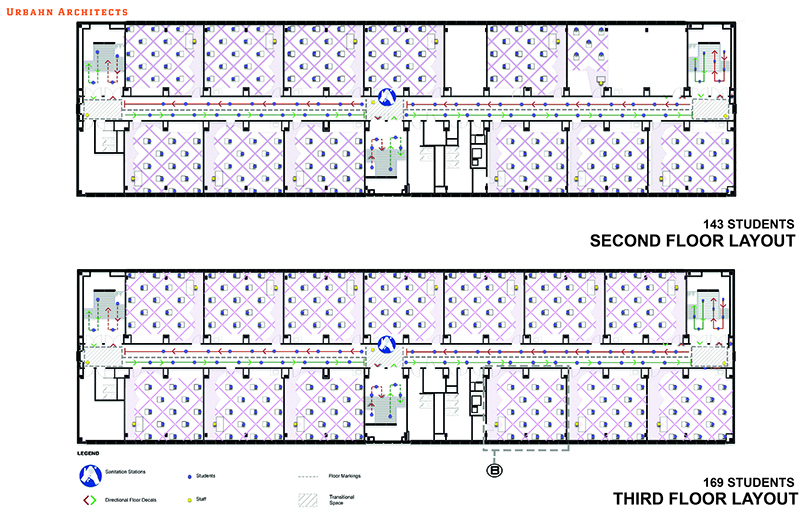 The American Institute of Architects, on the other hand, proposes mapping the classroom's floor to indicate the limits of each student's space. Additionally, they also suggest the use of locking casters to keep furniture from moving around and thus possibly preventing social distancing.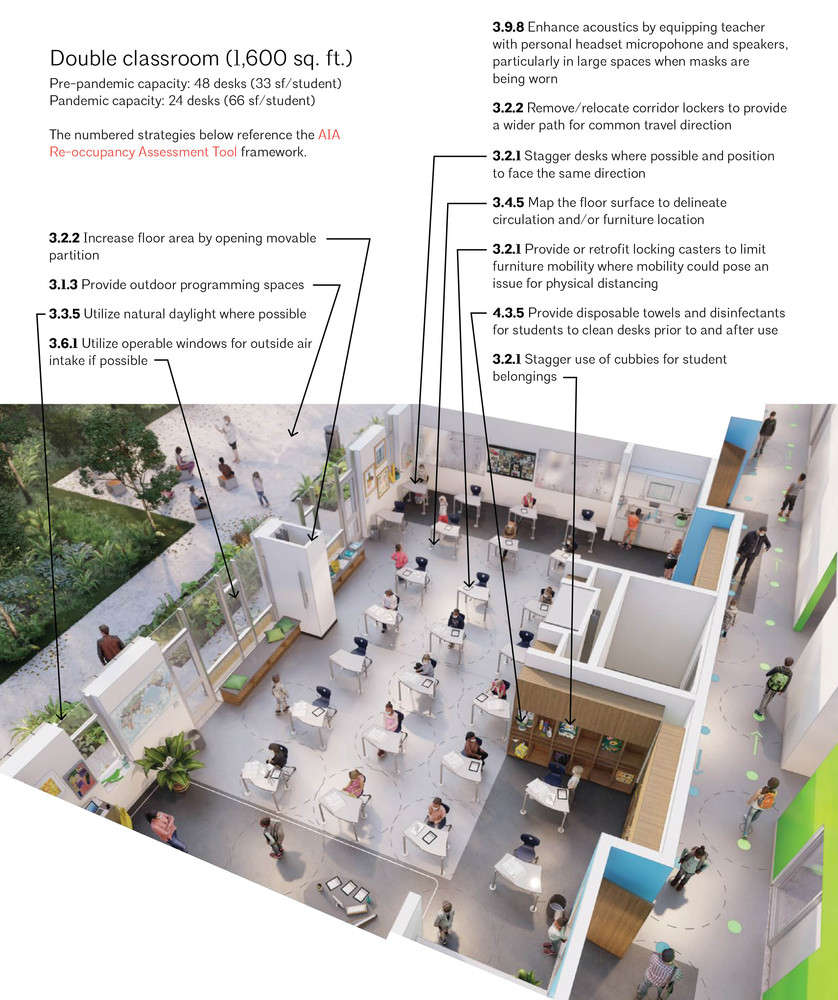 Barriers are another solution. UK furniture brand UNIT Fabrications has created mobile screens for a primary school in London.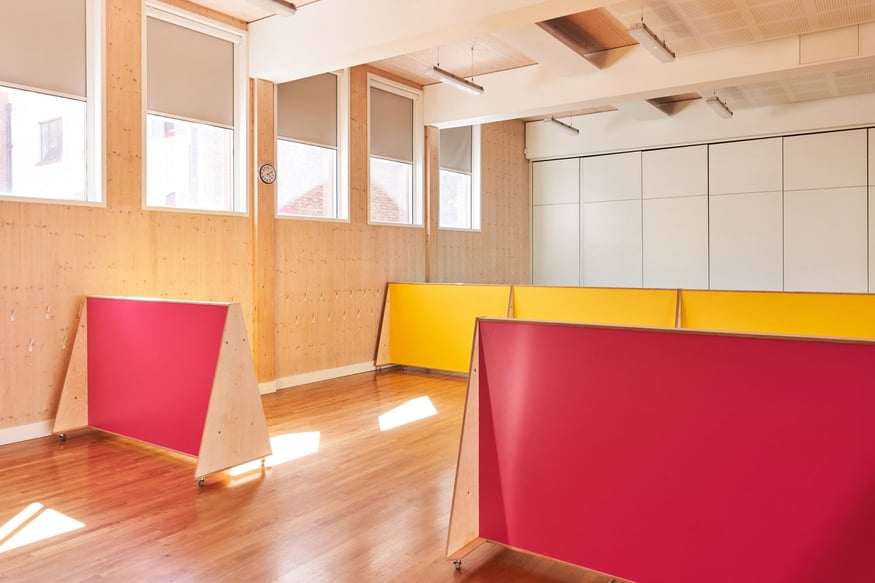 Social distancing naturally requires decreasing classroom density, which creates the need for additional learning spaces. Less mandatory spaces like gyms and auditoriums can be used for this purpose.
Curl la Tourelle Head Architecture has proposed a quick solution that does not require retrofits or too much construction: "Outdoor learning, something that schools in Denmark have already adopted for their classes using tent-like structures," says Wayne Head, Director of CLTH.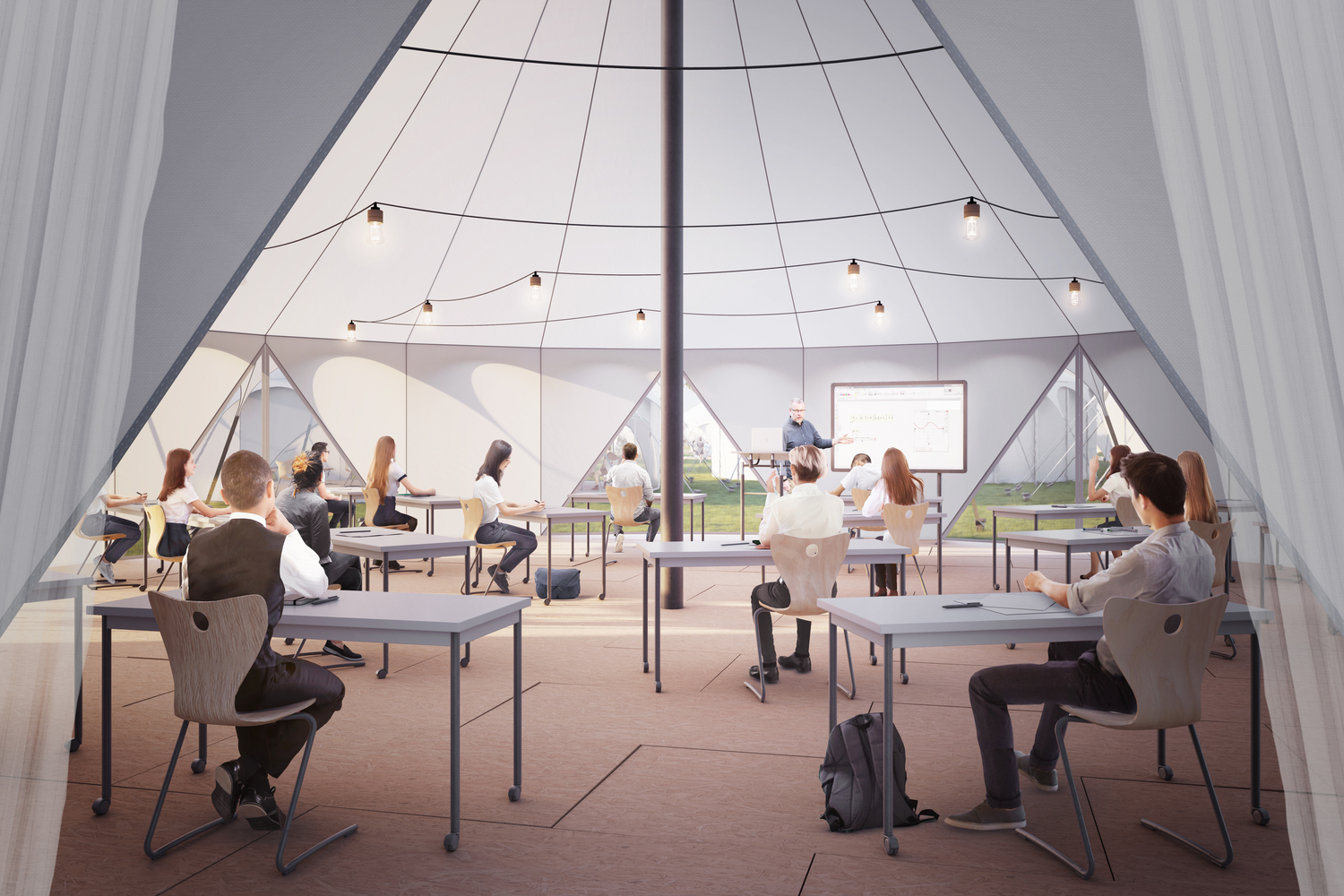 While it's not a long-term solution, Head hopes it will be "a catalyst for further discussions, to rethink how schools can be designed and used beyond COVID-19."
Preventing face-to-face interactions can also be achieved with the enforcement of one-way traffic. Part of AIA's solution includes mapping floors to indicate traffic flow and removing or relocating corridor lockers to provide a wider path for common travel direction.
The Minnesota Department of Health also encourages the use of visual aids to illustrate traffic flows.
Improving Air Quality to Minimize COVID-19 Transmission in Schools
"From an engineering point of view," says Michael DesRochers, chairman and CEO at Loring Consulting Engineers, a mechanical, electrical, fire protection, and telecommunications engineering firm, "the most important thing buildings need in the context of a pandemic is proper air circulation–getting rid of stagnant air."
Whether schools use air conditioning or rely on fresh ventilation, good air circulation can be achieved.
If a school uses central air systems, they can add filters with higher ratings: New York City design guidelines call for MERV 13 filters, but schools might make adjustments for MERV 14, 15, or 16 filters that are denser and capture more pathogens.
And if there's no air conditioning, schools can utilize open windows to bring in fresh air and exhaust fans to push out stale air and facilitate continuous air exchange.
Implementing these school design solutions that help prevent the spread of COVID-19 is easier when you have tools to manage your construction budget by area and cost division, design standards, and material procurement. Schedule a demo with us or explore different features with one of our account managers.
Featured image: Curl la Tourelle Head Architecture
Sources:
https://www.architectmagazine.com/design/the-back-to-school-facilities-toolkit-helps-visualize-school-design-after-covid-19_o
https://www.gensler.com/research-insight/blog/6-considerations-for-transitioning-back-to-school
https://nyrej.com/architects-and-engineers-help-schools-envision-safe-designs-for-covid-era
https://www.archdaily.com/942114/aia-releases-design-strategies-for-safer-schools-post-covid-19
https://www.archdaily.com/939683/clth-proposes-adaptive-design-for-schools-post-covid-19
https://www.dezeen.com/2020/06/17/education-design-post-coronavirus-roar-studio-report/
https://www.dezeen.com/2020/06/05/unit-fabrication-social-distancing-furniture-school/
https://www.steelcase.com/research/articles/topics/education/designing-post-covid-learning-spaces/
https://spaces4learning.com/articles/2020/05/11/schools-in-focus-impact-on-school-design.aspx
https://www.health.state.mn.us/diseases/coronavirus/schools/socialdistance.pdf
https://thehill.com/homenews/news/515906-teachers-in-at-least-five-states-have-died-with-coronavirus-since-fall-semester
https://www.unicef.org/press-releases/covid-19-least-third-worlds-schoolchildren-unable-access-remote-learning-during


Your email address will not be published. Required fields are marked *