Infection Control Design: Self-Disinfecting Materials to Consider
Like it or not, COVID-19 has forever changed the way we design and build environments. Preventing the spread of another pandemic has become top priority, not just in hospitals and other healthcare facilities, but in any other environment where people gather.
With diseases as infectious and deadly as COVID-19, we must utilize every available tool that helps keep everyone safe. In this case, it means using "self-disinfecting" materials as much as possible — not because we want to lessen dependence on hand-washing and other sanitation measures, but because active, manual efforts are prone to human error.
Read: 5 Ways to Create Design Standards That Work
The Need to Disinfect Surfaces
In February, we learned that the coronavirus that causes COVID-19 can live on disinfected surfaces for up to 17 days. The Diamond Princess cruise ship had more than 700 cases, and for a time was the largest outbreak of the disease outside of China.
Read: Will the Hospitality Design Industry Survive the COVID-19 Pandemic?
For more than two weeks after the cabins were vacated, researchers kept finding the virus on surfaces infected persons had touched.
Now that quarantine restrictions are being eased and countries are opening back up despite the lack of a vaccine, it's more important than ever to be vigilant regarding disinfection.
Read: Healthcare Design: Three Strategies for Infection Control in Hospitals
According to the CDC, disinfecting environments is effective in containing the disease. Their guidelines provide a list of frequently touched surfaces that need routine disinfection, including:
tables
doorknobs
light switches
countertops
phones
keyboards
toilets
faucets and sinks
gas pump handles
ATMs
Using Materials That Stand Up To Rigorous Cleaning and Disinfection
The CDC further provides guidelines on disinfecting surfaces in order to effectively kill infectious microorganisms (and not just the virus that causes COVID-19). These include:
washing with detergent or soap and water
wiping or washing with bleach
laundering
spraying and wiping with EPA-approved disinfectants (which are usually harsh chemicals)
While definitely effective against the virus, these methods will also likely destroy many types of materials, which then poses two problems:
It takes away from the healing effects that result from carefully designed environments.
Cracks and tears in materials are prime breeding grounds for bacteria and viruses.
Materials then need to be able to withstand these practices.
Construction Specialties, Inc., for example, produces PVC-free wall and door protection products called Acrovyn. The wall sheeting and panels, corner guards, crash rails, handrails and door-frame protection are impact-resistant and embedded with color.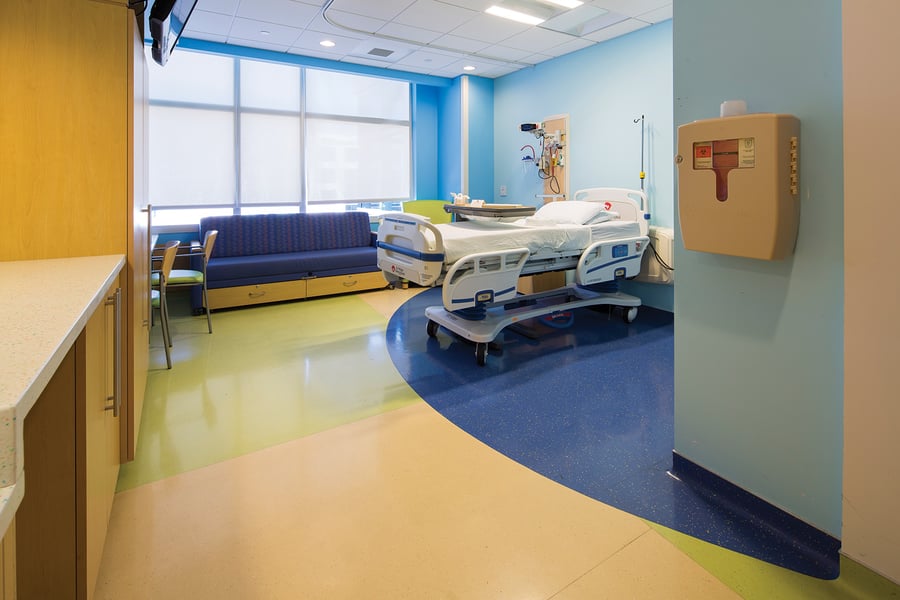 Read: How to Reduce PO Errors, Stay on Top of Cash Flow, and Create POs From Specs
Sedia Systems Inc. in Chicago produces the JumpSeat Wall, which is a "low-profile, wall-mounted foldable chair," according to their marketing manager. Its wood finish can be cleaned with a diluted bleach solution and includes antimicrobial protection.
CertainTeed Ceilings have a line called Rx Symphony. Besides good acoustic properties, it's also easily cleaned with mild detergents and sometimes even water alone.
Self-Disinfecting Materials and Techniques
Another solution is by using materials that either actively kill microorganisms or prevent them from sticking. Here are a few materials to consider.
Heavy metals like silver, copper, or zinc
Silver kills bacteria when its atoms bind with their cell membranes, causing them to rupture and die.
AGC Glass in the UK developed antibacterial glass by incorporating silver ions inside the glass. The company claims that this material kills 99% of bacteria and prevents fungi.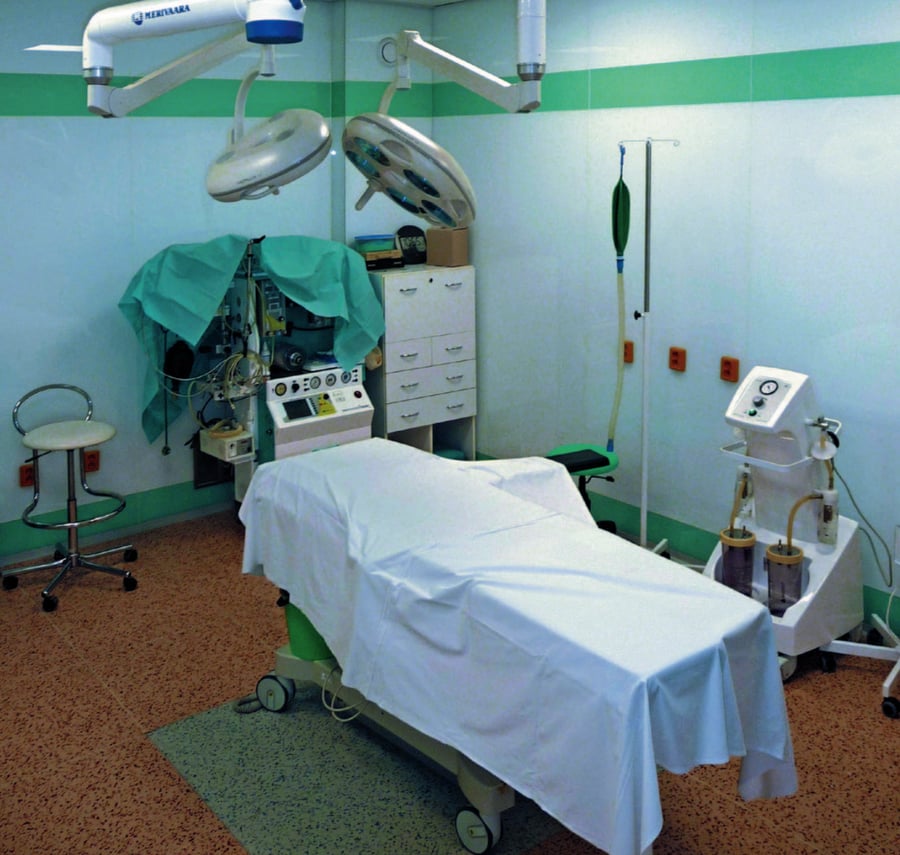 PureThread Technologies embeds silver salts into textile fibers. The resulting antimicrobial textiles kill 99% of microorganisms after four hours of contact. A study has also shown that hospital curtains made from this fabric take longer to get contaminated compared to regular curtains.
Similarly, copper releases ions that damage the bacterial envelope, causing cells to leak and allowing ions to invade, which leads to oxidative damage and DNA degradation.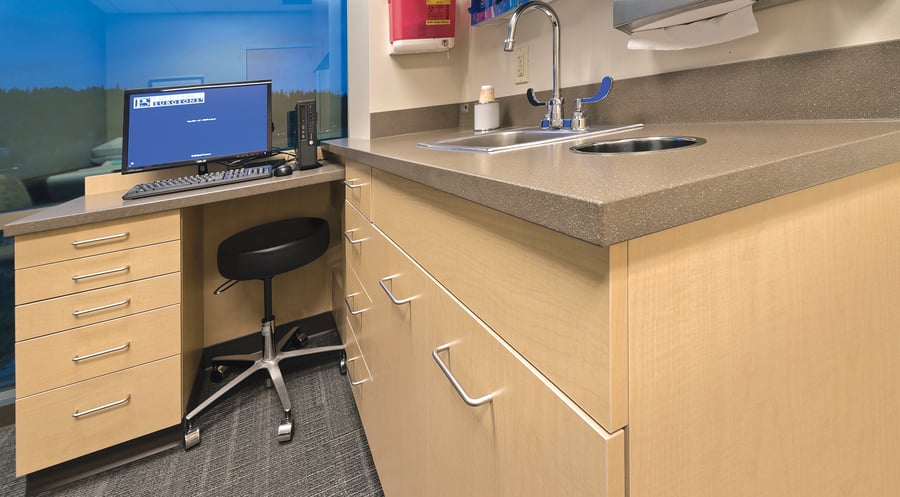 A study on copper-coated equipment in an intensive care unit showed that the treated room had 55% colonized surfaces compared to 72% in an untreated room. In a similar study where patients' gowns, sinks, bed rails, tray tables, sheets, and blankets were impregnated with copper, infection rates caused by C. difficile went down by 83%.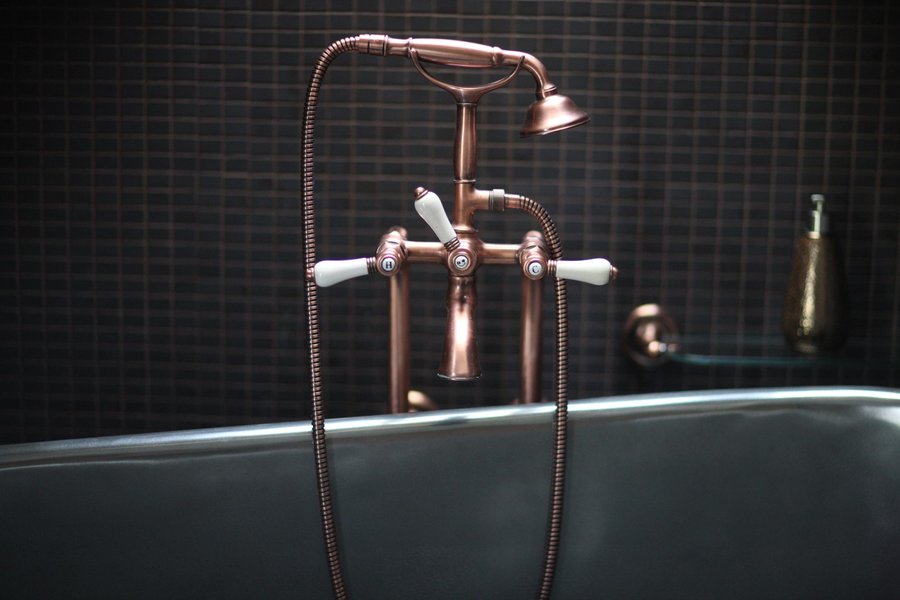 Cupron Medical Textiles and Cupron Enhanced EOS Surfaces provided the materials for these studies. The product they've developed is claimed to kill 99.9% of harmful bacteria in two hours.
Biomimicry
Just like humanity learned to fly by observing and mimicking birds in flight, scientists have also found applications for naturally antimicrobial surfaces like sharkskin, insect wings, and lotus leaves.
Sharklet offers several products that mimic a shark's skin surface: a rectangular base with spines on the surface. It prevents bacteria from sticking due to lack of surface area. If bacteria can't attach to the surface, then they can't colonize.

Lotus leaves, on the other hand, are extremely hydrophobic — that is, they repel water. When water droplets roll off its surface, it drags particles along, helping maintain cleanliness.
Coating and incorporating antimicrobial compounds into materials
Reducing the disinfection load from manual human actions can also be achieved by coating or incorporating materials with antimicrobials. Incorporating antimicrobial substances into materials gives it the added benefit of killing bacteria even when the surface is worn out or damaged.
Quaternary ammonium compounds (QACs) are used in textiles like cotton, polyester, nylon, and wool. Depending on the type of microbe they interact with, they cause damage by breaking cell membranes and/or inhibiting reproduction. QACs have been shown to be 99.99% effective against staph and e.coli when embedded in fibrous membranes.
Despite their efficacy, however, a disadvantage of QAC-treated materials is that the compound easily washes out. Acrilan and Orlon commercial polyester fibers are examples of this.
Other compounds like triclosan and chitosan are also being studied for this purpose.
Fohlio allows you to manage your entire team and all your workflows in one place. With Fohlio, you can specify, procure, and more on one platform: Collaborations are easy and workflows are much more efficient than ever before! Get your free trial today — so you can design and build more profitable projects.
Sources:
Reopening Guidance for Cleaning and Disinfecting Public Spaces, Workplaces, Businesses, Schools, and Homes
Cleaning and Disinfection for Community Facilities
List N: Disinfectants for Use Against SARS-CoV-2
Miscellaneous Inactivating Agents
Public Health Responses to COVID-19 Outbreaks on Cruise Ships — Worldwide, February-March 2020
Antimicrobial Approaches for Textiles: From Research to Market
Furnishings and materials to aid infection prevention
Safer surfaces: materials for cleanability and germ resistance
Antimicrobial surfaces as a tool to support HAI prevention
Self-disinfecting surfaces and infection control
Self-disinfecting surfaces: the possibility of a better method
Bioinspired Photocatalytic Shark Skin Surfaces with Antibacterial and Antifouling Activity via Nanoimprint Lithography
Self-disinfecting surfaces: review of current methodologies and future prospects
Your email address will not be published. Required fields are marked *