The Complete Guide to Structuring Interior Designer and Architect Fees, Part 1: Types of Services and Corresponding Fees
It's the dreaded, million-dollar question from clients: "So. How much will it cost me?" Materials and labor are straightforward enough, but what about your fee? While we can't coach you on the art of charging what you're worth, we do have a guide for drafting interior designer and architect fees depending on the different services you offer and the type of client you're working with.
Interior Designer and Architect Fees Depend on Several Factors
If it sounds complicated, that's because it is. But that doesn't mean it's not doable: There's a step-by-step roadmap to this madness that you can easily follow.
The best part is, once you have your structure down pat, you can just mix and match the components and change your rates if necessary. No need to start from scratch!
Ready?
Lay Out a Roadmap
Putting together a design project proposal is a massive undertaking. The good news is, you don't have to do it all at once. In fact, you shouldn't. By tackling it step by step:
you avoid overwhelming yourself and your client/s
you become familiar with one part of the proposal at a time before moving on to the next part,
and any possible revisions down the road will be easier
Here's what your basic roadmap should look like:
In more detail:
Write down exactly what you're going to do and an estimate of how long each part and the entire project will take.
Present this to your prospective client and have them agree with it, making changes if necessary.
Assign cost to each component.
At each step, it is important to talk to your client, so that the decision taken is mutually agreed upon. By making a design project, you are going to become your customer's best friend for the next couple of months. You don't want to spend these months fighting over amendments.
What Design Services Should You Offer?
Most clients, especially those who have never hired designers before, will think "interior design services" or "architecture services" is just one nebulous thing.
At this point, you'll be teaching them that the process is actually composed of different elements, each of which can be priced differently. It might sound fussy, but providing a breakdown creates transparency and trust. It also makes it easier to justify the cost if they know exactly what it's for.
Here's a basic list of those elements and the best pricing options for each: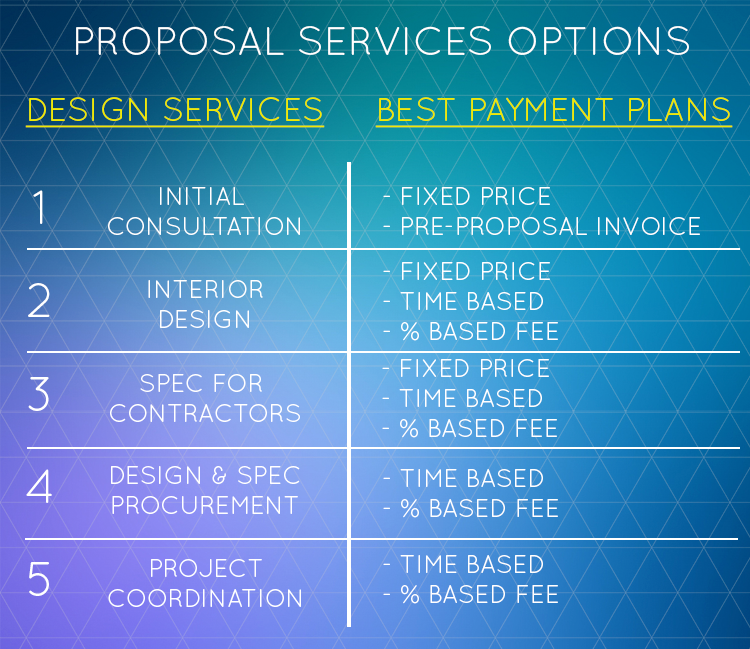 As you can see, certain phases of the project are better suited to certain pricing structures.
1. Initial Interior Design and/or Architecture Consultation
All your time spent on the project should be billable, and consultation is no exception. Many professionals send invoices for the initial consultation even before the proposal. If this is not your style, you may want to offer the first consult as free.
Remember, however, to limit that first consult so as not to take too much of a financial hit. As well, consider building this expense into your proposal in order to stay on top.
2. Interior Design
This is where you charge for the work itself. That includes putting together a concept and creating a mood board.
If you have a fixed-price pricing plan, don't forget to specify the amount of revisions covered by the proposal. This little thing might save you plenty of headaches if you have a problematic client.
3. Material Specification for Contractors
Besides providing the performance specs for a project, you can create prescriptive or proprietary specifications for the design and bidding later by contractors, including all necessary works and fixtures, such as millwork, finishes, lighting, etc. The majority of your projects likely already provide some level of this service, although keep in mind that this is not built-in as a standard. Associated costs should therefore be built in to your proposal.
4. Product Specification and Procurement
Expanding on the product specifications of the project, you take on the responsibility of ordering and tracking shipments of these deliverables. Quite often, designers have special agreements with manufacturers, or trade discounts with vendors, which allow them to purchase items at a discounted rate. Some designers choose to pass off the savings directly to the client, others use a resale approach by taking this discount and billing at full retail. Regardless of which you ultimately decide upon when providing this extra service, it is important to add a minimum 4% fee to cover your handling and administration workload.
5. Project Coordination
Project management is another popular à la carte service, which allows clients to utilize your expertise in coordinating and delivering a project that meets and perhaps exceed their expectations. Though management of the project will require a lot of effort from your side, rest assured that all your ideas are understood correctly and implemented correctly and you will have another perfect design for your portfolio.
Which Payment Scheme Should You Use? Consider These Factors*
Should you charge by the hour? Or propose a fixed sum that can change depending on circumstances? It all depends on the type and size of the project, your past experience, and the type of client you work with.
1. Adjustable Fixed Fee
Fixed fee is also called lump sum and, as you can guess from the name, is the set sum, negotiated with the client. This sort of arrangement is only suitable if the scope, schedule and all other variables have already been determined with reasonable accuracy.
The total sum is equal to the fixed fee arranged only if there are no change requests or any other events that are out of the designer's control. In case the size of the project or services scope increases or decreases, then the lump sum fee must be adjusted.
2. Time-Based Fee
This type of fee relies on agreed-to hourly or daily (per diem) rate. It works best in cases when services are difficult to determine in advance or scope is undefined.
Here are a few examples where time-based fees would be appropriate:
• services which are not well defined;
• pre-design services;
• partial services;
• renovation projects;
• conceptual design;
• separate project phase;
• expert witnessing;
• specialist expertise.
When agreeing to a time-based fee, especially if it's a large project, make sure you also agree on when the fee will be reviewed (e.g. annual review), so that corrections based on inflation can be made.
3. Percentage-Based Fee
A percentage-based fee works on a sliding scale and highly depends on what size, type, and budget the project is. It can differ a lot for different clients, since plenty of variables should be taken in to account. Here's how it usually is distributed over the traditional five phases of an architectural project:
Since percentage-based architect fees are extremely hard to calculate, it is not suitable for the majority of renovation or custom projects.
Exercise: Set Interior Designer or Architect Fees Based on These Sample Scenarios
Time to unlock your newly acquired superpowers! The first main hurdle you will face is the client getting lost in the amount of services offered. Some will try to avoid any additional cost, others wouldn't know whether they need something or not. To speed up the process, you should try to understand their needs and budget, as much as you can, to draw up a tailored way of attacking the project to best fulfill their requirements. You should lead them to the contract signed and pay special attention to the services they are most likely to agree on.
In our guide we will be using three cases for illustrative purposes. Let's meet our imaginary clients and services recommended for their cases.
What would you recommend in these cases? What questions would you ask? What are the common headaches you experience in negotiating service plans with clients? Share your tips in the comments!
In part 2 of our guide to structuring interior designer and architect fees, we discuss in greater detail how to determine which services to offer, and how to structure pricing for each.
*reference: "<em>A Guide To Determining Appropriate Fees for the Services of an Architect"</em> By The Royal Architectural Institute of Canada
Architecture Design Tips & Best Practices Industry News Contract Fees
Your email address will not be published. Required fields are marked *