Specify, procure, and manage product data at scale. Take on bigger projects with confidence and grow your firm with Fohlio. Schedule a demo or book a consultation with one of our account managers to explore these features today.
Documentation — it's the bane of every designer's existence, and they weren't kidding when they said the devil is in the details. And yet there are no two ways about it: Specbooks and finish schedules must be created if you want to finish your project on time and within budget. Actually, scratch that — you need to create them if you even want to finish at all.
Read: 5 Ways to Create Design Standards That Work
Now, here's the thing: The more data you have, the more precise your decisions can be.
On the other hand, the more data you have, the harder it is to manage.
3 Ways to Build Specbooks and Finish Schedules Faster
The good news is, AEC technology has come a long way. There are now plenty of available solutions to help you deliver projects more efficiently, avoiding delays and cost overruns caused by errors and manual processes.
Read: Construction Cost Overruns: Common Contractual Causes and How to Prevent Them
Whether you're an interior designer putting together specbooks, an architect compiling a finishes schedule, or even an engineer completing lighting and power schedules, here are three things you can do to improve your workflow.
1. Speed Up Your FF&E and Finishes Specification Process
First things first: Let's start with how you collect your data.
Most designers still use spreadsheets to do this. You know the routine: Put together a punchlist, browse product websites to fill in the products, then copy and paste all the details in a spreadsheet.
Read: FF&E Specification in Excel is Killing Design Firms — Even the Big Ones
Images and associated documents — spec sheets, shop drawings, installation manuals, etc. — are downloaded to computers, sorted into folders, and then uploaded to shared online folders, or attached to emails, or both.
It's a nightmare: It takes way too long, there are too many opportunities for manual errors, and there are not enough ways to perform checks and balances.
The solution: Use a clipper that's linked to a digital materials library.
When you browse a product website and find something you like, you simply open the clipper and fill in the details. You automatically assign the item to a project and collect relevant information like price, descriptions, color — and even images and documents.
Learn more: What is FF&E: The Ultimate Guide to Specification, Procurement, and More

Read: Specify FFE, finishes, and More 4x Faster
Building specbooks can be so much fun when you're not bogged down by tedious and repetitive processes.
Even better, because it's linked to a digital materials library, the information you collect will be yours to keep for as long as you want.
2. Build Your Digital Materials Library
As someone who has been in the industry for a while and with more than a few projects under their belt, you know that most architects go with what they already know.
This means putting together finish schedules mostly means re-specifying materials that a.) have worked before; b.) come from suppliers you have relationships with; c.) both.
For too many firms, though, design documentation isn't a priority — which means even though you know exactly what you want, you still have to start over and search for materials one by one.
With a digital materials library, all the products you've ever specified before is at your fingertips.
Read: Your Design Firm Needs a Digital Materials Library: Here are 9 Reasons Why
Advanced search filters allow you to quickly zoom in on the materials you want. Adding them to finish schedules is just a matter of clicking a button.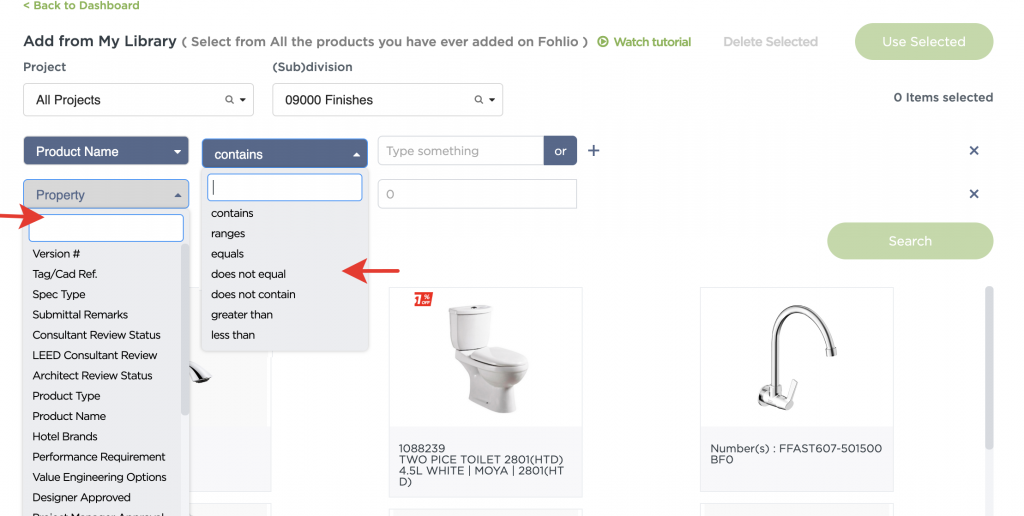 Read: Respecify Products and Materials Without Duplicating Work
This is especially useful for franchise projects: You could add tags to specific items that are allowed in the design guidelines set forth by the project owner, and filter your products that way.
In doing this, you're no longer wasting time sifting through mountains of products that are not relevant to the finish schedules you're creating.
Read: Three Examples of Workspace Design Done Right
3. Set Up Your Team for Better Collaboration
There are many reasons to love huge projects: They're great for profit, they do wonders for a firm's reputation, and honestly, isn't it wonderful to be part of something big?
On the downside, big projects also mean working with huge, disparate teams that, by mere virtue of volume and differences of function, are hard to manage.
The interior design team is probably using a platform specifically for FFE specification, architects are reviewing shop drawings on another, and the purchasing department on another.
What you can do is slice and dice your data so everyone can work on the same platform. How? By creating separate views for the different phases of the project.
To do this, you can create workflow templates specific to the functions of each team and/or team member.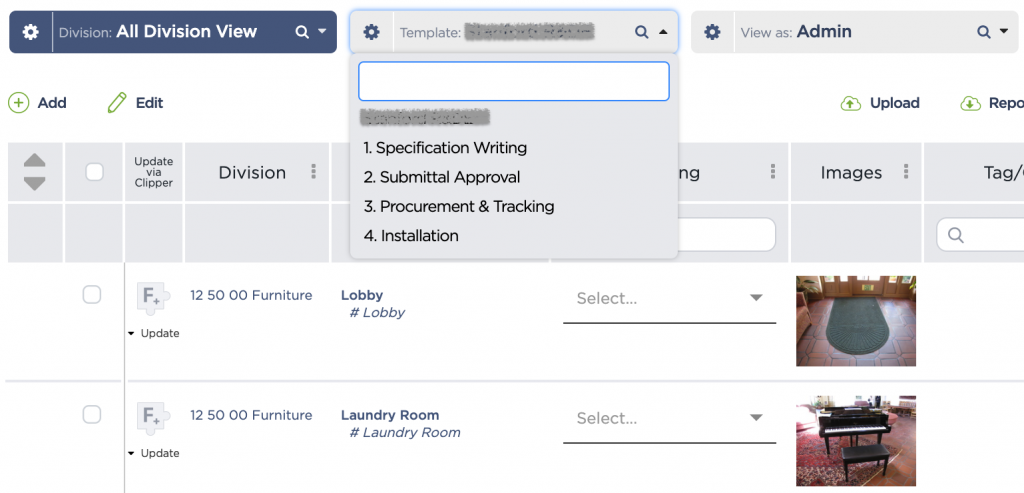 Read: Features to Take on Larger Projects With Ease
For example, a specification writing template can be set up for interior designers, which they can use when sourcing products. They'll be able to see and use columns for data like color, material, finish, etc.
When that part of the process is done, engineers can switch to a technical requirements template to fill in mechanical details like load-bearing capacity, fireproofing requirements, and the like.
Architects can have their own submittal approval workflow, which can have an action column to mark what step was completed, a status to column to mark whether an issue is closed, and more.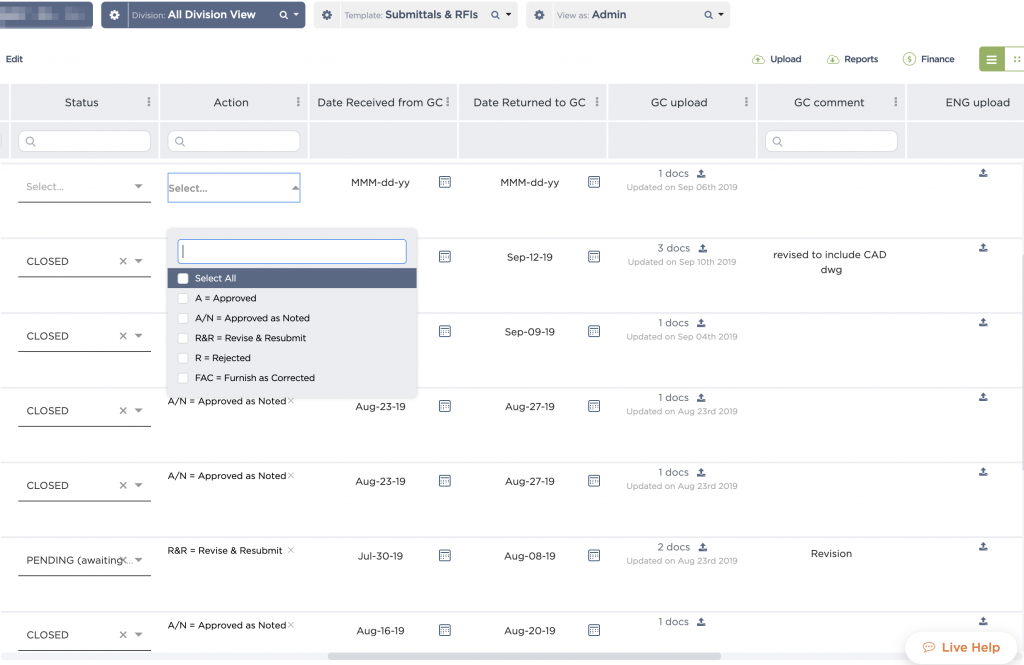 And finally, you can also put together a Pricing Template, where you can invite suppliers and give them limited access. They can input prices themselves and you won't have to risk them seeing sensitive data you don't want them to see.
Everyone involved in the project is on the same platform, working with the same data, just looking at different views. From here, creating specbooks and finish schedules is easy, because all your data is in one place.
Fohlio helps your project stay within budget, be on top of actual spend, forecast accurately, and increase workflow efficiency. Find out what our digital materials library and web clipper can do for your firm. Schedule a demo here.
Featured image by Doug John Miller for The Atlantic.
Expore Fohlio
Learn how to:
Save days of work with faster specification
Create firm-wide design standards
Automate and centralize procurement
Keep your whole team on the same Page
Manage product data
Track budget against cost in real time.
Prepare for asset valuation
Know more
Don't forget to share this post!