Here's How Top Hospitality Designers Build Their FF&E Specification Templates
Free FF&E Template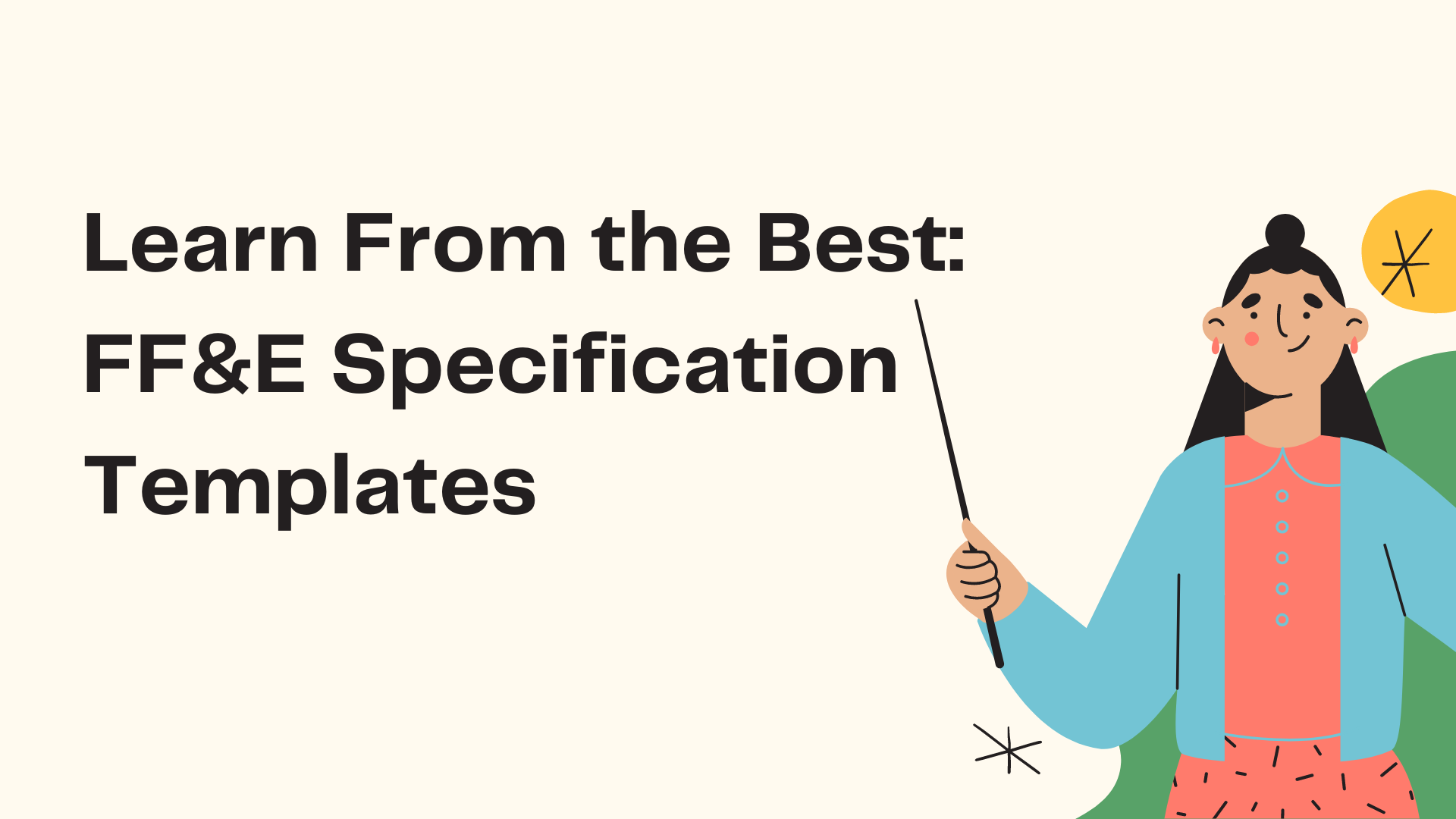 Manage FF&E specification, procurement, and product data at scale. Take on bigger projects with confidence and grow your firm with Fohlio. Schedule a demo or book a consultation with one of our account managers to explore these features today.
One of the best things about working at Fohlio is this: Every day, we learn from the very best in hospitality design. If you've ever wanted to speak to a hospitality design veteran or take a peek into their FF&E spec sheets, here's your chance! We've compiled some of the best practices we've seen so you can use them in your own practice.
Learn more: What is FF&E: The Ultimate Guide to Specification, Procurement, and More
As you'll see, two common themes that run throughout these FF&E specification templates — and our conversations with them — are:
Managing multiple large teams (and their distinct workflows) within one platform; and
Striking a balance between creating unique designs and adhering to the brand's design standards.
(For the privacy of our users, their names and minor details of their FF&E specification templates have been changed.)
Learn more: How to Achieve Hotel LEED Requirements Through FF&E and OS&E
Specification Experts
As a design firm that manages FF&E specification projects for hospitality clients all over the world, product selection can be an overwhelming task for specification experts. Not only are there multiple projects going at once, there's also a wide variety of product categories that each have their own set of attributes.
The Complete Guide to FF&E Spec Sheets
This usually means many product categories will need to be managed in separate Excel sheets. That''s a problem when you're working on large projects and you can't be spending too much time switching between files, just to find the exact product you need.
You can't store all of them in one sheet either, because then you'll need to scroll through a few hundred columns of attributes.
That's why specification experts only assigns certain attributes to specific categories. For example, "hardness rating" appears in tiles but not in artwork. When they filter their spec sheets according to product categories, they're presented with just the right amount of information. At the same time, all their products are in one database that's easy to search and able to manage massive amounts of data.
Learn more: How to Keep Your Whole Team on the Same Page, From Specification to Construction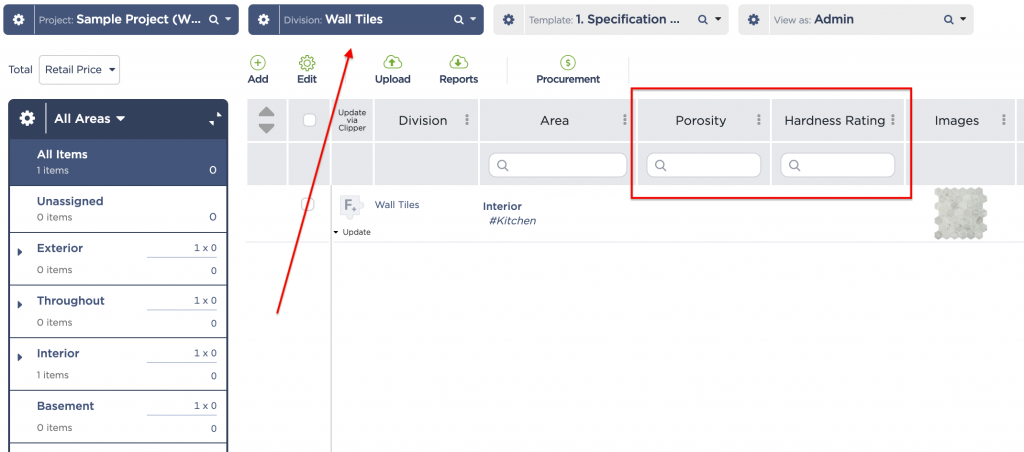 Hotels 'R Us
Hotels 'R Us works with several hospitality brands. They design many different properties at a time, specifying FF&E and materials.
Where it gets slightly tricky is the need to create unique designs, but within the brands' design standards. For example, a property in Miami will need to reflect local culture while still maintaining the distinct Four Seasons look (disclaimer, they don't work with Four Seasons — I'm only using the name as an example).
Learn more: Create Effective Design Standards With These 5 Design Templates and Catalogues
The design firm's librarians and designers therefore tag every product to indicate whether they fit under a certain brand's design standards. Their FF&E specification templates contain a column to show this information, so it's easy to ensure that they're adhering to design standards.
Learn more: How to Build FF&E Brand Standards: An In-Depth Guide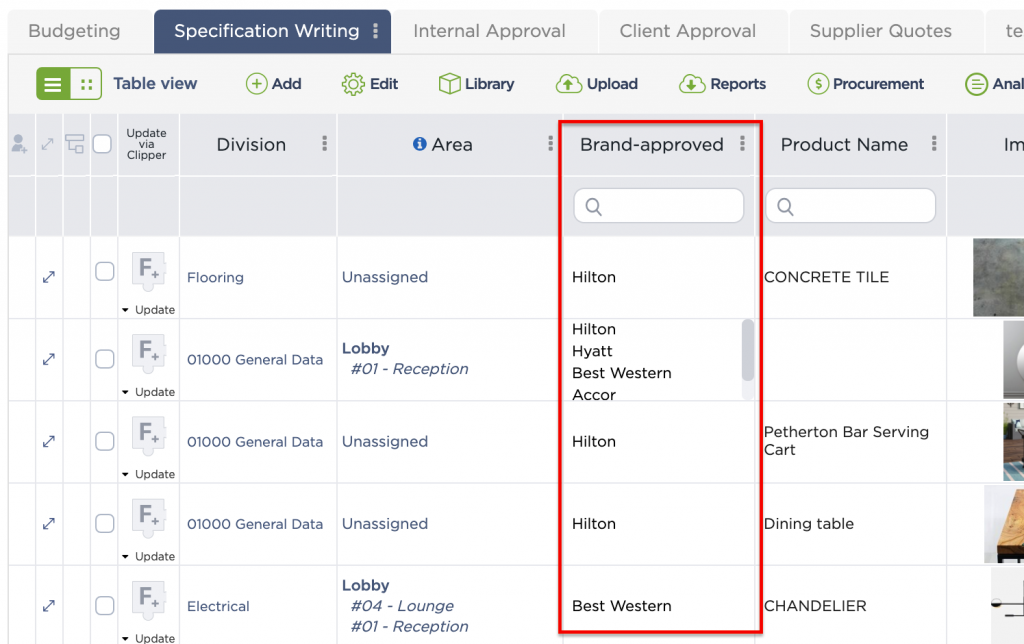 White Beach Getaways
This well-known brand of tropical resorts oversees all their own properties' renovations, plus most of their new builds. Having in-house teams is one reason they're able to move fast and roll out projects quickly.
The other reason they're so agile is the way they've arranged their product information to make it easy for everyone on the team to do their job.
For example: White Beach's designers select products and also specify the quantities for each. Before the purchasing team takes over, one of the directors has to go into the spec sheets and approve pricing and quantities.
It then makes sense that the tab for pricing and quantity approval would only contain pricing, quantity, and a few other necessary bits of information, like product names and descriptions.
Learn more: How FF&E is Bringing Hospitality Design Trends to Life

Additionally, each one of White Beach Getaways properties is uniquely designed, while still following the brand's design standards. That means even though they don't reuse a lot of furnishings, they've set up a whole project as the company's design standards and made it accessible to everyone on the team.
Learn more: Create a Comprehensive Spec Book Template and Improve Your Project Access Control
Homes Away
Like White Beach Getaways, Homes Away has a large in-house team which allows them to roll out projects quickly. However, they do work with an external team for warehousing, as well.
Instead of producing documents for the warehousing team's use, they've been invited to the project with limited access.
That means they can log into Fohlio to see product names, descriptions, images, and quantities — but not trade pricing or profits. They can also edit information like delivery status, delivery dates, and other bits of data that are relevant to their work.
All this information is grouped into its own separate tab to make it easy for the project admin to see what they're able to see.
Learn more: How to Manage Multiple Shipments in a Single PO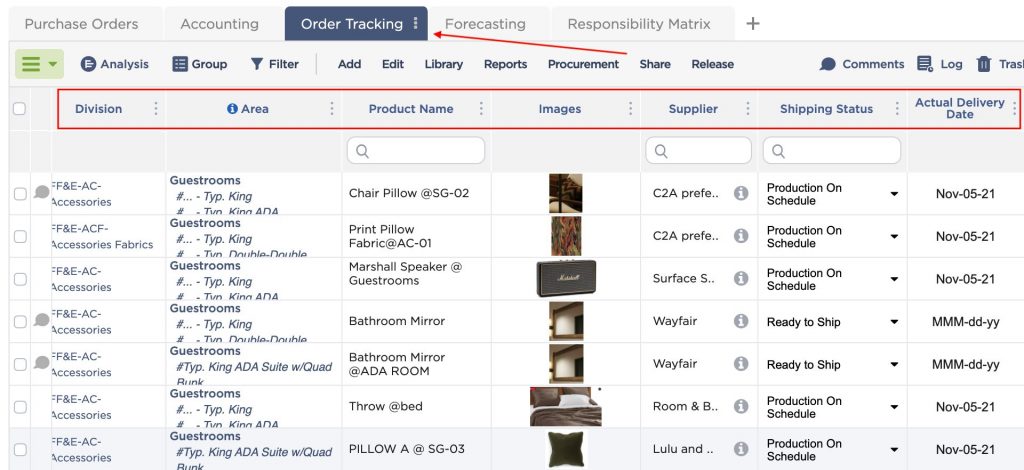 Manage FF&E specification, procurement, and product data at scale. Take on bigger projects with confidence and grow your firm with Fohlio. Schedule a demo or book a consultation with one of our account managers to explore these features today.
Expore Fohlio
Learn how to:
Save days of work with faster specification
Create firm-wide design standards
Automate and centralize procurement
Keep your whole team on the same Page
Manage product data
Track budget against cost in real time.
Prepare for asset valuation
Know more
Don't forget to share this post!