The Only Procurement Management Plan Template You'll Ever Need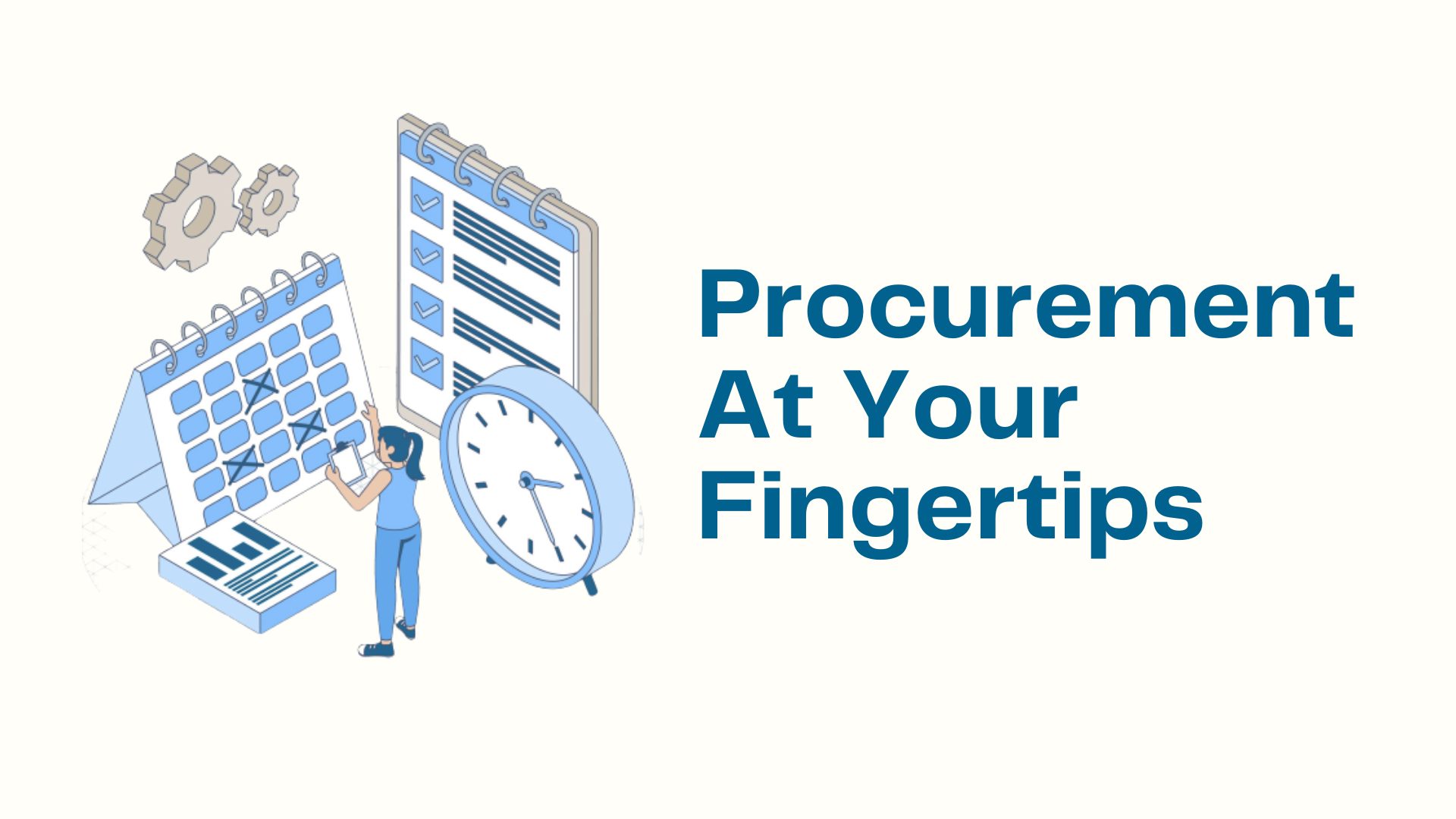 Manage FF&E specification, procurement, and product data at scale. Take on bigger projects with confidence and grow your firm with Fohlio. Schedule a demo or book a consultation with one of our account managers to explore these features today.
Things can get real messy when you don't have a plan, and as simple as it may sound, procurement isn't as easy as it seems. Things can get way out of hand quickly when you don't know how to properly manage your procurement process- That's where your procurement management plan template comes in handy. Think of it as a comprehensive guide to managing and controlling extremely complex procurement processes.
When faced with a complex and challenging circumstance that needs to be solved within a quick period, do you spend all your time executing? Absolutely not. The best of us know that the right way to approach this would be to spend the greater half of your time and effort into understanding the challenge and strategizing your game plan- this way, no efforts go to waste, and everything is fully optimized to achieve the best output possible.
Quit the act of "just going through the motions" and start building your procurement strategy.
This guide is essentially the greater half of your procurement process. You can keep executing your procurement process all you want but you waste a lot of resources when you go through the motions blindly- counting on wit in times of turmoil will never be enough. Building a procurement strategy is the best way to avoid any hiccups in your procurement process. It's also the best way to get more things done on time and to acquire greater value out of your projects. The guide ensures that all aspects of your procurement process are utilized for the successful delivery of the project. Without further ado, here is a comprehensive guide on the must-haves when building your procurement management plan template:
1. List of all the specifications and materials to be procured with a timeline estimation.
Having a list of your specifications and their timelines will give you oversight on your overall project duration. What's great about having this data is that the rough estimation of your timeline can give you insight into what specifications are critical to be able to meet your project deadline.
2. The types of procurement contract to be used
With the often hundreds of items that need to be procured per project, mishaps can often occur. This increasingly becomes harder to track when it comes to the many procurement contract variants you could have in place. Different item categories may have different contracts in place, so its best to get those things in line and organized. You'd be surprised to see how often cost overruns happen simply because contracts were confused with one another. Here are a couple of examples of those contracts in case you aren't yet aware:
Fixed-price contracts- This contract puts all of the expenses, no matter how large the fluctuations are at a constricted price guarantee.
Time and materials contract- An open ended type of contract that lets the client pay in hourly wages plus the cost of materials.
Cost-reimbursable contract- A contract that guarantees the reimbursement of the actual cost of material with an additional fee.
3. Risk Management Considerations for Your Procurement Management Plan Template
Anything that could change the current direction of your pace and negatively impact output is considered a risk. Procurement is not immune to this. It's quite the opposite because it relies on so many external (and often uncontrollable) factors. The first step to managing risks is through acknowledging and listing them down. This way, you can create strategies to counter these if the time comes. Here is a couple of risks to look out for and plan for:
Unrealistic timelines
Insufficient funding
Non-compliant suppliers
Delayed approvals
4. Approved Vendor List (AVL)
Having all your vendors (as well as their alternatives) in one place is a difficult thing to do, much less when it comes to making sure that they are all up to speed when it comes to hitting your criteria. Prepare a contact book that contains all the extensive information you need about your vendors.

It's a good thing that there's a contact book feature in Fohlio. Manage your vendors and create columns dedicated to their identifiers like the type of product supplied, or supplier location.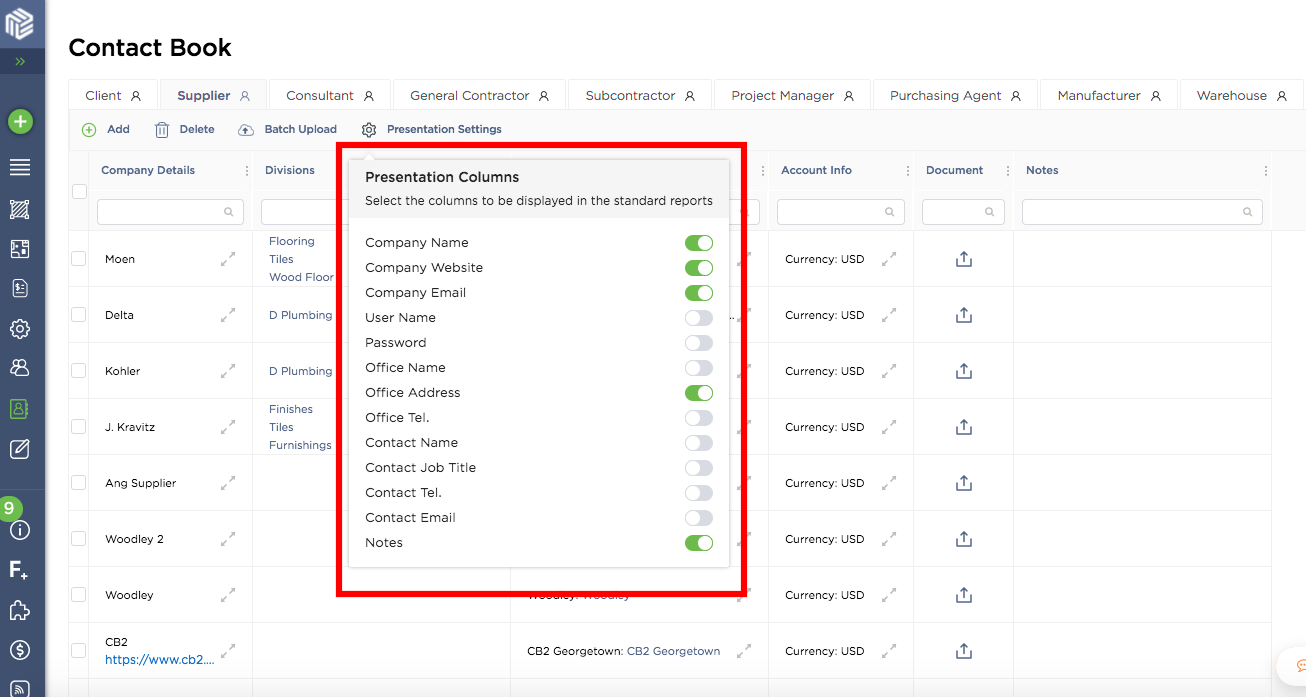 Read: Step Up Your Procurement Game: How To Build An Approved Vendor List (AVL)
5. Product Cost Determination
Subtle changes in costing can make a huge difference to your spending especially if you're the kind of company that likes to order in bulk. There are also a bunch of other factors that can greatly affect the cost of your products such as freight cost, buffers, tax, shipping, etc. In determining your product cost, you can give yourself a good idea of how much costs will be for certain products. This keeps you within the lines of the budget of your client. Make sure that you estimate a buffer sufficient enough to cover extra costs to keep yourself profitable.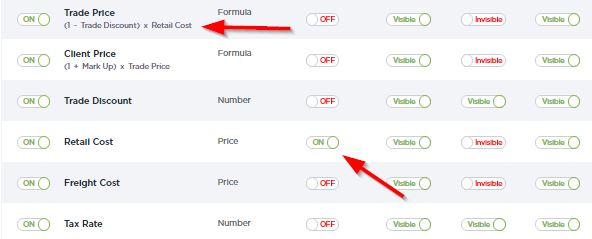 With Fohlio, you can configure costing calculations and set them up the way you want to. Edit the formulas according to your needs and customize pricing variations so you can stay ahead of price shocks.
Read: How to Manage FF&E Specification and Procurement Costs: 11 Ways (Plus, an FFE Template That Will Save You Time)
6. Standardized Procurement Forms
Reports, purchase requisition forms, they just don't end, do they? This can take up a LOT of time, especially if you're the type who changes templates every time you have a new project because you lost your old templates. Report building and template building can eat up so much time, but as much as we hate to do them again and again, they are crucial to keeping the ball rolling.
But what if we told you that you didn't need to manually create templates?
Purchase requisition templates are already pre-made in Fohlio, but can be customized according to what details you want to be included.
Fohlio can create purchase orders straight from the specification sheet. That means saying goodbye to copying and pasting from one spreadsheet to another, saving it, and sending it to the supplier through email. Fohlio can do this in just a few clicks, free of error.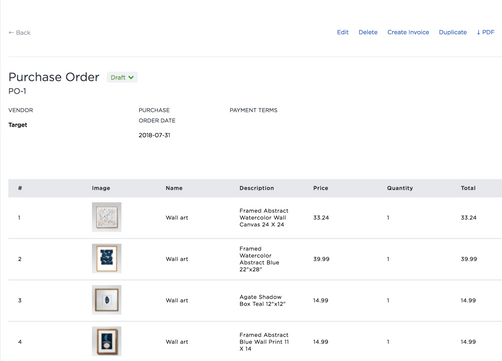 Report builders? Spec book templates, you say? We've got that too. No sweat. Standardize your reports in a few clicks.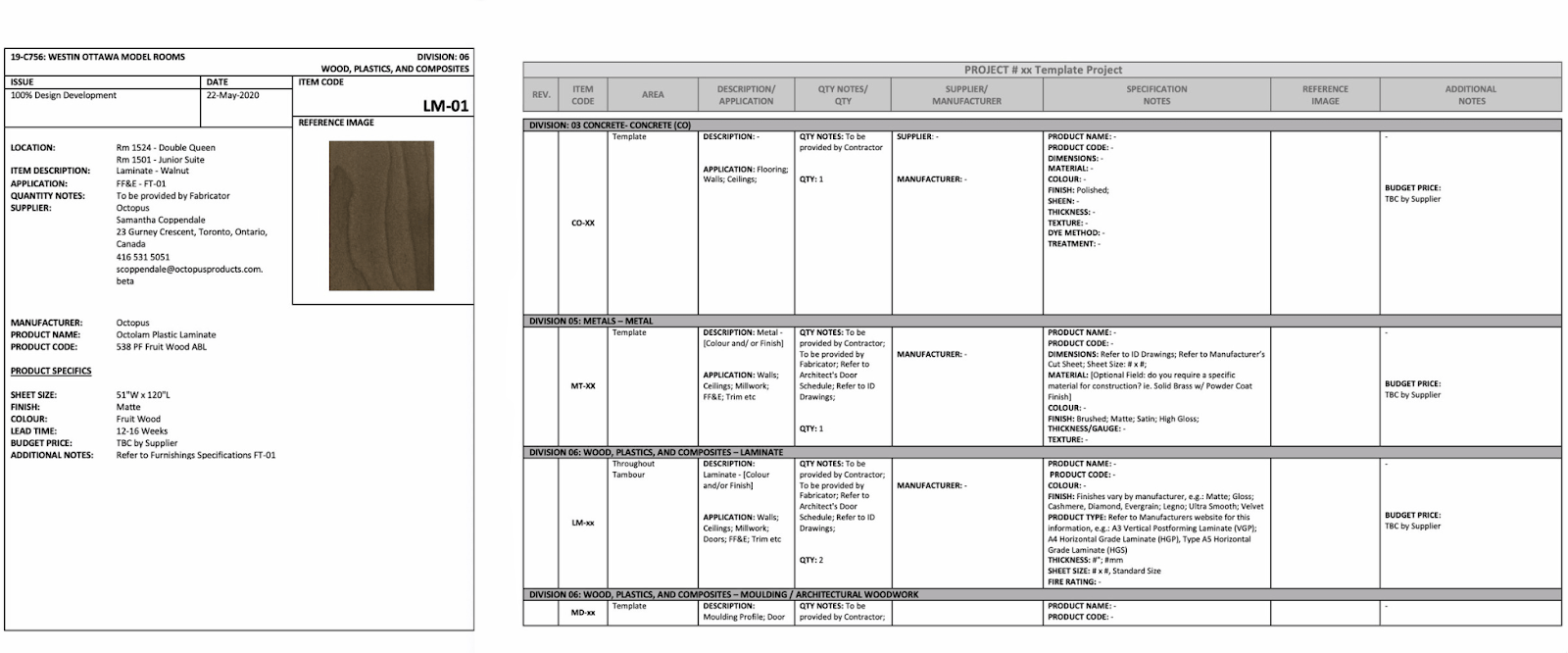 Read: New in Fohlio: Easier Product Input Forms and Firm-Wide Standard Reports
7. Procurement Constrictions
These are all the constraints that are set around the project. Things like timeline, budget, scope, and resources. These constraints should be identified early on during the planning stage, to make sure that they do not negatively impact the project outcome.
8. Procurement Approval Progressions
Depending on how your company does things, approval processes can vary. Identify your stakeholders early on so that you can integrate them into the approval process. This is especially important for items that have larger value and can eat up a chunk of your budget. We wouldn't want any mistakes there, now wouldn't we?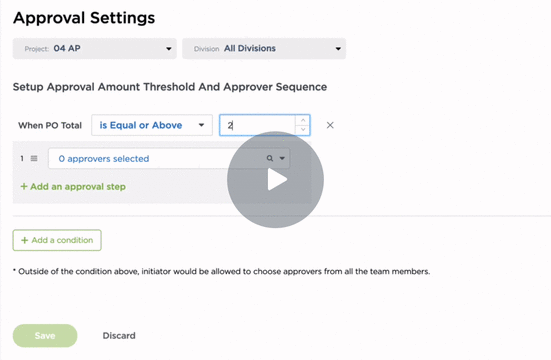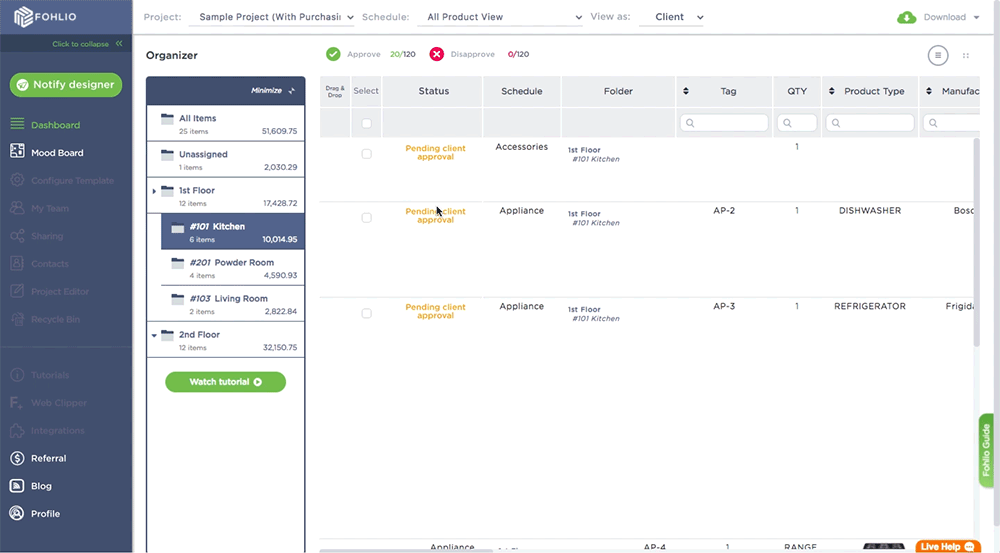 9. Bid Evaluation Criteria/ Matrix
In choosing your vendors, it's important to have a bid evaluation matrix that you can use to help you choose the right vendor. The bid evaluation matrix ensures that you can get the best and most objectively correct supplier. Consider these things when building one:
Price of the product or service
Prior experience with the vendor
Flexibility of invoicing and payment schemes
Accessibility (Local or International)
10. Key Performance Indicators
This is by far one of the most crucial things to consider in your procurement management plan template if you want to make sure that your procurement processes will continue to improve. Prepare a list of key performance indicators that you can follow to ensure that you keep all your data measurable- its the fastest way to scale your business.
Read: How to Measure Construction Procurement Success: Basic Key Performance Metrics
It pays to be prepared. With this procurement management plan template, you can build a robust procurement procedure and have more confidence in taking on bigger challenges. Happy procuring!
Manage FF&E specification, procurement, and product data at scale. Take on bigger projects with confidence and grow your firm with Fohlio. Schedule a demo or book a consultation with one of our account managers to explore these features today.
Expore Fohlio
Learn how to:
Save days of work with faster specification
Create firm-wide design standards
Automate and centralize procurement
Keep your whole team on the same Page
Manage product data
Track budget against cost in real time.
Prepare for asset valuation
Know more
Don't forget to share this post!