5 Ways to Lower Procurement Costs: Streamlining Your Procurement Process (OpEx)
For a lot of procurement departments, one of the most important indicators of performance is procurement savings. Additionally, many Chief Procurement Officers (CPOs) focus on this metric because it's easier to track and makes a direct impact to a design firm's bottomline.
There are two types of costs in a design firm: operating expenses (OpEx) and capital expenses (CapEx). Operating expenses are the costs incurred in the performance of day-to-day business. For example: The cost of a floor finish is capital expense, while the cost of obtaining it is operational expense.
Read: 8 Ways to Manage FF&E Specification and Procurement Costs
Operational expenses can be lowered by streamlining the process. In the case of procurement departments in design firms, that means reducing manual, repetitive work and preventing errors that result in do-overs.
Here are 5 areas in the procurement process you can simplify.
1. Reduce time spent creating purchase orders by automating.
Sadly, the norm for most design firms is still very manual. Andrew, the Chief Technology Officer and Vice President of Purchasing and IT for a property development firm, says it's one of the biggest sources of friction in any hospitality design project.
"The procurement team has to manually re-enter data like specifications, vendors, and quantity into purchase orders, because we receive it in so many different formats (from designers), like PDF and Excel," Andrew says.
Read: How to Keep Your Whole Team on the Same Page, From Specification to Construction
That's $2-6 million worth of FF&E procurement for each project, with 200-300 purchase orders manually put together. There's a significant difference between creating a PO with one line item versus 20.
By having your designers and procurement agents work within one platform, you can completely eliminate the manual process of PO creation. Your procurement team simply selects from spec sheets and creates a purchase order out of them.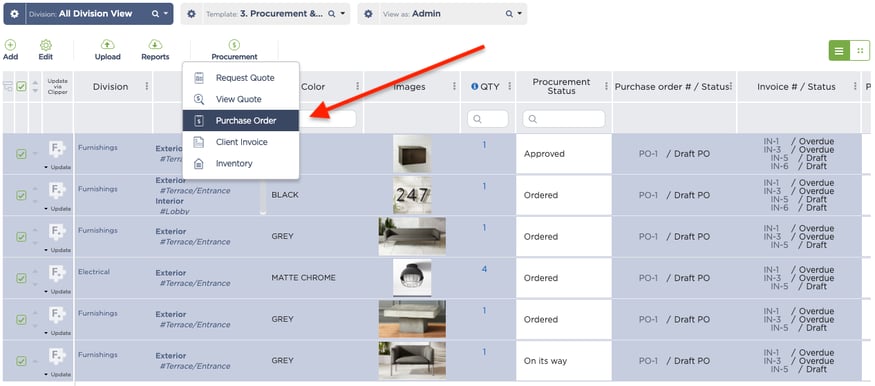 How many hours will your firm save by doing this?
2. Streamline checks and balances by shortening the PO approval process.
Your procurement process may require all of your POs to be approved by a manager before being sent off to a supplier. Or perhaps only the POs above a certain threshold need approval.
In any case, checks and balances are a good way to control costs. It either prevents unwanted purchases or avoids possible reversals or cancellations (which are usually costlier the bigger your PO amount).
A built-in approval mechanism within the purchase order system saves you the extra step of switching to another program, creating an email, attaching a document, and then manually marking the PO's status somewhere as "pending approval."

Additionally, having the entire process online means your manager or executive can approve POs on the go, as long as they have an internet connection.
3. Send POs to suppliers with a few clicks.
Similar to the issue of having to switch between a purchase order system and email, this is a part of the process that seems simple enough, but is incredibly clunky and time-wasting.
Add to that the nature of the design industry which is quite fractured, and you get a barrage of different software/platforms that everyone is using.
There's a happy medium to this: a dedicated specification and procurement software that allows you to send purchase orders as emails.

4. Create catalogues to reduce time spent creating requisitions (aka specifying).
With design firms, the specification process is pretty much the same thing as requisition — that is, making the formal list of materials that need purchasing.
Unless you're a firm starting completely from scratch, you likely already know which suppliers you trust for specific materials. Bigger operations may even have their secondary list of suppliers as backups.
Either way, a digital materials library is a powerful tool for creating lists and catalogues of whatever categories you need, in order to organize your materials.
Read: 9 Reasons Your Design Firms Needs a Digital Materials Library
Not only can your designers quickly select brand-approved or environmental standards-compliant materials, they can also automatically specify which suppliers your firm already trusts and has a good relationship with.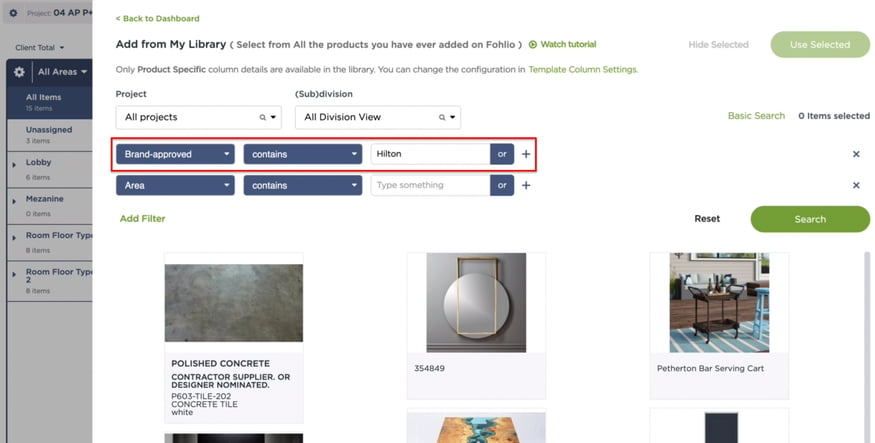 5. Consolidate/reduce the number of POs being processed.
Maybe your purchase order process is already automated to a certain degree — what's a couple extra POs, right?
Well, it could mean the difference between getting a discount for a minimum order amount and paying full price.
This is another area wherein a digital materials library shines: With all your projects being managed in one place, you have great visibility into what materials each of them will require and when.
Read: 8 Elements of an Indispensable Digital Materials Library
With this system in place, you can leverage material usage to obtain discounts, and maybe even negotiate better terms overall.
Not only that: Fewer POs also means fewer invoices to reconcile and possibly even fewer deliveries to manage. For large projects, the hours saved on labor and prevented errors can really add up.
Specify, purchase, and manage materials data in one place with Fohlio. Get better visibility into your material usage, forecast costs, and collaborate more efficiently. Get your free trial today so you can design and build more profitable projects.
Featured image by Eugene Machiavelli.
Your email address will not be published. Required fields are marked *