Create Effective Design Standards With These 5 Templates and Catalogues
Repetition in architecture is symmetry. In the design, specification, and procurement process, however, it it means efficiency.
And while there are varying degrees of variety between your design projects, no doubt there are also processes and standards that repeat themselves.
In order to ensure efficiency from project rollout all the way to close out, you have to identify and anticipate these repeating processes and create templates for them.
Here are five process- and product-specific templates and catalogues you should implement today.
Create brand-approved product catalogues.
Primarily useful for: branded projects like hotels, primary care facilities, etc.
In projects where brand consistency is paramount, there's going to be a list of pre-approved products for almost any category. This applies, for example, despite hotels integrating local culture in their different locations.
If you mostly or exclusively work with hotels, all you may have to do is create fields for each of the brands you work with, and then a yes or no option for whether they comply with the brand guidelines.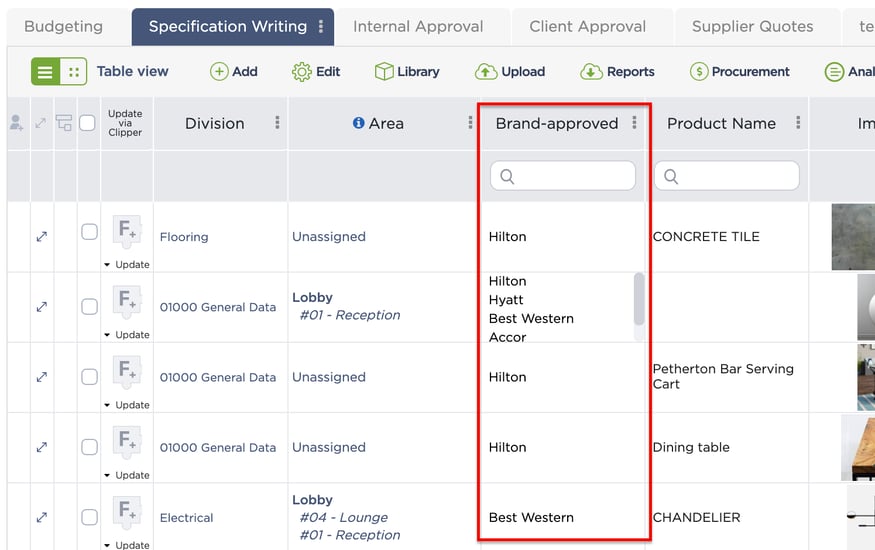 To create a catalogue for a specific brand, simply filter your products according to your brand compliance fields, then add them to a project.
Read: 5 Ways to Create Design Standards That Work
Build a catalogue of sustainable materials.
Primarily useful for: commercial offices, residential, etc.
This catalogue is useful no matter what sector your design for. In fact, you can even make it a specific part of your services: Offering products that rate highly on sustainability could mean significant tax breaks for your client (and making the world a better place).
Read: Customer Advocacy: 3 Ways to Build Architecture Client Relationships That Last
You'll want to create fields for all the standards you can provide, like LEED, the CALGreen Code, NGBS, and more.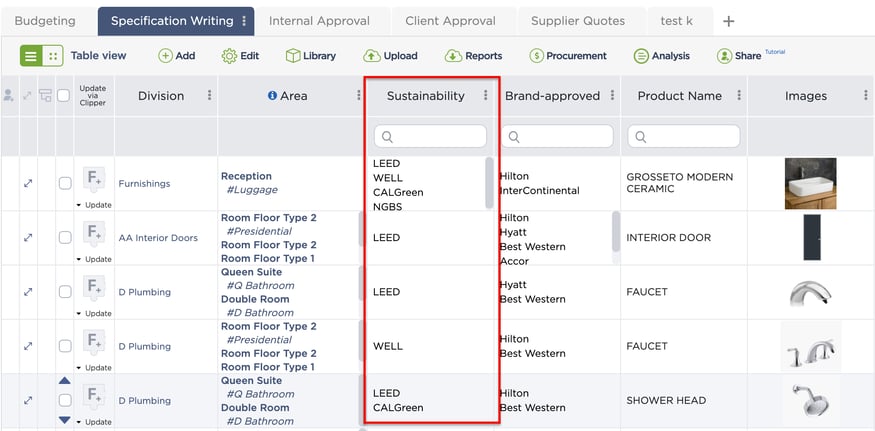 Create catalogues of trusted suppliers for specific products.
Primarily useful for: any project type, and mostly for procurement teams.
You may be on the owner side of the project, or you may be a design firm that outsources the purchasing process to general contractors. Either way, you'll have a list of suppliers that you already have relationships and pre-negotiated terms.
Inviting those GCs to your project and providing them with that list makes collaboration and procurement much more efficient.
Read: 5 Ways to Cut Down on Procurement Costs
Build a catalogue of materials that meet industry guidelines.
Primarily useful for: hospitals and other health care facilities.
Designing and building hospitals, urgent care clinics, senior living facilities, and the like utilize highly specialized products. For example, your project may require specific types of antimicrobial floor and wall finishes, copper handrails, and wall-mounted foldable chairs.
Read: Healthcare Design: Three Strategies for Infection Control in Hospitals
Or, it could require specialized materials that are compatible with hospital and other healthcare equipment.
Like with other catalogues, you'll just need to add fields for indicating compatibility.
Create approval templates.
Primarily useful for: any project type, and for large teams.
We've often discussed the benefits of having everyone involved in the project working in one platform: Using the same set of data ensures everyone is always updated and on the same page.
However, the amount of data you'll need to manage and organize in order to make this happen is … a lot. That's why the ability to segment all that data according to need is so crucial.
Using different workflow templates, you can put together a worksheet specifically for budgeting, technical approval, commercial approval, and really, any other phase of the project you need to work on.


Read: 3 Cost-Saving Reasons Your Hospitality Design and Procurement Teams Should Collaborate Better
Create your own catalogues and templates for more efficient specification and procurement. Schedule a personal demo for free with Fohlio today.