Will the Hospitality Design Industry Survive the COVID-19 Pandemic?
Unprecedented. While the hospitality industry as a whole has been through more economic ups and downs than anyone can count, the current global pandemic is like nothing we've ever seen before.
Needless to say, there's cause for concern and uncertainty, which is why some of the leading names in hospitality design, ff&e, procurement, and investment are trying to answer the questions on everyone's minds.
Read: How to Keep Your Whole Team on the Same Page, From Specification to Construction
In this live webinar hosted by Hospitality Design, Alan Benjamin, Michelle Russo, and Jim Merkel share their thoughts on coping, whether and how the industry will ever recover, and what they're individually doing to help.
Here are 6 of our takeaways from "Hospitality on Edge" that directly and indirectly relate to those who are in the business of hospitality design, ff&e, and procurement.

It's time to upgrade your design/procurement firm's collaboration tools.
Out of Alan's 75 staff members who typically go into the office everyday, only four are currently doing so. Because of social distancing, they are "very, very separated. We have our own offices and are not interacting at all."
Michelle, who is always on the road, "feels like I've been home for six months already." Their 46 employees started working from home in March. "We pretty much told everyone to pack up everything they thought they'd need and take it home and get their home offices set up."
There are bright spots, though. Michelle is "very thankful that we had a bunch of Zoom accounts already in place so we didn't need to train on that."
"I'm blown away by how well they're doing," Alan says of his team. "Not a single missed check."
Adding our thoughts to this: While not everyone's situation is the same, this could be a great opportunity to examine your team's collaboration workflows. If your firm has the cash, take advantage of the downtime to upgrade your tools.
Read: 4 Ways to Make Telecommuting Work for Your Firm
Some hotels are directly helping flatten the curve — and then some.
One of the hotels in Michelle's company's portfolio is being used to house COVID-19 quarantine patients, nurses, doctors, and the national guard.
While it's one of the ways they're directly helping fight the disease, it's also a way to keep providing employment.
To keep employees safe, the hotel is no longer accepting transient occupants. Used linen is also being placed in hazmat bags, to be taken away by hospital workers who are better equipped to deal with potential contamination.
Even food is being provided in boxes and dropped off in a specific location, to be delivered to the guests by hospital workers as well.
There's even a silver lining in this situation. When asked whether being a COVID-19 support facility would negatively impact the hotel, Michelle's answer was no. Two reasons: Adequate cleaning and a renovation that's been in the works. "(The pandemic) is an opportunity to accelerate that planning."
Which brings us to …
There are opportunities for designers, ff&e companies, and procurement teams.
"There's no better time to renovate," says Alan, who says he's seen it before, in the 2008 financial crisis.. "We're really fortunate in that we have a backlog of new builds and renovations, (and) a client base with strong balance sheets and cash."
Alan also thinks there will be some "opportunistic buys on the FF&E side and on the labor construction side."
He points to Warren Buffett, the 89-year-old investing rockstar. "One of this most famous quotes is, 'Don't waste a good recession.' No one wants to be renovating deep into the recovery when every dollar is really precious."
Jim agrees, citing hospitality projects that already have capital and are currently accelerating. "It has been my experience that these are the toughest times to get projects started, but they tend to be your best projects, because the projects that should get done, do get done; and the projects that shouldn't have gotten done, don't get done."
Adding our thoughts to this: Again, see if there's an opportunity in your firm to improve efficiencies. We know from personal experience here at Fohlio that change is not easy. It's an endeavor in itself: Carving out the time and personnel that it takes to evaluate and test new CRM or communication software is difficult, despite being painfully necessary.
Read: Is Your Hospitality Procurement Workflow Killing Your Firm?
How is COVID-19 affecting FF&E and procurement?
During the 2008 financial crisis, Alan says, many vendors thought all their clients were going broke, and vice versa. Thanks to his company's depth and breadth of experience though, he learned that it differed from case to case.
Before the pandemic hit, Alan says, if a vendor was a week or two late, "The owner would be screaming, "Oh my god we're never using that vendor again.' Now, everyone would be doing a virtual high-five if that was the only situation on a project. so overall, it turned out to be much better than we thought.
"You can just look at Apple stores and Starbucks: If they're open in the country, your FF&E vendor is probably open."
Alan also shares a tip for dealing with shortages in products. Six weeks ago, he was helping a client with a 400-room full-service renovation, and the only way the client would move forward was if they did two model rooms, one with products from Asia and one with non-Asia products. "That turned out to be a really smart thing to do. When it comes time to place those production orders, we'll probably be placing everything from a range of sources.
Read: 8 Ways to Manage FF&E Specification and Procurement Costs
So for anyone who is going ahead with their CapEx, now is a really good idea — you're always going to have two or three different vendors for each item in the room anyway. But instead of just looking at it from a different manufacturer who has a different finish, look at it as a different country of origin."
The impact from the pandemic will likely be more severe than 9/11 — but there will be opportunities.
"I think this is going to be impactful and my best guidance is that it's a one- to two-year ditch," says Jim. "I think it will be similar but likely more severe than 9/11, but that doesn't mean there won't be great opportunities and that it won't vary by market. If you look at 9/11 and you look at the gateway markets, those markets got hit the hardest and the rest of the country got hit differently."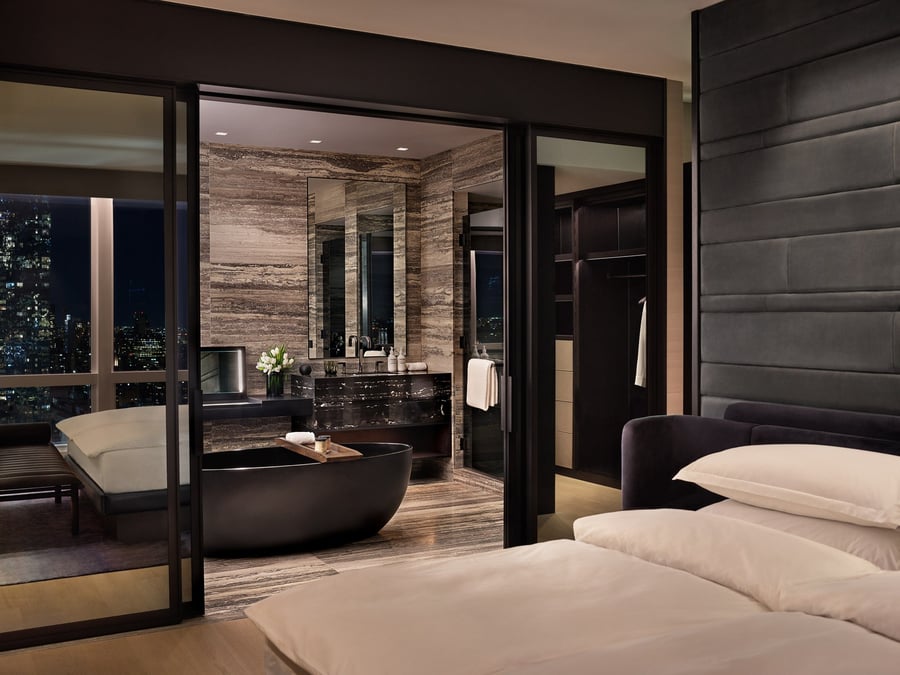 Help is available for designers, architects, and engineers with smaller operations.
If you haven't yet, take a gander at the CARES act. "It's basically a low interest rate loan at 0.5%, up to two and a half times a company's average eligible monthly payroll, or up to 10 million got businesses that were affected by COVID-19," Michelle says. "And the great thing about this loan is that if a borrow uses it to pay payroll, rent, mortgage interest, or utilities over the eight weeks following the loan, then those items are eligible to be forgiven."
How are you and your company coping during this crisis? Fohlio is continuously releasing new features that help remote collaboration during this difficult time. While originally intended as premium features, they are being released as free to all our users for a time. Please get in touch with us to learn more.
Fohlio allows you to manage your entire team and all your workflows in one place. With Fohlio, you can specify, procure, and more on one platform: Collaborations are easy and workflows are much more efficient than ever before! Get your free trial today — so you can design and build more profitable projects.
"Hospitality on Edge" was presented by Hospitality Design, hosted by Stacy Shoemaker Rauen, Editor-in-Chief of Hospitality Design Magazine. It is moderated by Michael Suomi, architect, designer, and founder and president of Suomi Design Works. Guest panelists are Alan Benjamin of Benjamin West, the world's leading hospitality FF&E and OS&E purchasing firm, Michelle Russo, founder and CEO of Hotel Asset Value Enhancement, a leader in asset management advisory and investment management and lender services in the hospitality industry, and Jim Merkel, CEO of Rockbridge, a hospitality investment firm with 240 hotel investments in 38 states. Watch the full webinar here.
Your email address will not be published. Required fields are marked *