Demonstrate Senior Care: How To Build Nursing Home Design Requirements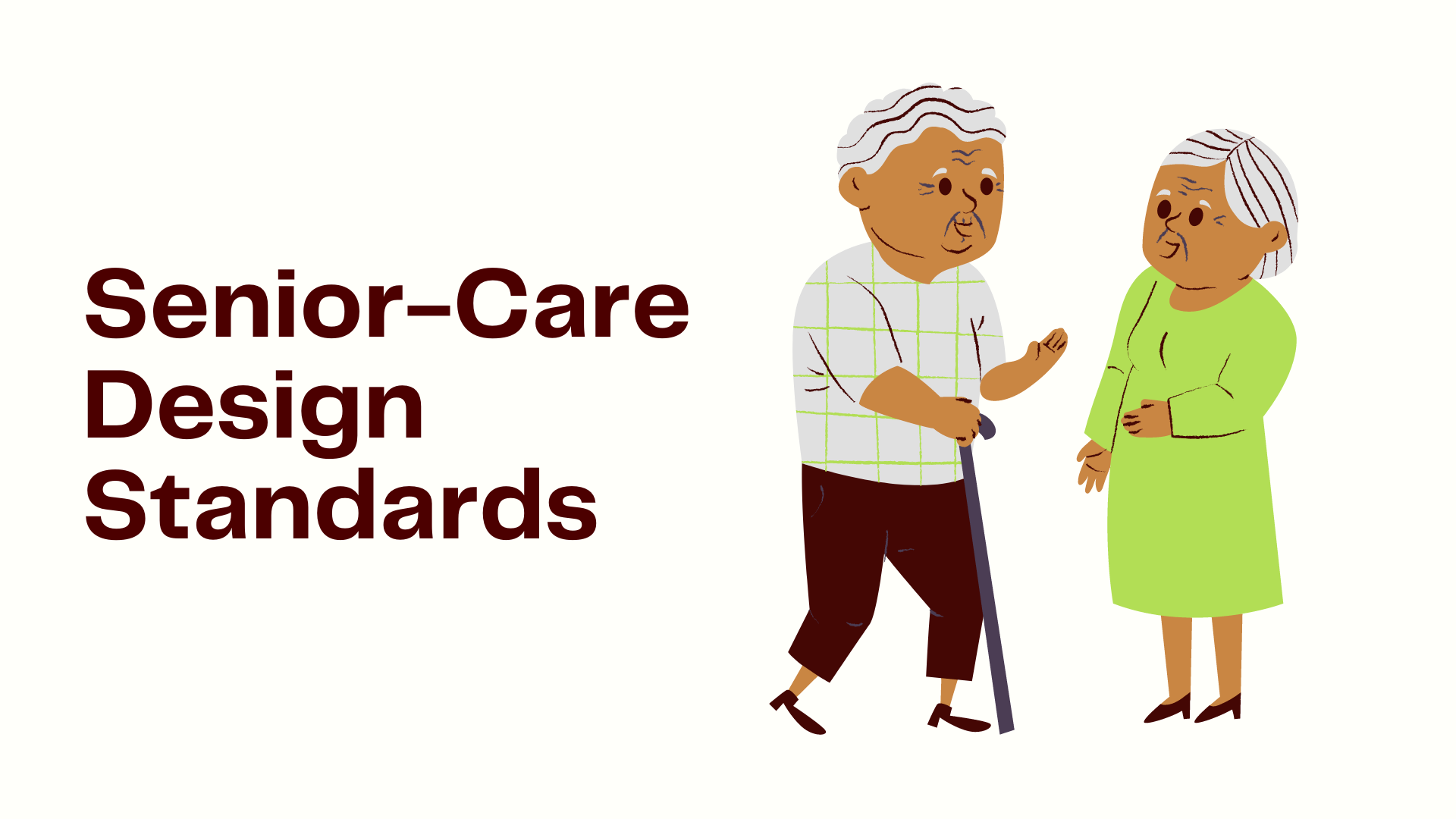 Manage FF&E specification, procurement, and product data at scale. Take on bigger projects with confidence and grow your firm with Fohlio. Schedule a demo or book a consultation with one of our account managers to explore these features today
In an attempt to build your nursing home design requirements, you've got to be able to satisfy the needs of your users through curating a design that meets their holistic needs. It takes time, but once you've figured out the best practices and specifications that meet your idea of an effective client experience, you can then start to transition toward creating a design standards manual for your nursing home. The nursing home design standard guarantees that the quality of your designs not only meets functional requirements but also enhances the quality of life for your users. Here's how you get started on building your nursing home design requirements.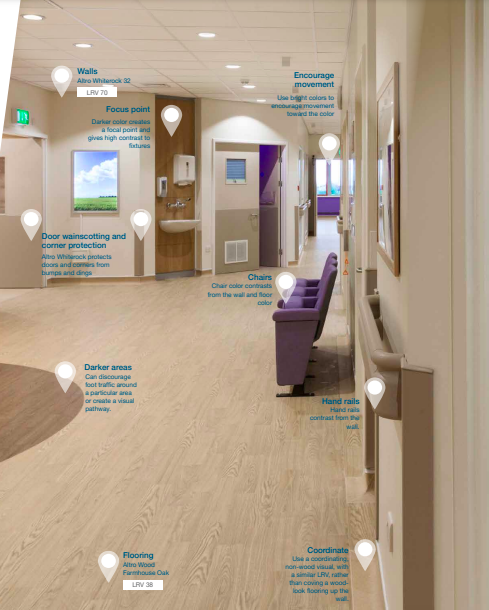 Get creative with master layout planning: Generate your nursing home floor plans with a bubble diagram
Bubble diagrams help architects in figuring out what areas are going to be planned into the space, as well as how they will affect the navigation and circulation of users in a building. Get creative with how you arrange the following spaces with a bubble diagram. Use these zones as your reference points: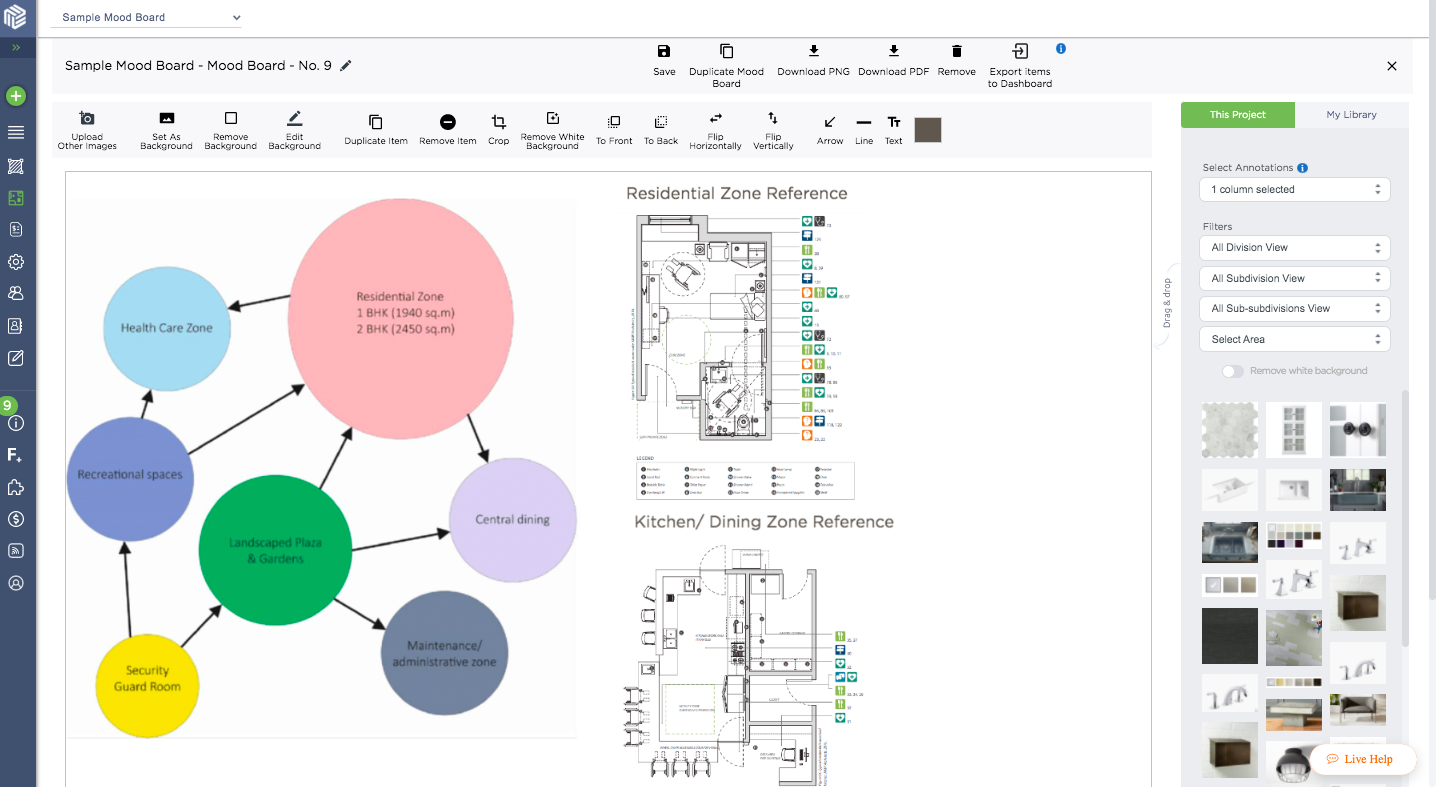 It's also a great way to get a head start on your nursing homes standards. This also means that your team sees the same information so that every stakeholder has a clear and same understanding of the project.
Learn more: Fast and Furious! Turn Punchlist Into Mood Board Straight from the Web
Here are things to be mindful of when specifying your interiors.
Floor finishes are an integral part of your design. It makes up fifty percent of your surface area- which means it will have a tremendous impact on the function and experience of a space largely and should therefore be carefully considered. Your floor finishes can be categorized by space and function- your material characteristics will follow after. Take this for an example:

Learn more: How to Take Your Firm to The Next Level With a Digital Materials Library: 9 Ways

There's no such thing as a one-size-fits-all when it comes to flooring. Flooring specifications should support the activity done in the area and other important considerations. Here's an idea:
Utility: Consider the function of the area and interview your users and stakeholders to get a better idea of the things you need to watch out for like incidents and resident profiles.
Visual impact: Having finishes that are too busy can cause stress on seniors with visual impairments. Choose flooring finishes that are easier to look at and walk on.
Movement: The transition from different flooring types should be as smooth as can be to support movement and avoid incidents like falls.
Maintenance: Easily cleanable surfaces that don't require heavy maintenance should be at the top of your list.
Furniture

Senior care homes rely largely on custom-made furniture because seniors use their space a little differently and need more support. Furniture will be the most used thing inside your built environment so this isn't something to be overlooked Here are a few considerations to take note of when customizing your furniture. We took a few pointers from Shelby Williams, a brand that specializes in custom hospitality furniture. Here are the things you should be mindful of when choosing or customizing your furniture
Dimensions: This varies per style and furniture type, but it is recommended that these areas be large enough not only to support the senior but to allow space for supporting movement in cases where a senior will need assistance from caretakers and nurses. This means having dimensions that are a few inches wider than the average chair or seating space.
Casters should be built into furniture like chairs or beds to allow maximum movement without compromising your senior's comfort. Casters give seniors the additional mobility they need in pushing furniture away from their bodies when standing up.
Fabric upholstery: should be abrasion, stain, and bacterial-resistant. These features ensure that chair finishes are ready to take on high traffic areas without becoming high-maintenance.
Patterns and colors: This depends on your whole design theme, but generally speaking, patterns that aren't too busy with a neutral palette are your best bet. Additionally, you should opt for a medium to dark color for surfaces that will receive the most movements like dining chair upholstery and sofas.
Framing: Lightweight materials are recommended for easy moving and manipulation. A great example of this is opting for lighter, but sturdy wood finishes like redwood for dining chairs in dining or common areas. Lighter frames for furniture place less stress on the body and have almost zero chances of causing injuries to seniors. Having a light frame gives way for your occupants to easily carry or drag the piece of furniture for varying activities.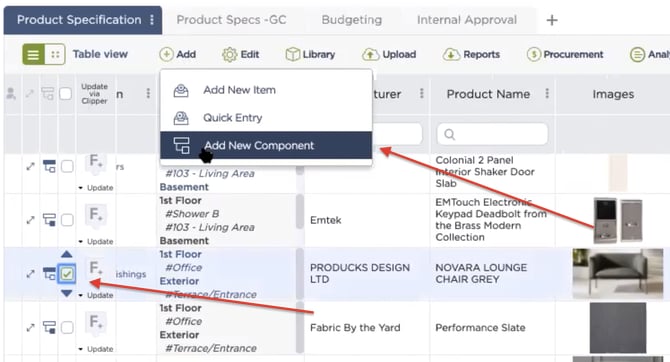 You can also build specifications for custom furniture using Fohlio's parent-component feature. Think about the parent feature as a grouping mechanism where it lets you associate certain features together to create parts of a whole.
Learn more: Taking Advantage of Reopening Economies: 5 Ways to Specify and Procure FF&E Faster
Door And Window Schedules
We've mentioned in one of our articles that doors and windows are imperative to tying up your design whole experience. Doors help regulate building traffic and affect how people interact with their space while windows are the access to natural sunlight and building ventilation.
And that about wraps it up. We could go further into the details, but that would probably be overwhelming and take fifty pages to explain. For now, the best thing to do is start on the macro parts of your design that will have the greatest impact on your occupants' overall design experience. It's that easy to get started on building standards that will help catalyze the improvement of your design for nursing homes.
Manage FF&E specification, procurement, and product data at scale. Take on bigger projects with confidence and grow your firm with Fohlio. Schedule a demo or book a consultation with one of our account managers to explore these features today
References:
https://www.archsd.gov.hk/media/reports/practices-and-guidelines/20190326_5501_Elderly-friendly%20Design%20Guidelines_FINAL.pdf
https://www.fgiguidelines.org/wp-content/uploads/2018/03/MMP_DesignGuideLongTermCareHomes_2018.01.pdf
https://ufdcimages.uflib.ufl.edu/AA/00/06/16/51/00001/Chen_Kezhen-Final-MRP.pdf
https://www.architectmagazine.com/practice/getting-better-with-age-design-for-senior-and-assisted-living-facilities_o
https://www.shelbywilliams.com/files/docs/brochure-shelbywilliams-senior-living-white-paper-4212.pdf
https://www.altro.com/getmedia/b5b549ec-b533-401c-9509-786fb6821fd1/Senior-Living-Brochure-2019.pdf.aspx
Expore Fohlio
Learn how to:
Save days of work with faster specification
Create firm-wide design standards
Automate and centralize procurement
Keep your whole team on the same Page
Manage product data
Track budget against cost in real time.
Prepare for asset valuation
Know more
Don't forget to share this post!