Here's Why A Digital Materials Library Is The Best Product Data Management Tool
Manage specification, procurement, and product data at scale. Take on bigger projects with confidence and grow your firm with Fohlio. Schedule a demo or book a consultation with one of our account managers to explore these features today.
Building a scalable and profitable business starts with getting your data assets in place.
For many design, procurement, and manufacturing companies alike, having a tool capable of managing and organizing thousands of data components could be the real deal.
That's because, in most companies, data looks like this:
For most companies, data is scattered. This makes decision-making and execution difficult. Companies rely on large amounts of data to operate but it isn't always easy to maintain all these product data components. This is especially true once you start dealing with multiple projects simultaneously. All the spreadsheets and manual copying and pasting from the main sheet to the project sheet can take hours of precious, profitable time off your plate.
So it has to be said: Something that could change this and reduce the amount of manual and repetitive work while being able to keep up with the demands of any growing company is, you guessed it- A digital materials library.
What is a digital materials library?
More than being a collection of sorts (Like a messy swatch room that you never touch) Think of your digital materials library as an ecosystem- one that functions to make your work easier. It's something tailor-fitted to the operations of your company that is capable of creating quick and accurate output without you having to do all the repetitive work.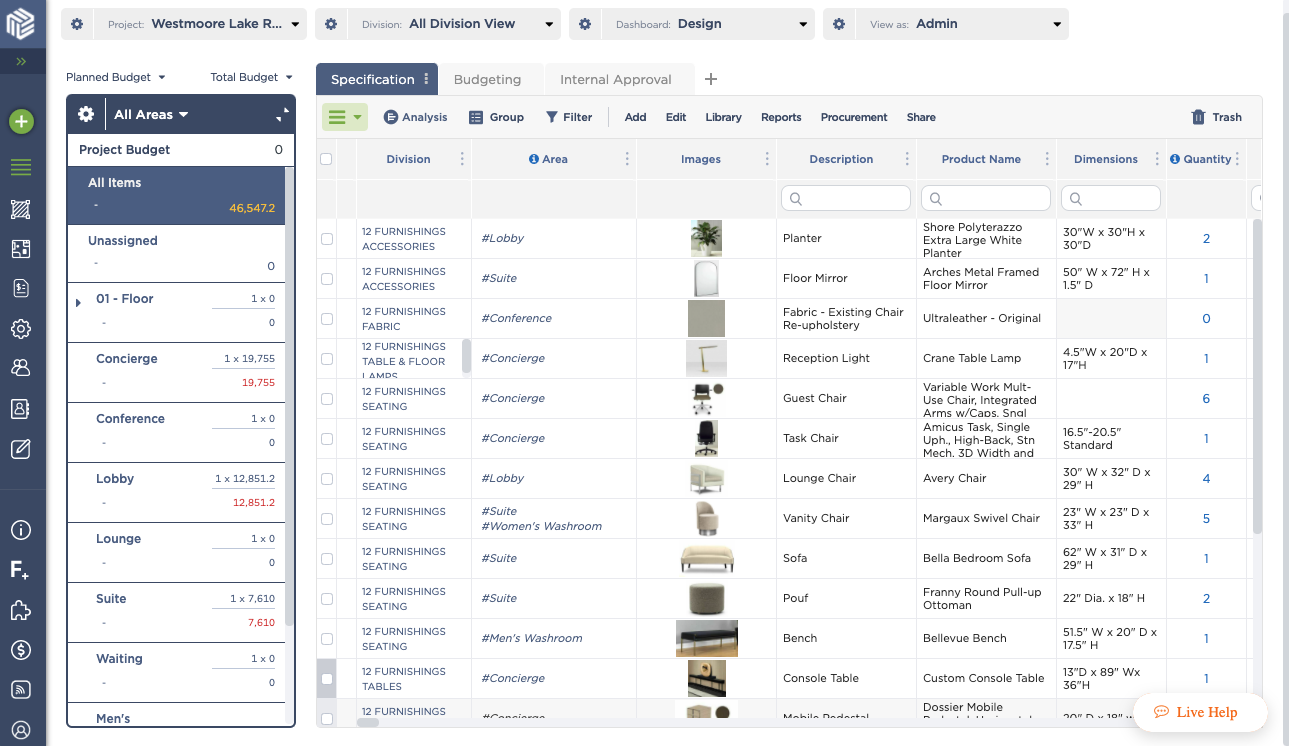 Take a look into Fohlio's digital materials library
A digital materials library gives you:
Visibility and better insight into how your data correlates with each other
Speed and accuracy when inputting data
A way to standardize your documentation
Workflow cohesion between different teams
What do we mean by "data assets"?
That's completely up to you as the professional, depending on what your job is and what needs managing, assets look different to everyone. It could be any item, material, or specification you could think of that you need to keep track of to get your projects done. To give a clear view, here are a couple of examples of occupations and their assets:
Interior designers who handle furniture, fixtures, and equipment
Car manufacturers and their engine parts and other machine components
Restaurant managers and hoteliers and tracking their operating supplies and equipment
And so much more.
Why a digital materials library?
I mean, you can always just save data in a spreadsheet, right?
That's not always the case- the problem with so many revolving parts is that it accumulatively becomes harder to manage, keep track of, and organize each time you add a new asset.
Don't get us wrong, spreadsheets are still a great tool for managing crucial bits of information, but it can't help with optimizing the data you have. More often than not, you'll probably find yourself wrestling with the spreadsheet trying to get a project done.
How do I use it?
The digital materials library is flexible. Flexible and customizable enough to serve different professions depending on how they need their data arranged and managed, here are a couple of ways you could use it:
Product data management tool


Centralized product catalogs, specifications, ff&e, os&e


Keeping furniture, fixture & equipment project schedules

Creating reports for stakeholders from existing schedules


Asset tracking and allocation

Tracking operational supplies & equipment


Tracking distribution and assembly of manufacturing equipment and parts

Templates can easily be duplicated to create variations for custom parts
The list goes on, but you get the idea. Digital material libraries allow you to reach new heights by letting you optimize existing assets and past projects. This means a shot at doing better for each project you do moving forward.
Digital materials libraries are a great organizational tool with a sure-fire way to level up your company's data optimization capabilities and increase opportunities for expansion and profitability. also, learn more about: The Ultimate Guide to Setting Up Your Online Materials Library, Part 1: Overview and Introduction to Organizational Tools
Manage FF&E specification, procurement, and product data at scale. Take on bigger projects with confidence and grow your firm with Fohlio. Schedule a demo or book a consultation with one of our account managers to explore these features today.
Expore Fohlio
Learn how to:
Save days of work with faster specification
Create firm-wide design standards
Automate and centralize procurement
Keep your whole team on the same Page
Manage product data
Track budget against cost in real time.
Prepare for asset valuation
Know more
Don't forget to share this post!